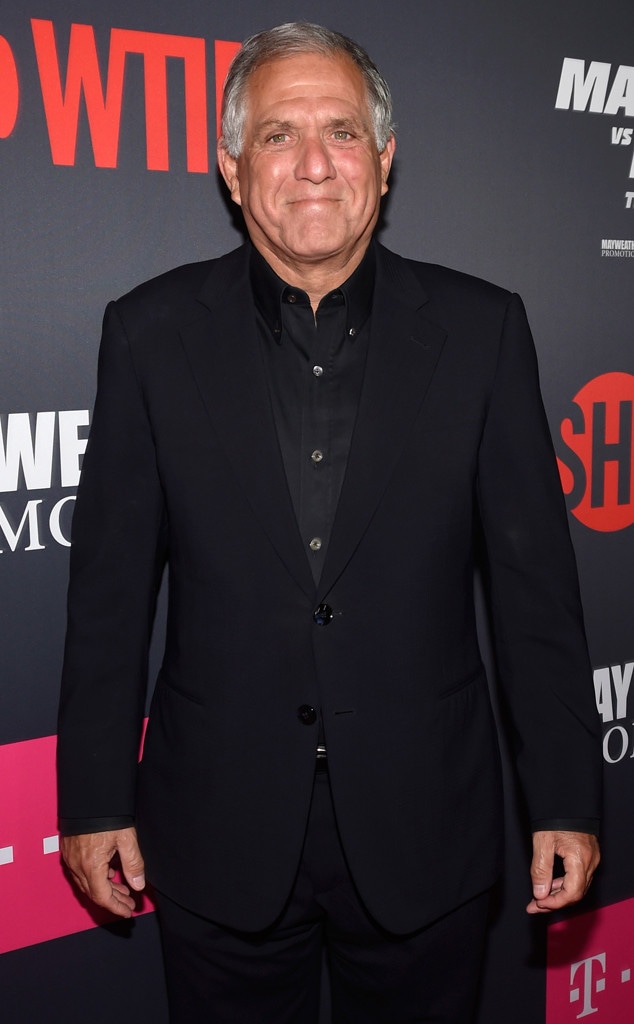 David Becker/Getty Images for Showtime
Les Moonves is the latest man in Hollywood facing sexual misconduct allegations.
On Friday afternoon, The New Yorker published an article written by Ronan Farrow that includes claims against the CBS Corporation chairman and CEO.
Six women who had professional dealings with Les alleged to the publication that between the 1980s and the late aughts, the prominent member of Hollywood sexually harassed them. Four described forcible touching or kissing during business meetings. Two claimed Les physically intimidated them or threatened to derail their careers. And all also claim that after rejecting his advances, they believe their careers suffered.
"What happened to me was a sexual assault, and then I was fired for not participating," actress and writer Illeana Douglas shared with Ronan. Writer Janet Jones added, "He has gotten away with it for decades. And it's just not O.K."
"Throughout my time at CBS, we have promoted a culture of respect and opportunity for all employees, and have consistently found success elevating women to top executive positions across our company. I recognize that there were times decades ago when I may have made some women uncomfortable by making advances," Les said in a statement to E! News. "Those were mistakes, and I regret them immensely. But I always understood and respected—and abided by the principle—that 'no' means 'no,' and I have never misused my position to harm or hinder anyone's career. This is a time when we all are appropriately focused on how we help improve our society, and we at CBS are committed to being part of the solution." 
According to CBS, there have been no misconduct claims and no settlements against Les during his 24 years at the network.
"CBS is very mindful of all workplace issues and takes each report of misconduct very seriously. We do not believe, however, that the picture of our company created in The New Yorker represents a larger organization that does its best to treat its tens of thousands of employees with dignity and respect," CBS Corporation said in a statement to us. "We are seeing vigorous discourse in our country about equality, inclusion, and safety in the workplace, and CBS is committed to being part of the solution to those important issues."
CBS Independent Directors confirmed to E! News that they are investigating the claims made against Les.
"All allegations of personal misconduct are to be taken seriously," the network said in a statement. "The Independent Directors of CBS have committed to investigating claims that violate the Company's clear policies in that regard. Upon the conclusion of that investigation, which involves recently reported allegations that go back several decades, the Board will promptly review the findings and take appropriate action."
CBS added: "The timing of this report comes in the midst of the Company's very public legal dispute. While that litigation process continues, the CBS management team has the full support of the independent board members. Along with that team, we will continue to focus on creating value for our shareowners."
The article was written by Ronan who recently won a Pulitzer Prize for reporting on Harvey Weinstein's sexual misconduct allegations. The Hollywood director has denied allegations of non-consensual sex and ever engaging in criminal sexual misconduct. 
Les has been married to Big Brother host and The Talk co-host Julie Chen since 2004. After The New Yorker article was published, Julie showed her support online for her husband.
"I've have known my husband Leslie Moonves since the late '90s, and I've been married to him for 14 years, she said in a statement on Twitter. "Leslie is a good man and a loving father, devoted father and inspiring corporate leader. He has always been a kind, decent and moral human being. I fully support my husband and stand behind him."
Les first joined CBS in 1995 and has remained there after Sumner Redstone acquired the company in 2000.
He is credited with taking the network from last to first place in the ratings with hit shows including Everybody Loves Raymond, Survivor and CSI: Crime Scene Investigation.