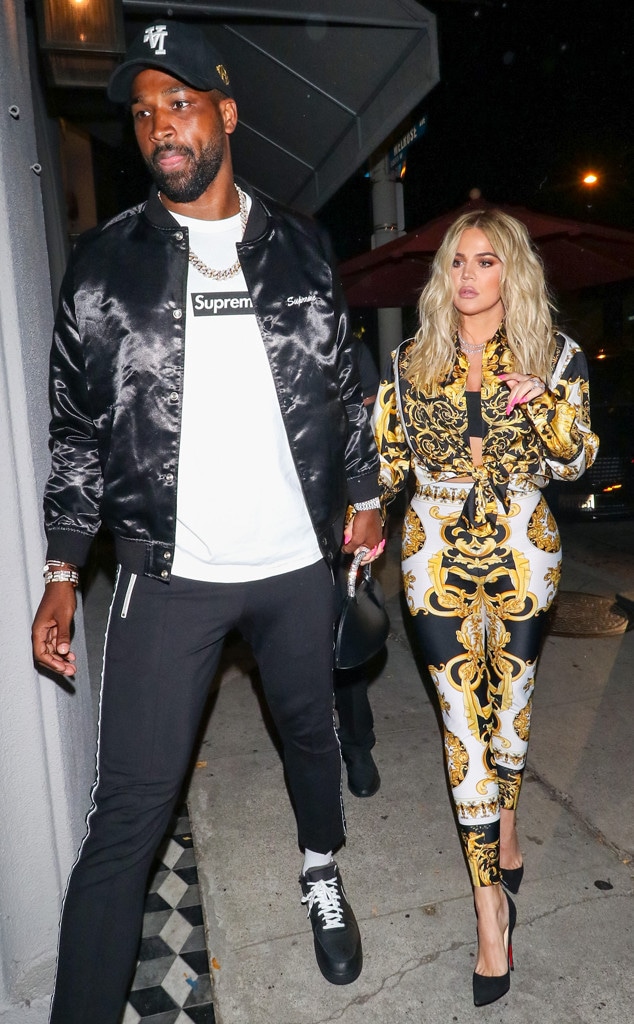 gotpap/Bauer-Griffin/GC Images
Khloe Kardashian and Tristan Thompson enjoyed a Friday night out on the town.
The couple, who are parents to daughter True Thompson, spent Friday evening dining at the celebrity hangout restaurant, Craig's. Craig's is also where the KarJenner family enjoyed dinner before Kylie Jenner's 21st birthday party at the club Delilah nearby. Thompson wore an ensemble of black pants, shoes, jacket and hat, and a white shirt. Khloe, on the other hand, stood out in a yellow, white and black Versace two-piece. Her outfit included high-waisted pants with a matching shirt that was open and tied at the front.
One eyewitness told E! News that Khloe and Thompson were enjoying each others' company and that she was in a great mood. Their date night dinner included lots of smiling and laughing together.
The parents just returned from a relaxing getaway in Mexico with Kendall Jenner and her boyfriend, Philadelphia 76ers player Ben Simmons. An eyewitness told E! News at the time that Thompson and Khloe were "affectionate and have been kissing and hugging all the time."
Their PDA-filled vacation and their night out in Los Angeles puts to rest any rumors that their relationship is "complicated."
Ideas about their relationship status showed up again at Kylie's birthday when Khloe was seen drinking from a green Solo cup. The colored cups reportedly each represented a relationship status, and green stood for "it's complicated." Khloe's color of choice began a rumor mill that was apparently all false. The Good American founder clarified her cup choice on Instagram: "People are reaching. I ordered a drink, it came in a cup, I drank it. End of story...I'm sure I drank out of every colored cup that night."
Thompson was not included in Kylie's family mural at her birthday party, which sparked some curiosity as well. He did not attend her festivities either because he was in Toronto coaching kids at a basketball camp.
Just a day after Kylie's celebration, Khloe and the Cleveland Cavaliers player showed their love for each other when they spent a night out clubbing. Videos show them kissing and dancing together all night.
While the parents are completely and utterly in love with daughter True, Khloe opened up to E! News recently about the possibility of having more kids. "I honestly think I would love to have more kids, but I think I just don't know if I'm ready to get pregnant again, it's a lot!" she told Justin Sylvester. "But I definitely want more kids, I just don't know when that is gonna be."
Keeping Up With the Kardashians returns this September, only on E!