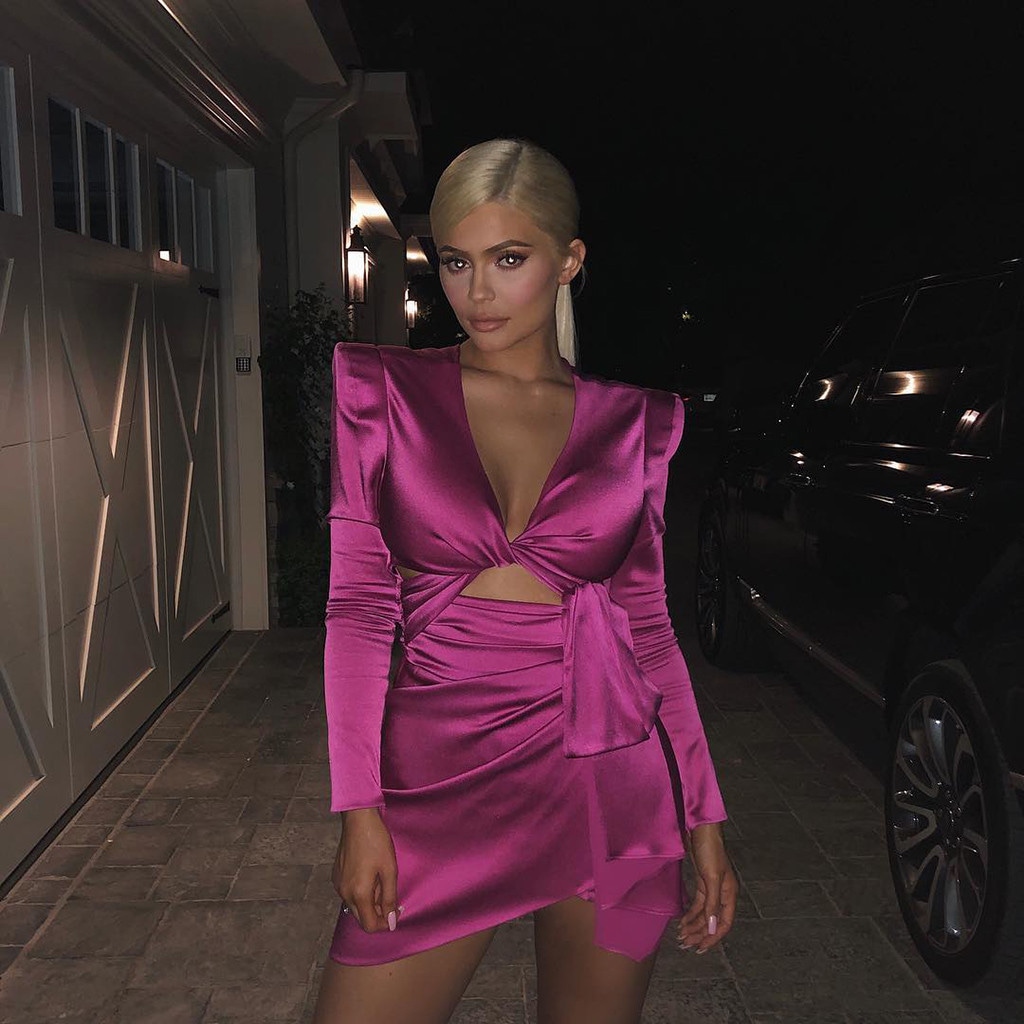 Instagram
Raise your glass to Kylie Jenner!
The Keeping Up With the Kardashians star celebrated her 21st birthday with family and friends Thursday, with the festivities beginning with dinner at Craig's in West Hollywood. She dressed to impress, modeling a pink Dundas dress, Olgana Paris heels and a $148,000 Martin Katz ring. The blonde beauty arrived without boyfriend Travis Scott, and was trailed by Kris Jenner and Corey Gamble. Scott Disick showed up solo shortly after, while Malika Haaq, Khloe Kardashian and Kourtney Kardashian arrived together. "Kourtney and Scott were being cordial," a source tells E! News exclusively. "They hugged and seemed very normal." After attending Nicki Minaj's Queen Radio premiere, Kim Kardashian showed up a little later—and teased the former couple. Since they were both sending text messages, she posted a video of the exes on Instagram Stories, joking, "Just like an old married couple on your phones!" Khloe pretended to root for their reunion, sharing a shot of the duo and writing, "A girl can dream!"
One-by one, the rest of Kylie's inner circle began to trickle in to the restaurant.
Coincidentally, Kendall Jenner's former fling Blake Griffin was having dinner at a table nearby. When Kendall and her new boyfriend, Ben Simmons, arrived together, they breezed by the athlete without saying a word. "They didn't interact at all," a source reveals. "It was awkward." Khloe didn't sit near Kyle—too many people!—but she had some fun with her on Instagram. From the other end of the table, she shouted, "Kylie! Kylie!" and joked, "I'm your biggest fan!"
After dinner, Kylie changed into a LaBourjoisie jumpsuit featuring 70,000 Swarovski crystals and headed to Delilah. The theme was pink and gold, and there were huge floral arrangements hanging around the bar. The nightclub had a huge ball pit set up in the private room in the back, and a source tells E! News the famous sisters were "jumping in and having a lot of fun" with it.
No expense was spared. Stacks of personalized lighters were scattered everywhere with the words "Kylie F--king Jenner" on them, and waitstaff wore shirts with her Forbes cover on them. Guests dined bite-sized cheeseburgers, macaroni and cheese and tuna tar tar, and were served customized drinks in cups with "21" written on them. At the bar, guests chose from three cup colors: red (taken), yellow (single AF) and green (it's complicated). "People were having fun choosing and were messing around," a source says, adding that shots of Don Julio 1942 tequila and Jell-O shots were served. "All of the girls were drinking together. Everyone was letting lose and having a great time," the source says. "Even Kim was drinking and everyone was surprised."
The family also marveled over a mural of the entire Kardashian/Jenner clan.
Says a source, "The décor was over-the-top."
Everyone who's anyone in Hollywood was there, as Ashley Benson, Chris Brown, Dave Chapelle, Jordan Clarkson, Cara Delevingne, Kevin Durant, Bella Hadid, Winnie Harlow, Sophia Hutchins, Caitlyn Jenner, Stassi Karanikolaou, Draya Michele, French Montana, The Weeknd, Kanye West and Jordyn Woods were among those to party with the birthday girl.
Kendall and Ben arrived separately, and were the last ones to come around 1 a.m. According to a partygoer, they "were canoodling at the bar" and "not hiding" their affection for one another. The supermodels—Bella, Cara and Kendall—spent the "majority of the night" together, the source adds. "Kanye and Kim were kissing and holding hands the entire night. They were super affectionate. Kanye didn't keep her out of sight and was super protective. They didn't leave each other's sides. Kim was grabbing him while dancing to the music and seemed super happy."
Scott—whose 19-year-old Sophia Richie, was M.I.A.—was on "his best behavior," abstaining from alcohol and "hanging out with Khloe majority of the time or sitting down in a booth with a few male friends," a source tells E! News. "Dave Grutman and his wife also kept him company."
Kylie was the last to arrive. A source says she "was in a great mood" as she partied with Travis and drank vodka sodas. "She was definitely letting lose, dancing and drinking the entire night." As Travis' album, ASTROWORLD, was bumping through the club, they "were definitely being very affectionate and weren't holding back the PDA," the source says. People kept handing her drinks, and Jordyn, Khloe and Kourtney "kept saying they wanted her to be drunk and get wild." At one point, Kim panned around the room and said, "You guys, look! The whole family's here!"
Caitlyn and her rumored girlfriend Sophia were also "inseparable." Kylie "gave both of them a huge hug and was "really happy" Caitlyn showed up," the source adds. Kris kept her distance from Caitlyn, but they did say hi; Khloe, Kim and Kourtney did not appear to interact with her.
Dave got on the mic at one point, and according to a source, "Everyone was laughing and loving it." Kris also addressed the crowd at midnight, calling Kylie one of the "biggest blessings" of her life. She then expressed her gratitude to Kylie and Travis brought for bringing daughter Stormi Webster into the world. Says a source, "Everybody raised their glasses and screamed for Kylie."
After Travis performed, Kylie joined him behind the DJ booth, where they were again seen "cuddling." Kylie "made sure to take photos with all of her friends in a photo booth and was taking lots of photos on her iPhone," which she uploaded to Instagram and Instagram Stories. Marni Senofonte gave the sisters custom dolls, and there was a six-layer "Barbie" cake "with huge sparklers and champagne presented around 1 a.m.," a source tells E! News exclusively. "Everyone in the entire venue sang 'Happy Birthday,' but no presents were given at the party."
The party ended at 2 a.m., and afterward, Kylie uploaded more pictures of her family on social media. Summing up her night, she wrote, "BIRTHDAY BEHAVIOR! WE'RE ALL TURNING 21!"