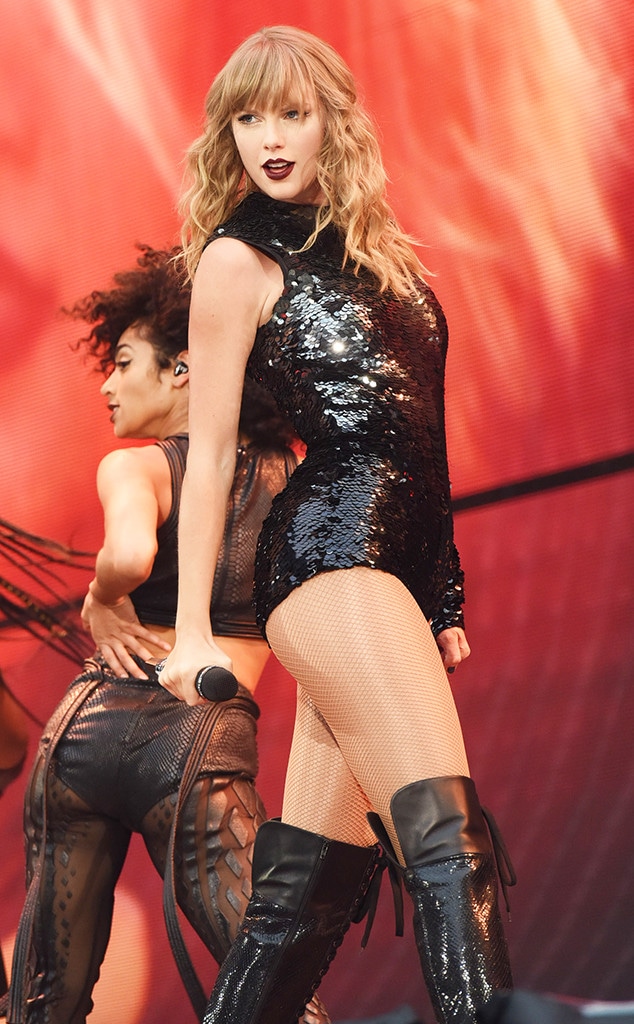 Dave Hogan/TAS18/Getty Images
In just 12 short months, everything has changed.
One year ago, a Grammy winner's Instagram feed was emptied. Her squad was nowhere to be found. And no matter who you asked, nobody could answer one very important question.
Where in the world was Taylor Swift?
Little did we know that the singer was plotting a brand-new album, massive stadium tour and a return to the spotlight that reminded fans why they will forever identify themselves as Swifties.
It all kicked off before midnight one night in August when Taylor released her first single from reputation. Titled "Look What You Made Me Do," the track symbolized a new music superstar who was ready to tackle the headlines that plagued her in recent months.
And instead of heartfelt ballads and fairytale love songs, Taylor was going to get a bit more edgy. "The old Taylor can't come to the phone right now," she said in the track. "Why? / 'Cause she's dead." Oww!
While she stayed away from doing any interviews for the new album, the music spoke for itself. The song became the most played song in a single day on Spotify. The music video—released at the MTV Video Music Awards—earned a whopping 43 million YouTube views in one day pushing over Adele's record with "Hello." And as it turns out, it was only the beginning.
New songs including "Gorgeous," "Call It What You Want" and "…Ready for It?" were released and instantly became radio favorites.
As a result, reputation was released on November 10 and became the best-selling album of 2017. The sales in the first week alone? A cool 1.2 million copies.
Instead of a massive press tour or performances on every major entertainment show, Taylor chose very special moments to showcase her music. On NBC's Saturday Night Live, she served as musical guest and performed two songs.
Days later and Taylor appeared on The Tonight Show Starring Jimmy Fallon where she delivered an emotional performance of "New Year's Day" after Jimmy Fallon's mother passed away.
Tonight Show producer Mike DiCenzo later revealed on Twitter that producers asked Taylor "on a complete whim" if she could perform. "She said yes with zero hesitation," he revealed. "Suddenly she sings the line, 'Squeeze my hand 3 times in the back of the taxi.' I nearly gasped. Tears. I think everyone in the audience started sobbing."
Just days after her album was released, Taylor announced the reputation tour that would allow concertgoers to see the singer live in the biggest stadiums across the country. Ticket sales were so impressive that more dates had to be added.
And in between all the buzz surrounding her new music, Taylor also became one of TIME's People of the Year for an unlikely reason. She was heralded as one of the "silence breakers" in the Time's Up movement after testifying against DJ David Mueller.
After conducting an investigation, the radio station fired the DJ. Two years later, he sued Taylor. The singer responded by countersuing for assault and battery and asking for a symbolic $1—an amount her legal team claimed would "serve as an example to other women who may resist publicly reliving similar outrageous and humiliating acts."
In the end, Taylor won her case and reminded other victims to never accept blame.
"I would tell people who find themselves in this situation that there is a great deal of blame placed on the victims in cases of sexual harassment and assault," she told TIME in a rare interview. "You could be blamed for the fact that it happened, for reporting it and blamed for how you reacted. You might be made to feel like you're overreacting, because society has made this stuff seem so casual. My advice is that you not blame yourself and do not accept the blame others will try to place on you. You should not be blamed for waiting 15 minutes or 15 days or 15 years to report sexual assault or harassment, or for the outcome of what happens to a person after he or she makes the choice to sexually harass or assault you."
Through all of her hurdles, Taylor had a special man in her life that was supportive behind the scenes. That guy was actor Joe Alwyn who managed to keep his romance with the "Shake It Off" singer very private.
While they were spotted on occasion such as a hike in Malibu and at an Ed Sheeran concert, these two were determined to keep their relationship out of the spotlight no matter how much people wanted to see them regularly.
"She got buried in media being on top of her life during the last relationship, so she tried everything in her power to not have that happen again," a source previously shared with E! News. "She worked very closely with her security team and management to make sure her life going forward was private. All of that madness really affected her."
Her romantic life wasn't the only thing Taylor was keeping private. Before kicking off her reputation stadium tour in Arizona this past May, fans didn't know what to expect besides the announcement that Camila Cabello and Charli XCX would be opening acts.
But as the tour kicked off, the reviews were positive and fans were treated to plenty of surprises.
Selena Gomez, Shawn Mendes, Troye Sivan and Niall Horan were just some of the famous friends who showed up to perform a song. Ryan Seacrest, Adele, Lena Dunham, Julia Roberts, Amber Rose, Rebel Wilson, Blake Lively, Gigi Hadid and more stars were also spotted in the audience enjoying the tour.
And yes, more than a few deserving fans received once-in-a-lifetime surprises they will never forget. Okay, so maybe not everything has changed.
As the one-year anniversary of "Look What You Made Me Do" approaches August 24, Taylor appears to have it all. Her music career has never been stronger as her friend group remains loyal. There's a boyfriend that understands the public scrutiny that comes with dating the Taylor Swift. And just last month, it was revealed that the singer will star in the upcoming theatrical adaption of Cats.
The old Taylor may be dead, but this new life may be better than our wildest dreams.