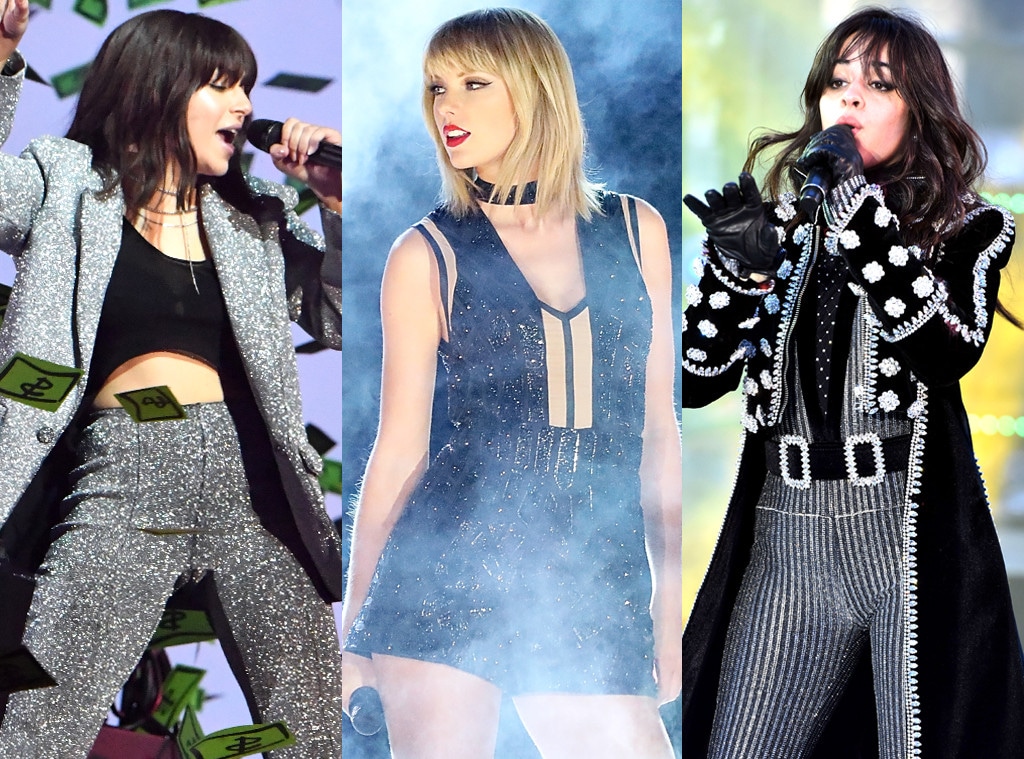 Jeff Kravitz/FilmMagic, Gary Miller/FilmMagic, Anthony Behar/Sipa USA
Are the Swifties ready for this big announcement?
Shortly after rumors started that Camila Cabello could be serving as Taylor Swift's opening act for her upcoming reputation tour, the "Shake It Off" singer decided to set the record straight once and for all.
In a new Instagram Story post, Taylor revealed the talented ladies who will be joining her on the road this spring.
"Hey guys! This is a reputation stadium tour update," she shared with her 106 million Instagram followers. "I've been wanting to tell you this for a really long time but the opening acts for the reputation stadium tour are Charli XCX and Camila Cabello."
She added, "I'm really excited. I hope you are too and I can't wait to see you. Can't wait to see them. Really excited just about the whole thing in general."
Music fans likely already know that Camila recently released her self-titled solo album that features massive hits including "Havana" and "Never Be the Same." As for Charli XCX, she recently released a mixtape titled Pop 2 featuring collaborations from Carly Rae Jepsen, Tove Lo and more.
"I AM SO EXCITED THANK U TAYLOR FOR HAVING ME," Charli wrote on Twitter after the news broke.
Camila added, "On every level, this is a dream come true. As a fan, i'm going to be singing every song at the top of my lungs. As a friend, it's a GIANT SLEEPOVER. As the girl who had a Taylor swift poster in her room when she was 14 and wanted SO BADLY to go to the speak now tour (distinctly remember my friends going to school the next day raving about it and me like), ITS A DREAM. As the girl who would sing Hey Stephen thinking of the boy in class who didn't know my name LMAO, it's. A. DREAM. also, @charli_xcx WHO I ADORE, WHAT?!!!!!! this is going to be so much fun!!!! thank you @taylorswift for having me from the bottom of my heart, i love you so much !!!!!!!!"
The announcement comes close to two months before Taylor will kick off her tour in Glendale, Arizona.
While details on the tour remain tight-lip, the Grammy winner recently shared an image of "Repu-hearsals" on her Instagram page.
In addition, ticket sales have exceeded expectations leaving Taylor compelled to add additional tour dates across the country. To see if Taylor is coming to your neck of the woods, visit her website.