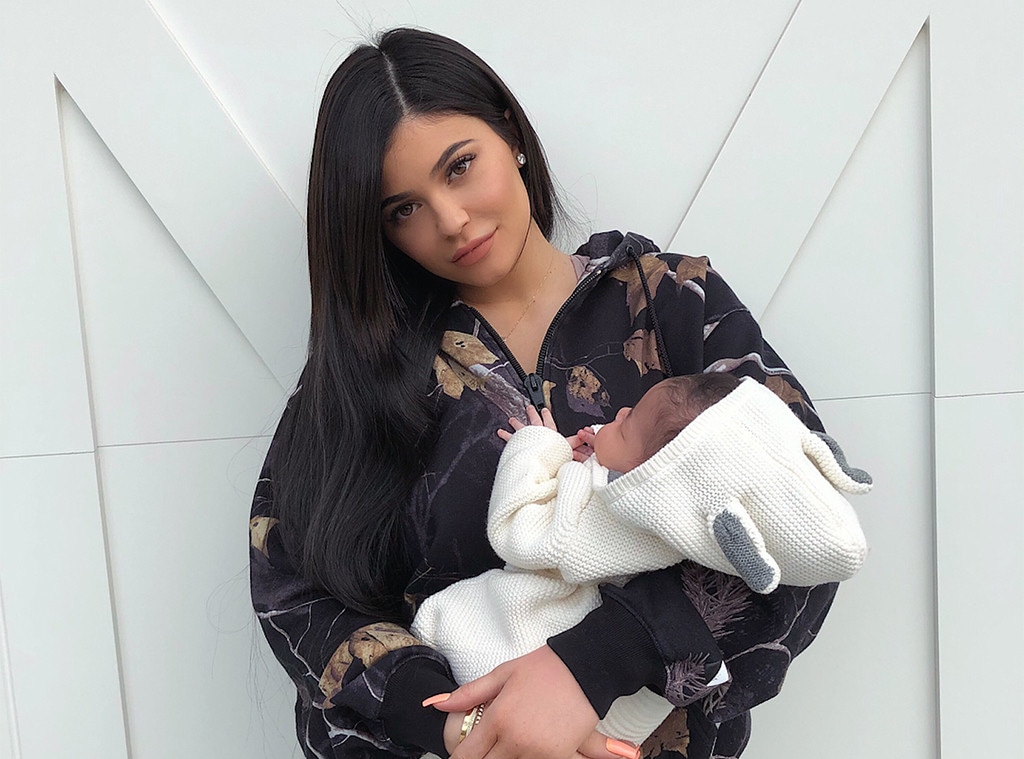 Instagram
Her 21st year began with a surprise as siblings Kim Kardashian, Khloe Kardashian, Kendall Jenner and mom Kris Jenner gathered to fete her with a curvaceous, nude ice sculpture, chocolate fondue and a sheet cake bearing her likeness. But it was Kylie Jenner that was harboring the secret. 
Her romance with rapper Travis Scott—which had admittedly started fast what with Jenner agreeing to join him on tour after their first official hang at Coachella—was approaching mach level speeds. Kylie and the "Antidote" musician (born Jacques Berman Webster II) were due to welcome a daughter that February—a full two months before they would mark their first anniversary. 
It's the type of curveball that might hamper most 20-year-olds—or your average burgeoning relationship. But for Kylie, the impending arrival of Stormi Webster (graced with Dad's legal last name) just gave her more reason to hustle. Diving out of the spotlight for the first time in her overly Instagrammed youth, the makeup mogul nurtured her growing relationship with the 26-year-old Texas-born rock star (who boasts his own devoted, cult-like following) and prepared for motherhood with such zeal that even her older, more experienced sisters say she's the one to turn to for guidance. "She's not judgmental at all and she's not a hater," Kim recently opined to E! News. "She gives really good, sound advice."
As a new mom faced with the classic parenting conundrum of prioritizing career or family, she chose both, spending as much time as possible with her beloved Storm Storm while running her $900 million cosmetics empire from the Hidden Hills, Calif. home next door. (Because who needs an office when you can snap up a 5,147-square-foot spread within spitting distance of one of your many multi-million-dollar homes?) 
Now, as she kicks off her 22nd year, she's eyeing actual world domination. If she maintains her current growth, Forbes predicts that at some point this year the founder, CEO and chief creative officer of Kylie Cosmetics will usurp Facebook's Mark Zuckerberg as the youngest self-made billionaire. (Yes, her head start as a scene-stealing precocious tween on Keeping Up With the Kardashians is undeniable, but she turned that notoriety and some seed money from modeling gigs into the beauty empire she's long dreamt of.)
And while that would give her every excuse to buy that Malibu farm, throw away her phone and "just really, like, live my life," as she once fantasized about to Elle UK, that's not on the agenda quite yet. There's a new collection to put out—this one, a collaboration with best pal Jordyn Woods—a plan to open a series of brick-and-mortar stores and whatever else the social media wunderkind dreams up. As momager Kris projected to WWD last year, "She's just scratching the surface." 
Snapchat / Kim Kardashian
First, though, she's going to turn up. Kylie rang in 21 Thursday night with a pink-themed bash at West Hollywood lounge Delilah that sister Kourtney Kardashian vowed to make epic. You see, the eldest Kardashian spent Kendall's 21st (also at the roaring twenties-themed spot) a few years back making believe that she, too, was reaching the milestone age.  
"So Kylie was like, 'You better be pretending like this is your 21st also," Kourt revealed to E! News days before the party. "So it's a lot of pressure, but I'm going to have a lot of fun that night." 
The question is, will she be acting like your standard 21-year-old or one more akin to her little sister. Because the woman who made hundreds of million of dollars peddling a so-basic-its-genius solution to her naturally thin lips has little in common with the average college kid. She could have simply added the success of Kylie's Lip Kits (the entire 15,000-piece inventory sold out within 60 seconds) to a growing resume of modeling gigs, clothing lines and a few YA novels, counted her money and moved on. But she sagely seized on that demand, adding more shades, more products (eyeshadow palettes, concealers and illuminating powder Scott describes as "the little powder things") and a series of collaborations with Kourtney, Kim, Khloe and Kris. 
Next up in Woods, her bestie since middle school. By the time they announced their forthcoming launch in a July YouTube video, the twosome had been testing shades and reviewing formulas for months. Says a source, "They have spent a lot of time perfecting it before it's launched later this year."
More hours await. Because once the hue and scent ("I knew I wanted something sweet," she's said of her lipstick criteria) of a product is locked in, the marketing challenge begins. Rather than dole out cash for advertising, the reality star relies on the power of Instagram (the brand's page boasts nearly 17 million followers, just a fraction of the 112 million fans who follow Kylie) spending hours determining the best lighting and enlisting her housekeeper to model each shade. "She has the best arm for swatches," she explained Fast Company last year. "She's so nice and just sits there and has her arm ready and lets me do my thing. I care a lot about what my products look like when people first see them."
Her attention to detail is working. Kylie need only post one photo of herself modeling the latest iteration and her millions of devotees clamor to add it to their cart. Which is why her plan to open a set of stores worldwide is sure to be a winner. Though her GQ profile didn't include the details of when and where, writer Mark Anthony Green shared that her proposal was incredibly fleshed out with Kylie telling him, "I really want to create an experience." 
Her biggest dream, though, is already realized. "Everyone says you change completely when you become a mom, but I really feel the same, just better," she told sister Kim in interview for ES Magazine. Raising little Stormi, she continued, has "just been so amazing, and so much fun. I'm learning so much more about myself and life, and it's been such a great experience." 
In between meetings (and her newly adopted morning sweat sessions), Kylie wiles away hours dressing her 6-month-old in her collection of Burberry and Louis Vuitton designs, cooing over her latest milestone (a recent tummy time session indicated that crawling is soon to come), changing diapers ("It's really satisfying,") and getting Stormi ready for her next foreign adventure. 
Her passport already bursting with stamps from Turks and Caicos (where they celebrated Scott's May birthday) and France (for his Cannes Lion Festival performance), Stormi is due for more international experiences, thanks to Dad's Astroworld Tour. Kylie, who recently appeared in Scott's "Stop Trying to Be God" music video, is determined to hit up as many stops as possible and has already enlisted Woods as an extra travel buddy. "She really wants to be there supporting Travis and is very proud of him," an insider reveals to E! News. And Scott is psyched for some backstage companions. Says the insider, "Travis doesn't want to miss out on anything with Stormi."
Kylie can't stand the thought of missing Scott, either. From the moment the former acquaintances (though they had a collection of mutual friends, "e never really had a conversation because I thought that he didn't like me," she admitted to GQ) realized there was something between them, they made it a point to be together as much as possible. As soon as possible. Their group hang turned pseudo date—however you want to label it—at Coachella had been surprisingly successful. "So he said, 'I'm going back on tour—what do we want to do about this?'" Kylie recalled to the mag. "And I was like, 'I guess I'm going with you.'" 
Claiming a seat on his tour bus, she joined him at stops in Pittsburgh, Charlotte, St. Louis and Milwaukee—places that afforded them a bit more anonymity where they could stroll hand-in-hand and truly get to know each other as people, not grandiose personas. "We got to not be who we really were," she explained. "Life, if we were in L.A., I feel like it would've been way different. Everything happens for a reason. We weren't going out as 'Kylie and Trav.' We would just be in Cleveland, walking the street for hours." 
Somewhere between the California desert and his finale at Tennessee's Bonnaroo, as they were bonding over a shared love of the color black and peanut butter and jelly sandwiches, they solidified their union, it's permanence signified by matching butterfly tattoos and, of course, the little Storm they had brewing.
As news leaked out of their impending arrival and Kylie dove underground to enjoy this transitional time away from social media and its judgmental commenters, questions arose about just how involved Scott was. But those queries were answered when Kylie shared her pregnancy story in spectacular fashion, releasing an epic 11-minute video that painted the hyped up hip-hop performer as a devoted father-to-be who attended doctor's appointments, eagerly showed off sonogram videos and claimed a front row seat to the reality scion's Feb. 1 arrival, tearing up when he heard her first plaintive wails. "I was there through the hell...the epidural and shit," he told GQ. "Crazy." 
John Shearer/Getty Images for The Hollywood Reporter
He's rarely left since. Of course there's the intense fear of missing out on his baby girl's next milestone—"He is obsessed with her," an insider tells E! News—but more than that, he simply can't stand to be away from his favorite ladies.  
Despite thriving careers, "Travis and Kylie are really good about managing their schedules and have only had a few days away from each other at a time ever since Stormi was born," says another source, noting Kylie "wants to make sure the family is together as one unit as much as possible." 
Swan Gallet/WWD/REX/Shutterstock
From months of experiences, Kylie has learned that's the key to keeping their relationship in what the source calls "a really great place." While little tiffs are "normal," she admitted to GQ they only tend to happen "because we've been away from each other for too long." 
Fortunately, they've proved themselves to be adept at kissing and making up. Frustrated with an argument they had over the phone ahead of her cover interview, she rescheduled the chat and hopped a flight to Houston to spend time with Scott. "I was like, 'I just need to go,'" she explained to the mag. The Grammy nominee met her private jet with a custom Stormi chain and any disagreements were soon forgotten. 
The romantic gesture wasn't a one-off event. His standoffish personality and predilection for raging (he once cut his palm while swinging from an chandelier mid-concert, and responded by wiping the blood off on the ceiling) belie an incredibly sweet and romantic side. 
Take this gesture from Kylie's 20th birthday last August. "He woke me up out of bed at, like, six in the morning," she recounted. "He was like, 'We gotta go,' and I'm just, like, half asleep, like, 'What do you mean? What do you mean?' And he just starts pulling me, and the sun was just coming up, and he had flowers all the way down his house and violin players everywhere." 
It's a move that's undeniably smooth and one that could be hard to beat. But for starters, may we suggest adding a tower of champagne and a toast to the mogul's incredibly bright future?