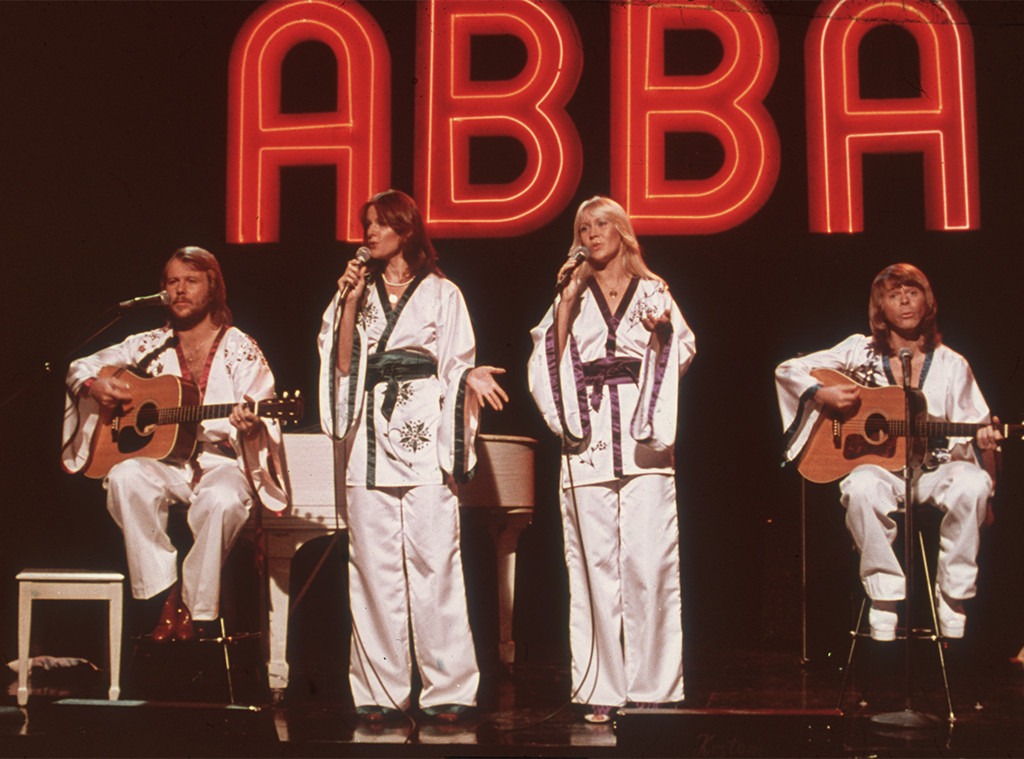 Hulton Archive/Getty Images
Mamma Mia...here we go again!
The sequel to 2008's Mamma Mia! film, Mamma Mia! Here We Go Again hits theaters today and you know what that means...more ABBA songs.
Nothing says summer like singing along to your favorite ABBA tune in a feel-good movie like Mamma Mia! Here We Go Again, right?
While we are definitely excited to hear Amanda Seyfied, Lily James, Meryl Streep and Cher belt out the Swedish disco group's—made up of Agnetha Fältskog, Björn Ulvaeus, Benny Andersson and Anni-Frid Lyngstad— best tunes once again, ABBA's songs have been our go-to karaoke picks for years and we're not alone. 
Earlier this month The Bold Type's Jane (Katie Stevens), Sutton (Meghann Fahy) and Kat (Aisha Dee) sang "Mamma Mia" on the show, karaoke style and we instantly felt more connected to the TV trio and the iconic pop group. 
No matter why you listen to ABBA or how you first heard their songs, you have to admit they are pretty amazing. Their voices, the beats, the dance-worthy vibes on every track just make this group so unique.
That being said, we know you have an ABBA song queued up and ready to sing at a moment's notice and we want to know which one it is, so get ready to vote disco darlings!
The group might've been huge in the '70s, but their classic disco tracks still hold a special place in a lot of people's hearts.
In fact, ABBA's songs are frequently put on at parties and always an easy and fun pick for karaoke nights. With so many hits is it really that surprising?
When we talk about their best songs of all time there are quite a lot to choose from. That being said we have to give a shout out to some of our personal faves including "Dancing Queen." This song is pretty much every girl's anthem when going out to dance with your squad and we love it so much.
There's also "Take a Chance on Me" which is so darn catchy.  If you want more of an upbeat and easy to remember track you should listen to "S.O.S." because it's chorus is so fun and very easy to pick up on. 
Of course there is also the more serious tune "I Have a Dream," which is not only a pretty song, but it really does tell the tale of anyone who has ever had a dream they've wanted to make a reality.
These songs are only the tip of the iceberg however when talking about the foursome's memorable lyrics and jams throughout the past few decades.
We have even more top picks below! 
"Super Trouper" for example, makes us want to get up and bust a move whenever it comes on the radio. 
Then we have the songs with the same word throughout the title like, "Honey, Honey" and "Money, Money, Money," both of which are happy and upbeat songs you can't help but bob your head to when you hear them.
One of the more surprising hits from this group is "Waterloo."
The song is amazing don't get us wrong, but it's about the Battle of Waterloo, which took place in 1815, and therefore it is so random and yet it totally works. 
The next four songs on our karaoke rotation from ABBA might be some of the most iconic of them all.
First up is "Mamma Mia!" It's the song that inspired the musical and movies and it is one of the best sing-along songs that was ever created.
It always makes us think of summer nights and fun with our friends and we are a little obsessed with it if we're being totally honest.
Another classic song that was made even more famous from Mamma Mia! is "Does Your Mother Know." 
Haven't we all had a night out where we've questioned if our mother knows what we're doing? Well, this song perfectly describes the shenanigans teens can get into when their mothers aren't watching. 
If you are more of a saucy and sassy disco queen then "Voulez-Vous" and "Chiquitita" are probably your usual track choices from these fab four and we don't blame you they are so fierce and funky.
We can't talk about ABBA's best songs without mentioning "Knowing Me, Knowing You." Even though the lyrics are about a breakup the song itself is beautiful and so well done.
"Gimme, Gimme, Gimme" is another catchy tune that we couldn't imagine not existing. It's another disco anthem and hilarious when you really listen to the words. Give us a man after midnight...we need one, duh!
Lastly, we have "Fernando," which is a lot of people's favorites based on its melody and story, and now it is featured in the Mamma Mia! sequel as well. The best part about this song is that now we can hear it sung by both ABBA and Cher. Pretty great, right?
OK, now it's up to you to sound off on which of these 15 ABBA songs is the best karaoke track, or just your favorite song by the group.
No judgment from us because all of these tracks are a disco lover's dream.
Mamma Mia! Here We Go Again is now in theaters.
ABBA's Greatest Songs Poll