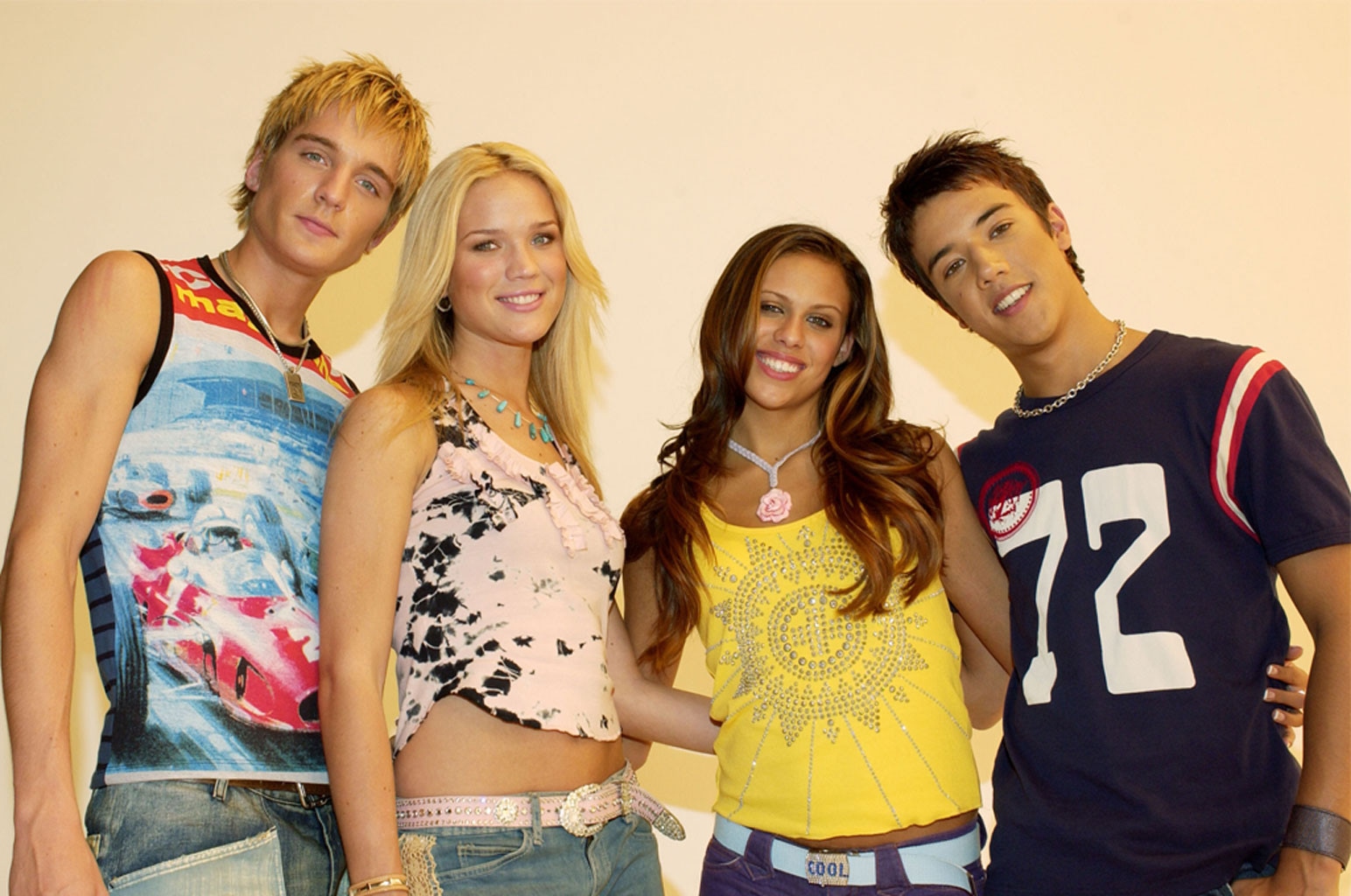 L. Cohen/WireImage for Geffen Records
They were our "Sugar Rush." They helped us travel "Halfway Around the World." And yes, they even had us "Upside Down" bouncing off the ceiling.
If you didn't already guess, we're talking about A*Teens!
The Swedish pop music group featuring Marie Serneholt, Amit Sebastian Paul, Dhani Lennevald and Sara Lumholdt were unstoppable in the late '90s and early 2000s for their infectious beats and catchy lyrics.
They also helped introduce a whole new group of fans to the music of ABBA with their album titled The ABBA Generation.
With Mamma Mia! Here We Go Again hitting theaters today, there's no better time to ask the very important question: What happened to A*Teens?
"When we hit the flourishing music industry, you could sell extremely many discs. It was a very lovely time," Marie shared in a podcast translated from Swedish. "Then came pirates, it started to download. Everything just went downhill. You did not sell anymore."
The group decided to take a break, which ultimately became permanent.
"It was like a time that was not particularly light at all. There was no inspiration, either for us or for those who worked," Marie explained. "You did not think it was fun anymore. Our four had been working extremely intensively for many years. One was looking forward to having his life back, just being normal."
During their time apart, many members couldn't shake off the music bug. Marie released a solo album titled Enjoy the Ride in 2006. She later became a judge on the Swedish version of The X Factor. The lifestyle blogger, who is currently expecting, also found success with her own fragrance collection.
Dhani was able to co-write Lupe Fiasco's track "Stellar Light," which became the official rallying anthem for the 2014 World Cup.
According to Bustle, Amit obtained a master's degree in business from Stockholm School of Economics. He became the managing director of Paxymer, a fancy company that produces a flame retardant and environmentally friendly system for polymer materials.
As for Sara, she won the Swedish pole dancing championship in 2014. And if you want to take pole dancing lessons from the pop star, you can! She reportedly teaches at a studio in Stockholm.
For those hoping for a revival, reunion or any kind of renewal of A*Teens, the short answer is never say never. In fact, some members of the group have hung out in recent years.
"Everyone from A*Teens has finally met to talk old good memories. We are all friends again. It's great fun," Sara shared in 2012 after hanging with Marie on the set of The X Factor. "We have found back again as you do with old friends. It has felt sensible. We used to work extremely close to each other and then you need to breathe a little."
The group would also reunite in 2015 to support Marie at Let's Dance.
"Nostalgic times meeting up with the other guys I once had a group with," Dhani shared on Instagram. "For a great cause too Supporting the 'Let's dance' super talent @marieserneholt. Great seeing all of you @marieserneholt @saralumholdt @am8p. #ateens And you slaughtered sister."
Dare we say we can't help but fall in love with this group all over again.