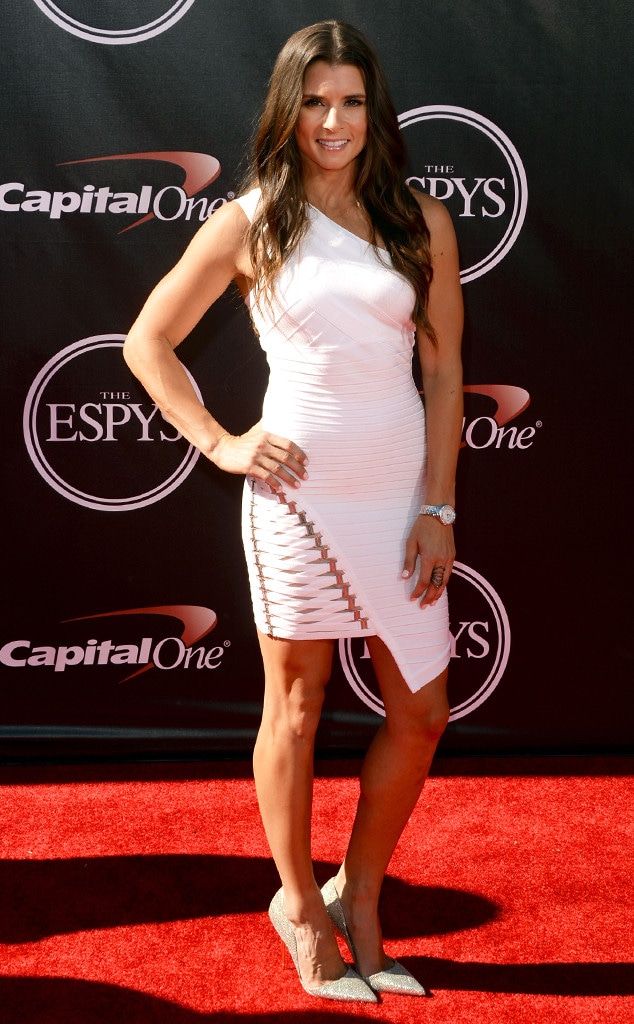 Jason Merritt/Getty Images
At first Danica Patrick proceeded toward retirement with caution, but once it got closer she was full speed ahead.
"Retirement was something that at first seemed really scary, but the more I thought about it, the more I was like, 'No, not really,'" the pioneering NASCAR driver, who tonight becomes the first woman to ever host the ESPYS, said on CNBC's Power Lunch earlier this year as her final races loomed.
"My primary job is going to be a huge reduction in time," Patrick explained. "To go from 38 out of 40 weekends a year, which on top of the race weekends themselves there was sponsor obligations and all kinds of other things that you had to go do, so taking that out of the equation is going to free up a lot of time."
That is a lot of time that's been spoken for over the last six years since she started competing in NASCAR—not including the decade of professional racing, first in Europe before she made her IndyCar debut in 2005, that came first. So how has the pioneering athlete, the only female race winner in IndyCar Series history and most successful woman to compete in NASCAR to date, been filling up her free time since putting the brakes on the career she's known all her life?
Well, she did meet a nice guy... 
Six years ago.
"We met at the ESPYS back in 2012," Patrick reminisced on SiriusXM's The Jenny McCarthy Show, recalling when she first crossed paths with her boyfriend of now seven months Aaron Rodgers. 
"We both remember, we remember meeting each other, it was quick," she continued, "but I got his email address and I remember thinking to myself back then, 'Oh...not a phone number, just an email address.' Whatever," she laughed. "We kept in touch just a little bit, there were some years I don't think we talked to each other and then some, every now and again—but it wasn't until obviously recently that we actually had phone numbers. We referred to each other as 'Chicago' and 'Green Bay.' It was very cute. Like the Capulets and the Montagues, you know."
For starters, Chicago (who, ironically, was born in Wisconsin) was recently separated from eventual ex-husband Paul Hospenthal when she first met Green Bay (born in California), and by the end of 2012 she was dating NASCAR driver Ricky Stenhouse Jr., whom she was in a relationship with until late last year. Green Bay, meanwhile, started dating Olivia Munn in 2014.
So the star-crossed athletes weren't meant to be just yet.
Bu the newly single stars reunited and by February Rodgers was on the sidelines rooting Patrick on at her final Daytona 500. They've since been making the most of the NFL off-season, enjoying in the basic first-six-months stuff such as meeting the Dalai Lama on a trip to India together. 
"Isn't it crazy how you get older and you're like, 'I feel like a child right now,'?" Patrick giggled with McCarthy in May over the teenager-reminiscent giddiness she was experiencing from her new relationship. "Waiting by the phone," McCarthy said as she mimed texting. "Yeah, of course!" Patrick agreed.
Aside from sharing competitive drive, discipline and commitment to maintaining their minds, bodies and souls, one of the keys to their happiness is checking their sporting allegiances at the door. Well, Rodgers can't, considering he's still the Green Bay Packers' star quarterback, but Patrick may have stashed her Chicago Bears gear out of sight for the greater good.
"I agree [about not harping on the rivalry]," she said. "No one's gonna wreck me as an athlete. That's up to me, right? It's up to me to control my environment and my own emotions and do what I need to do to do my job well. And anything other than that, it should be good. I'm here to add, not take away. I'm here to make you happy, so, yeah!"
One of their rituals as a couple that can't help but cause mutual happiness: Danica makes waffles on Sundays.
But surely she's a Packers fan by now, right?
"Yes, like the biggest Packers fan," Patrick insisted on Jimmy Kimmel Live on Monday. "Were you a Packers fan?" Kimmel asked. "I wasn't, true story," she admitted, playfully hanging her head. See, she was born pretty close to the Wisconsin state line and actually grew up in Illinois, hence her lifelong allegiance to Chicago teams.
"My dad grew up with all Packers fans, so what he says is, 'I'm not against the Packers, I'm against the Packer fans,'" Patrick explained. "I don't know what that really means, 'cause now I'm a Packers fan, so I guess we're going to have to talk about that."
With Green Bay vs. Chicago to discuss, who needs politics? And while you're at it, cross playing golf off the list of things Danica is doing with her free time.
Before she had to head to L.A. to start rehearsing for the ESPYS, Patrick was in Lake Tahoe, where Rodgers was playing in the American Century Championship celebrity golf tournament—and she was perfectly happy to be among the spectators.
"I've played—I'm a terrible golfer," she told USA Today's For The Win. "I'm honored to be a member at Scottsdale National [Golf Club] thanks to Bob Parsons, who founded GoDaddy, and I have PXG clubs thanks to him. But other than that, I'm a pretty terrible golfer."
Patrick continued, "I would much rather watch. I don't like to do something I'm terrible at, so I have no problem watching. I like to do that, and I like to be supportive too.
"So this morning, I went to the gym and worked out and had breakfast and showed up and showed up at the first tee. And plus, I'd probably hit a person or something with a golf ball because I'm horrible at playing golf."
Todd Warshaw/NASCAR via Getty Images
Meanwhile, she's still all about the demanding workouts, fitness being a cornerstone of the lifestyle brand she's also been nurturing in recent years. 
Even if she didn't have this exciting new love in her life, Danica Patrick was going to have a full plate-and-a-half upon retiring. In addition to being the longtime face of GoDaddy.com; appearing in multiple Super Bowl ads over the years; racking up endorsements; becoming a sought-after poster girl for health and fitness; and modeling for, among other publications, the Sports Illustrated Swimsuit Issue ("I loved it, completely. I wish I was a swimsuit model," she told an SI reporter about the experience), Patrick was steadily building her business empire behind the scenes.
Right out of the gate when she started competing in NASCAR, Patrick became the fifth-highest-paid female athlete in 2011, with Forbes estimating she earned $13 million thanks in large part to endorsement deals with Coke Zero and Sega. Last year, even with no trips to Victory Lane under her belt, she was the seventh-highest-paid NASCAR driver with $12.2 million, including $5.1 million in endorsements.
With her eye starting to turn toward her post-racing future, in early 2017 she launched her own line of athleisure wear called Warrior by Danica Patrick on HSN, and in December she released her first wellness book, Pretty Intense: The 90-Day Mind, Body and Food Plan. (FYI, those waffles are gluten-free.) She admitted on Rich Roll's podcast in January, when asked about the connection between her preferred lifestyle and driving, "I am more fit than I need to be to do the job...It's really about being the best version of myself." But she definitely thinks the "mental strength" that comes from the intensity of her fitness regimen translates.
"The health and fitness world is really where I love to spend my time and where I'm going to put my energy into," she told E! News this month. 
But while diet and exercise tips could be considered pretty par for the second-career course, especially for a sports star, Patrick is also excited to pay more attention to the Napa Valley winery she bought in 2009.
That's right, Patrick has her own wine label, Somnium (Latin for "dream"), and now she can actually enjoy the fruits of her labor. In fact, right after she called it a career at the Indy 500, she was off to a wine auction.
"So many people spend their lives doing what others expect, or what they think they're supposed to do, instead of doing what they love," Patrick said in a statement in April, per Wine Industry Advisor. "Side hustles and hobbies are usually a reflection of your real passions, and I'm ready to focus on my other interests outside of racing, like Somnium.
"The timing of the Auction Napa Valley event is perfect, because I can head straight there from the Indy 500. I've never been able to attend before and I'm excited to finally experience it."
Patrick, whose vineyard is on Howell Mountain in St. Helena, continued, "I want people to fall in love with Napa Valley the way I did. People have these experiences they will never forget, and the wines they drink become an association with the lifestyle and environment there. That's what drinking wine is all about: relaxing, conversation and spending time together over amazing food.
"I thought owning my own winery was something that would just be a dream, but it became a reality. I can't tell you how many times I've signed an autograph for a child and added the note: 'Dream big!' It's a life motto—it's how I think, how I live and what I preach."
Her storied racing career may have ended disappointingly, with Patrick crashing out of the Indy 500 on lap 67, but darn it if she didn't dust herself right off in time for the auction.
"I made these businesses, but now I'm going to be able to get into them much deeper," she told CNBC in January. "Go to events for my winery, go to more book signings, you know, hopefully write more books! Develop the clothing line even more, maybe go to some fashion shows and work with the designers on fabrics and actually be there with them. These are all things that I'm really excited to do."
And perhaps hosting the ESPYS—the fulfillment of a decade-long dream—is just the beginning. The next time you see Danica presiding over a production, it could be her own cooking show.
"We're working on some concepts right now," she revealed. "...It used to be [regarding projects] I've done this before and concepts have come to me and it had to kind of fit the schedule, but now it doesn't need to fit the schedule, it can be the schedule. So it's shifted a little bit toward what makes the most sense, what's going to be the most fun, what's going to be the best show—so what do y'all want to see out there, what do you want to see from a cooking show?"
Jason Merritt/Getty Images
Eventually, she told E! News, she's "planning to go on a couple of trips and relax a little bit." But first, the ESPYS.
First of all, Patrick can't believe she's the first female host.
"The fact that a woman has not hosted the ESPYs is really surprising," she told E! News earlier this month. "In 25 years, you'd have thought—I mean, there's plenty of funny women out there. I mean, I'm not funny and I got the gig." She quipped, "I have actually requested that Aaron tells me I'm funny on a daily basis, just to boost my confidence."
Seriously, though, "I have the time now to prepare properly for this—and just do it at all. With the race season I would've never had time to do it. And also, you know, I'm an athlete. Having an athlete host the ESPYS is always something I think the producers try and get, that is a cool element to the show just because it's so much validity for what the show is all about, and that's sports. It's a true, true honor to be able to do that."
When she got on the phone with the show's writers she said, "'OK, we're going to set the standard right here. We need to put together the best show we ever have."
So that signature Danica Patrick intensity hasn't gone anywhere, even in "retirement."
"Retired at 36 is probably the first time I felt young," Patrick told Jimmy Kimmel. "You know there's a transition where you go from, you know, you're the youngest person ever [to achieve something] to you're the oldest person ever, and it just happens all of a sudden. It's like gray hair. And then all of a sudden I'm like, 'wow, yeah, I feel young, I'm retired at 36.'"
And cozy waffle Sundays aside, she's showing no signs of slowing down. Time is of the essence, and finally she has some. 
The 2018 ESPYS air tonight at 8/7c on ABC