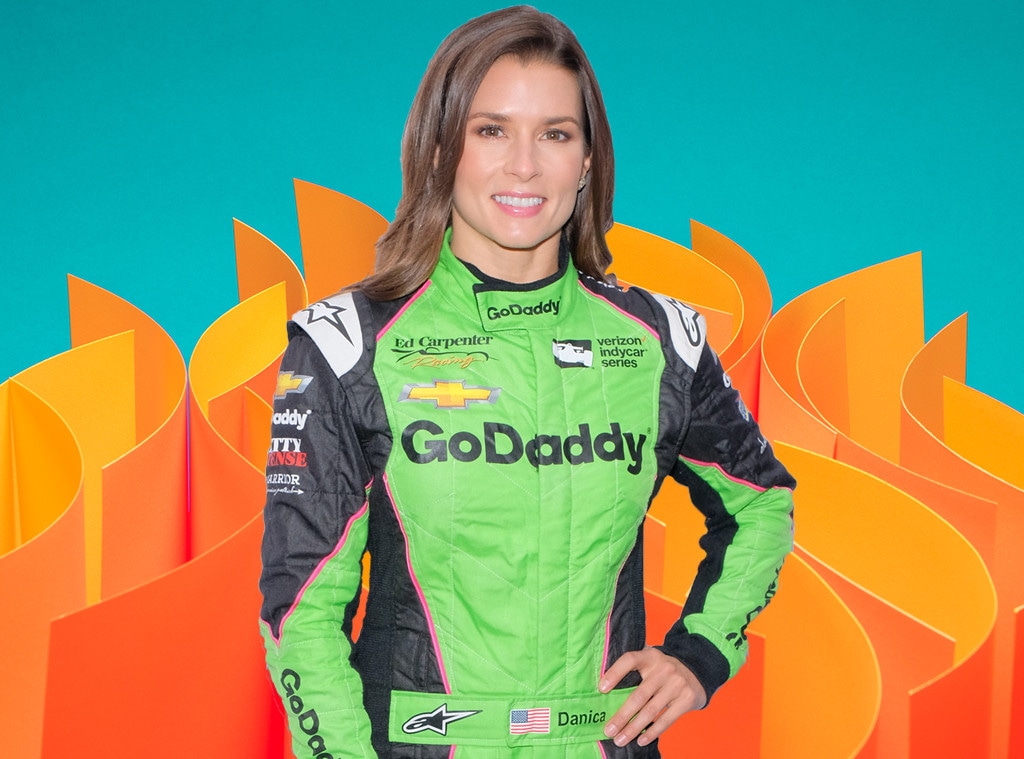 Matthew Eisman/Getty Images, PM Images
While Danica Patrick is slated to take the wheel as the first female host of The ESPYS on Wednesday night, it's just one of many firsts for the star race car veteran.
"I have a thing for doing things for the first time as a woman," she quipped when the hosting news was announced on The Tonight Show in May. 
It's been two months since the revered racing champion hung up her helmet and stepped away from the track after a history-making career spanning decades. 
Her fast and furious road began with a crash. As the story goes, a then-10-year-old Danica got her first taste of the sport when she hopped into a go-kart given to her by her father, T.J. Patrick, Jr., for a race against her younger sister, Brooke. However, the youngster's brake failed and the race ended with her crashing into a wall and her coat catching on fire. She survived with her racing bug fully in tact.
It's no surprise the future racing star took to the sport—it seemed to be in her blood. Her parents, T.J. and Beverly, met at a snowmobile race where her mom was working as a mechanic. Meanwhile, T.J. had taken up racing snowmobiles and midget cars early on in his life. And, now, it was his daughter's turn. 
"I made a rule that if she was going to do this, she had to learn something every time she went onto the track," T.J. previously told Sports Illustrated in 2008. "She had to learn how to tune her own carburetor and understand things like when her tires were going bad, what lines she needed to take and when she needed to brake. She caught on quick."
While her sister Brooke forsook the sport fairly early, Danica forged ahead in go-kart racing through her teenage years. While amassing some success—and headlines—in the Midwest, she eventually met Texas oil tycoon John Mecom Jr., who offered to sponsor her abroad. In the midst of her junior year of high school, Danica packed her bags and headed for England. 
During her three years spent overseas, Patrick competed in the Formula Vauxhall and British Zetec Formula Ford series, finishing second in the Formula Ford Festival in 2000, which was the highest finish for an American in the event. However, homesick and hitting the bars as a way to keep up with her male competitors, Patrick eventually lost Mecum's sponsorship because of party rumors swirling around her. While her father had agreed to back her, she eventually returned to the United States as funds began to run dry. 
Watch:
Danica Patrick Will Make History as First Woman to Host ESPYS
Back in America in 2001, Patrick forged ahead. Spending weekends with her father trying to get team owners to hire her, she eventually got signed to a three-year contract by Bobby Rahal for Rahal Letterman Racing and continued to compete through the early 2000s, including in the Toyota Atlantic Season. She began to shape racing history when, while competing for the second time in the series in 2004, Danica became the first woman in the series to win a pole and hold the top spot.  
Fast forward a year later, she was named Indianapolis 500 and IndyCar Series Rookie of the Year after finishing fourth in the 2005 Indianapolis 500, which was the best finish by a woman at that time, and had her first Sports Illustrated cover to commemorate the historic moment. However, her most prominent claim to racing history came in 2008 when, after moving to Andretti Green Racing, she became the first woman to win an IndyCar event with her victory at the Indy Japan 300.
"Finally. I knew there was a reason I always liked coming to Japan," she told ESPN at the time ten years ago. "I feel like a wuss crying, but it's been a long time coming. Finally..."
Meanwhile, her doting dad was beaming with just as much pride. "It's the best day of my life," he told the outlet. "I've dreamed about it and I'm so proud of her. For all the grief she gets over it, she just proved to everyone that she can win races, and she's going to win a lot more."
Chalk it up to a secrete future-telling talent or simply the kind of undying belief most parents have for their kids, T.J. was right. Danica proceeded to outdo herself as she finished in fifth at the IndyCar Series in 2009, her career best and the best point finish ever by a woman. Later that year, she placed third in the Indianapolis 500, also the best finish historically for a woman.
By 2010, she had shifted into stock car racing and quickly made her mark as she finished fourth in the Xfinity Series in March 2011, historically the best finish by a woman in a NASCAR national stock car series. At every turn, the athlete pushed the boundaries for women in the sport as she won the pole in the season opening 2012 NASCAR Xfinity Series and finished in a record-setting 10th place as the highest-finishing woman in a major stock car series. 
Danica was on a roll. The next year, she became the first woman to win a Cup Series pole when she set the fastest qualifying time at the Daytona 500 and finished in eight place, the highest finishing position ever for a woman in the event. She also led laps in the race as the first woman to do so. 
"Only 13 people including me have led Daytona and Indy," she told USA Today at the time. "That's a cool stat for me."
However, it was only a few more years before Patrick announced her retirement from full-time racing in 2017. 
In 2018, she finished off her career just as it began. In what some would consider a metaphoric full-circle moment, the star collided with cars in her last Daytona 500 race and crashed into a wall at her final Indianapolis 500.
"Today was really disappointing for what we were hoping for and what you want for your last race, but I'm grateful for all of it," she told ESPN after her last run.
While the checkered flag has waved on her racing career—she plans to focus on her entrepreneurial pursuits moving forward—Danica has paved a farther road for female and male drivers to come. 
"I was brought up to be the fastest driver, not the fastest girl," she said in 2013. "I've been lucky enough to make history, be the first woman to do many things. I really just hope that I don't stop doing that. We have a lot more history to make."