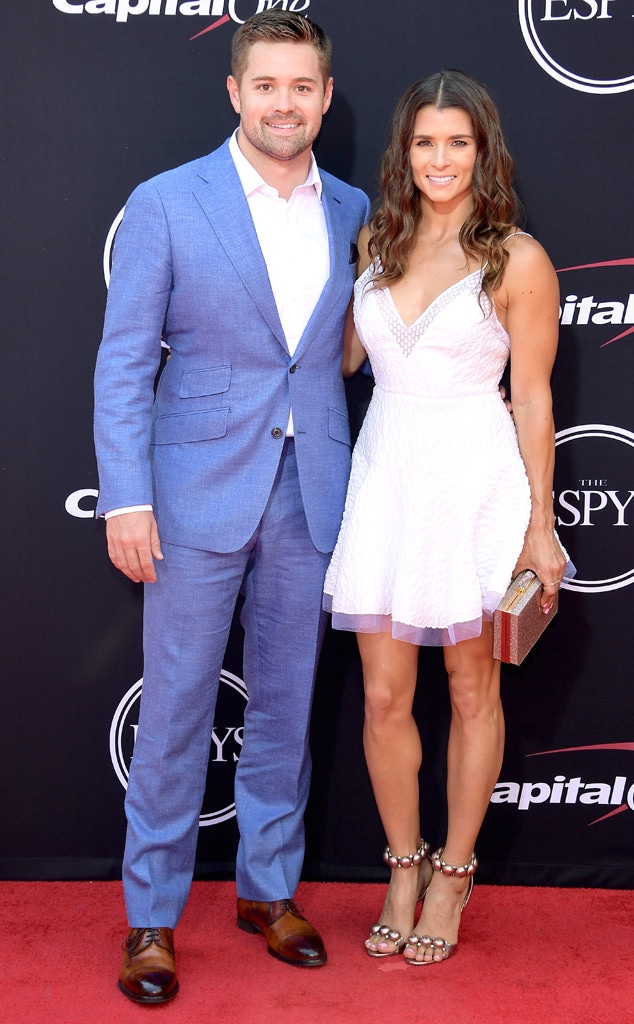 Matt Winkelmeyer/Getty Images
NASCAR's power couples has taken its last ride...
After almost five years of dating, Danica Patrick and Ricky Stenhouse Jr. have broken up. A spokeswoman for Patrick confirmed the split to ESPN on Monday.
The two have been very public about their relationship, which began at the beginning of 2013. The couple raced against each other regularly for the past five years and have often clashed both on and off the race track.
Rumors started swirling that the high-profile couple had put the brakes on their relationship after Stenhouse showed up at the NASCAR Cup Series awards ceremony in Las Vegas on Nov. 30 sans his lady love.
Most recently, the fast-moving duo was photographed at the 2017 ESPY Awards on July 12.
Yahoo Sports' Nick Bromberg reported that the pair began dating in 2012, after Patrick made the career-making move from IndyCar to NASCAR.
Patrick confirmed the relationship news in January 2013 that she was dating the fellow driver when she told the AP, "I have a boyfriend, his name is Richard."
The 35-year-old driver was previously married to Paul Edward Hospenthal from 2005-2013.
In a recent EPIX documentary titled Danica, the barrier-breaking woman said she wants to have kids and has even gone so far as to freeze her eggs "about a year and a half ago."
In the documentary she said, "I have always had people say, 'You'll make a great mom someday.'"
The Pretty Intense author elaborated on the couple's discussion about children, "There'd be days a long, long time ago where I would be thinking in my head, 'I don't want to.' 'I don't want kids.' … It's definitely more of a thought now – and being with Ricky, that is something he has always wanted. If we were going to have a relationship, that had to be something that I wanted. … Ricky's well aware that I'm not having a family unless we're married in any capacity."
Patrick fooled fans on April 1 by posting an Instagram that made it seem like the longtime couple had finally gotten engaged, but it turns out it was only an April Fool's gag.
The driver retired as a full-time NASCAR driver at the end of this season, but plans on competing in the Daytona 500 and Indianapolis 500 in 2018, a move she's dubbed the "Danica Double."