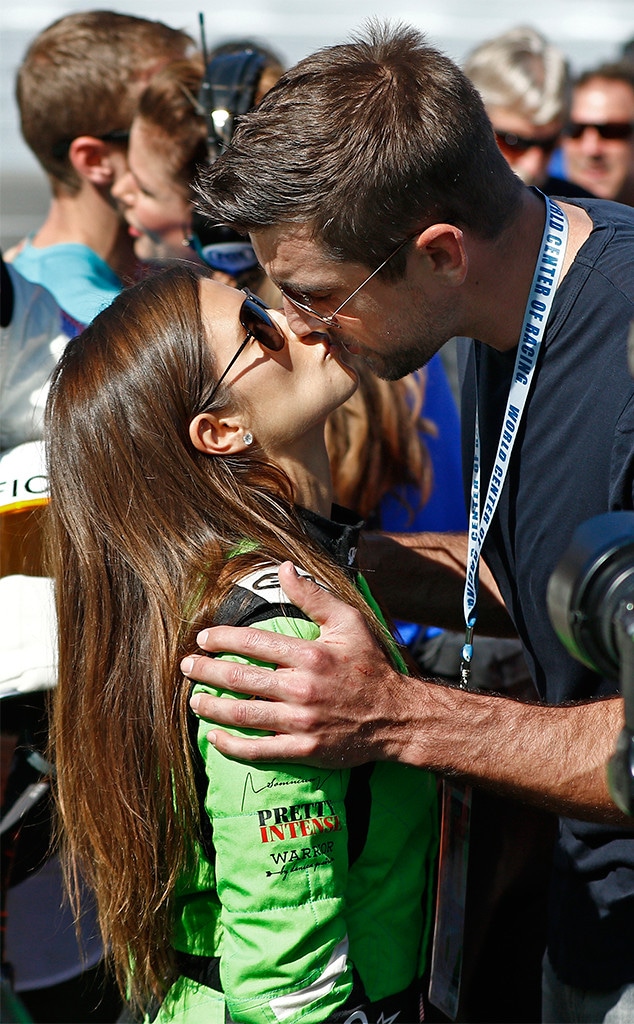 AP Photo/Reinhold Matay
Talk about some serious PDA!
Hot new couple Danica Patrick and Aaron Rodgers put their love in the fast lane in front of the world and right before the NASCAR Daytona 500 Cup series auto race at Daytona International Speedway in Daytona Beach, Fla.
The two kissed for all to see ahead of the Danica's NASCAR race on Sunday.
The Green Bay Packers quarterback made sure to support his fast-moving lady love, ahead of one of her final race of her NASCAR career. In the photos, it appears as if the football star is giving the driver some pep talk before her big race. 
Before the race, she hopped on Instagram to give a shout out to her family and Rodgers, whom she shared a photo with. She wrote, "Doing Daytona with all the people that mean the most to me."
Jared C. Tilton/Getty Images
Patrick placed 35th after colliding with Chase Elliott, Kevin Harvick, Kasey Kahne, Brad Keselowski and others on her lap 102 out of 200.
After the race, she told ESPN, "My family and friends have all been here, so many people have reached out, [and] it's been a nice week, so I'm not going to dwell on the result here. That's always a chance when you come to a superspeedway that's the result."
She may have been unlucky on the track, but it looks like she's lucky in love!
"Yes, Aaron and I are dating," Patrick told the Associated Press (via ESPN) last month.
According to the ESPN article, Patrick told the AP she met Rodgers back in 2012 when they both attended the ESPYs. Rodgers won the award for Best NFL player that year. Even though she admitted she was a fan of the Green Bay Packers' rival the Chicago Bears, she "told him a long time ago I'd always root for him as a player." 
"Now I am probably going to cheer for the whole team," she told the AP (via ESPN). "Take out the word 'probably.' Now I'm going to cheer for the whole team."
Rodgers previously dated actress Olivia Munn. However, the two called it quits in April after three years of dating. 
Meanwhile, the racecar driver previously dated Ricky Stenhouse Jr. However, the two ended their relationship in December after five years of dating.