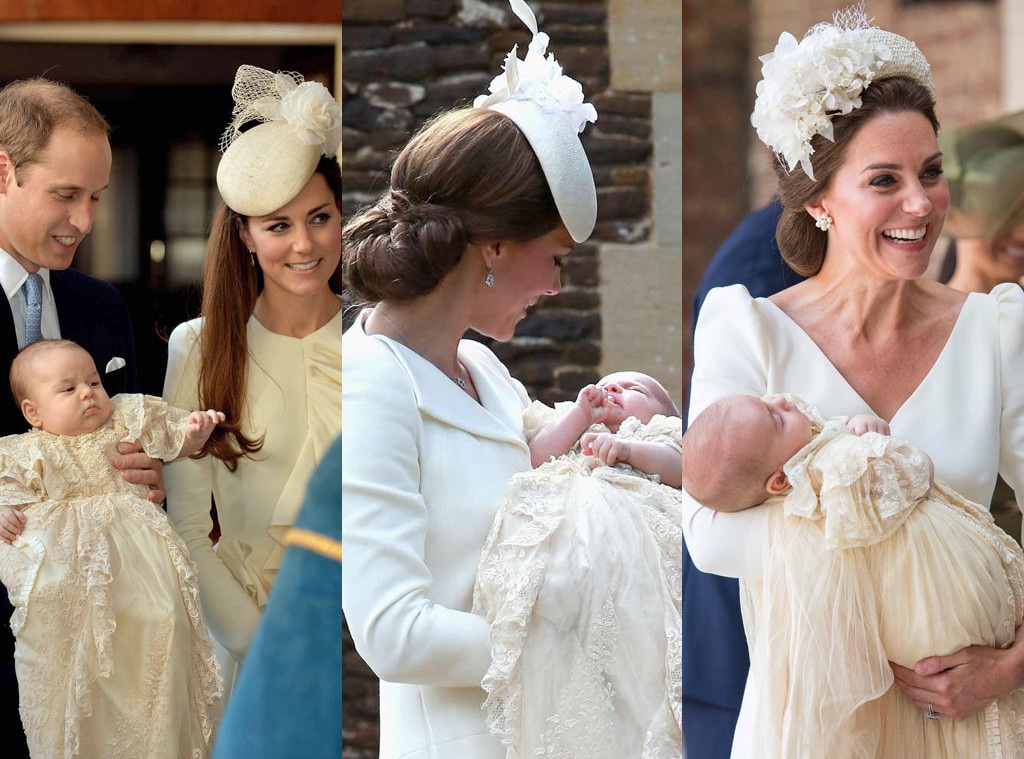 AP
Prince William and Kate Middleton's third child, Prince Louis, was baptized in London on Monday.
The Duke and Duchess of Cambridge arrived with baby Louis, Prince George and Princess Charlotte to The Chapel Royal at St. James' Palace for the christening. Prince Harry, Meghan Markle and Pippa Middleton were also in attendance at Monday's baptism. It was just four months ago that Meghan was baptized in the same chapel ahead of her wedding to Harry.
Prince Louis' elder siblings were also baptized following their births in 2015 and 2013. Let's take a look at how Louis' christening compares to George and Charlotte's baptisms:
Dominic Lipinski/Pool Photo via AP
Wardrobe: For his baptism on Monday, Louis was dressed in a hand-made replica of the royal christening robe, made by Queen Elizabeth II's dressmaker, Angela Kelly.
The royal christening robe is the same outfit that George and Charlotte wore for their baptisms. Before them, the Queen's grandson, James, Viscount Severn, was dressed in the robe for his christening 10 years ago. He was the first member of the royal family to don the replica.
Dominic Lipinski/Pool Photo via AP
Guest List: While the Queen was in attendance at both Prince George and Princess Charlotte's christenings, she was absent from Prince Louis' baptism. Prince Philip was also not in attendance on Monday, and, according to the Press Association, it's understood that the couple's absence was not health-related and was agreed upon by them and the Duke and Duchess of Cambridge.
This was also Meghan Markle's first time attending a christening for one of William and Kate's children.
Dominic Lipinski/Pool Photo via AP
Date and Location: Prince Louis and Prince George's christenings were held at the same location, The Chapel Royal at St. James's Palace in London. While Princess Charlotte's christening took place at St. Mary Magdalene Church, a 16th-century chapel in Sandringham, Norfolk. The location is also where Princess Diana was baptized in 1961. Water from the River Jordan was used during Charlotte's baptism, as it was during George's christening.
As for the date of the three christenings, Prince Louis' baptism took place today, Monday, July 9, while Charlotte's took place on Sunday, July 5, 2015, and George's christening occurred on Wednesday, Oct. 23, 2013.
Dominic Lipinski/Pool Photo via AP
Godparents: It was announced on Monday that Prince Louis has six godparents: Nicholas van Cutsem, Harry Aubrey-Fletcher, Robert Carter, Laura Meade, Lucy Middleton and Guy Pelly.
Back in 2013, it was revealed that Prince George has seven godparents: Oliver Baker, Emilia Jardine-Paterson, Earl "Hugh" Grosvenor, Jamie Lowther-Pinkerton, Julia Samuel, Zara Tindall, William van Cutsem.
While Princess Charlote has five godparents: Hon. Laura Fellowes, Adam Middleton, James Meade, Sophie Carter and Thomas van Straubenzee.