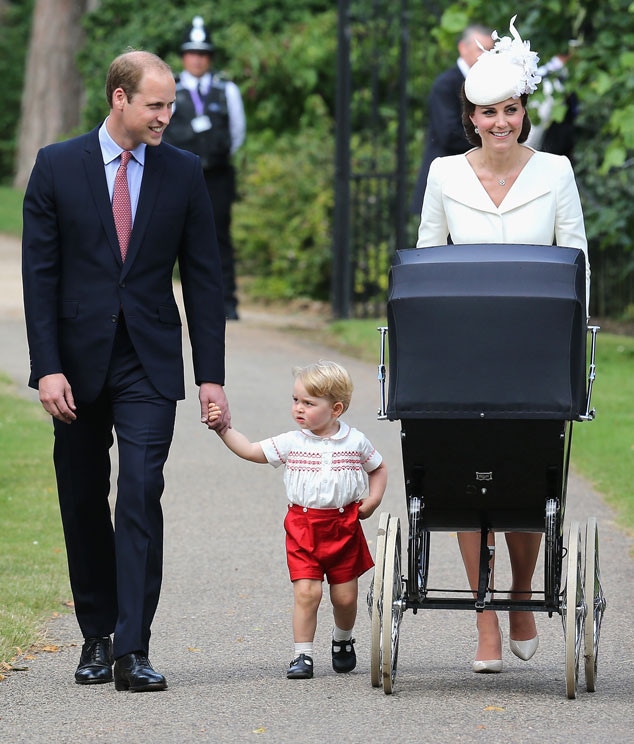 Chris Jackson - WPA Pool/Getty Images
Princess Charlotte, the two-month-old daughter of Prince William and Kate Middleton and the fourth in line to the British throne, was christened on Sunday in England.
The baby was joined by her parents, brother Prince George, who is almost 2, great-grandmother Queen Elizabeth II and husband Prince Philip, Duke of Edinburgh, grandparents Prince Charles and his wife Camilla, Duchess of Cornwall and Michael and Carole Middleton and the Duchess of Cambridge's siblings Pippa Middleton and James Middleton. Charlotte had five godparents at the ceremony.
The christening took place in St. Mary Magdalene Church, a 16th-century chapel long frequented by the royal family, in Sandringham, Norfolk. William's late mother Princess Diana was christened there in 1961. Water from the River Jordan was used during the baptism, as it was during George's 2013 christening, which took place in London.
Kate and William were photographed arriving with George and Charlotte, with the little boy holding his dad's hand and the baby being pushed in a carriage by her mother. The Millson pram is the same one the queen used for her two youngest children, Prince Andrew and Prince Edward, The Telegraph reported.
The Duchess of Cambridge wore a white Alexander McQueen dress coat, a matching Jane Taylor hat and nude pumps, the outlet said. William sported a navy suit, blue shirt and plum tie.
George wore a white, short sleeve shirt with a rounded collar and red markings, paired with a pair of red shorts, white socks and black shoes—an almost identical outfit to one worn by his father when he went to visit his brother Prince Harry hours after his birth in 1984. (See more pics of the family at Charlotte's christening). Harry was unable to attend. He is on a charity visit to Africa. He had also missed Charlotte's birth on May 2, as he was in Australia at the time.
The Archbishop of Canterbury, the Most Reverend Justin Welby, baptized Charlotte. He had also carried out George's baptism.
Charlotte was baptized in her brother's hand-me-downs; A handmade replica of a more than 170-year-old lace and satin royal christening gown, made by Angela Kelly, dressmaker to the queen.
Chris Jackson - WPA Pool/Getty Images
Charlotte was baptized at the baptismal font, known as the Lily font, which was commissioned by Queen Victoria and Prince Albert in 1840, for the birth of their first child Victoria, Princess Royal, Kensington Palace had said in a statement on Instagram.
"The flute bowl is decorated around the edge with spays of ivy and lilies, considered to represent purity and water lilies were associated with new life," the message said. "It has been a traditional feature of all of The Queen's children and grandchildren's christening since, with the exception of Princess Eugenie, who was christened during morning service at The Church of St Mary Magdalene, at Sandringham."
The service lasted about half an hour. The processional organ music was R. Vaughan Williams' "Prelude on Rhosymedre." The Telegraph reported that it was also used as processional organ music for William and Kate's 2011 wedding and was also featured at the wedding of the prince's parents, Charles and the late Princess Diana in 1981. The recessional organ music was G. F. Handel's "Overture and Allegro" from Concerto VIII in A.
The service also featured the Sandringham Church Choir.
William and Kate chose two hymns—"Praise to the Lord," "The Almighty" and "Come Down, O Love Divine," a lesson from Matthew 18, verses 1-5, read by godfather James Meade, and the anthems "I Will Sing With The Spirit" and "God Be In My Head," both by John Rutter.
Scores of fans gathered outside the church to catch a glimpse of the royal family and leave gifts, including flowers. They were collected by one of Kate's charities, East Anglia Children's Hospices.
After the christening service, guests headed to Sandringham House for tea. The featured dish was the same one seen at George's christening— slices of christening cake, which is a tier taken from William and Kate's 2011 wedding cake.