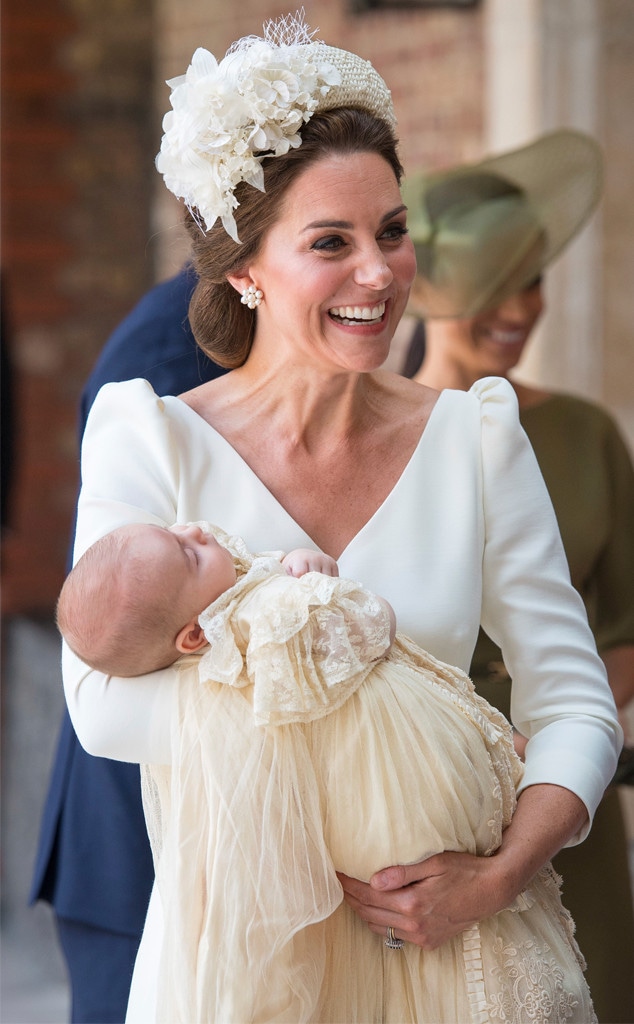 Dominic Lipinski/Pool Photo via AP
God has blessed Prince Louis!
The 11-week-old royal baby, who has not been seen in public since his birth on Apr. 23, was christened Monday at The Chapel Royal at St. James' Palace. In addition to his immediate family—Prince William, 36, Kate Middleton, 36, Prince George, 4 and Princess Charlotte, 3—attendees included Prince Charles, 69, Camilla Parker-Bowles, 70, Prince Harry, 33, Meghan Markle, 36, Michael Middleton, 69, Carole Middleton, 63, Pippa Middleton, 34, James Matthews, 42, and James Middleton, 31; Queen Elizabeth II, 92, and Prince Philip, 97, were M.I.A. Earlier, Kensington Palace named all six of Louis' godparents: Harry Aubrey-Fletcher, Robert Carter, Laura Meade, Lucy Middleton, Guy Pelly and Nicholas van Cutsem.
(Fun fact: The Chapel Royal is the same venue where Meghan was baptized in March.)
Louis' royal christening robe was made by Angela Kelly, The Queen's dressmaker. To preserve the original garment, made in 1841, Kelly was commissioned to create a hand-made replica, using fine Honiton lace lined with white satin. Queen Elizabeth II's grandson, James, Viscount Severn, was the first member of the royal family to wear the replica at his christening in 2008. Louis' elder siblings wore the same christening robe for their baptisms, held in 2013 and 2015.
Dominic Lipinski/Pool Photo via AP
Dominic Lipinski/Pool Photo via AP
Dominic Lipinski/Pool Photo via AP
Dominic Lipinski/Pool Photo via AP
Dominic Lipinski/Pool Photo via AP
Dominic Lipinski/Pool Photo via AP
"I'm delighted and privileged to be christening Prince Louis today—a precious child made in God's image, just as we all are," the Archbishop of Canterbury, Justin Welby, tweeted a few hours before the baptism. "Please join me in praying for him and his family on this special day."
Per tradition, water from the River Jordan was used during the service, as was the Lily Font, commissioned by Queen Victoria and Prince Albert for their daughter's christening in 1840. The Duke and Duchess of Cambridge selected two hymns, "O Jesus, I Have Promised" and "Lord of All Hopefulness," for the service. They selected two lessons, with Lucy reading St. Mark 10: 13-16 and Guy reading Ephesians 3: 14-19. The chosen anthems were "This Is the Day Which the Lord Hath Made," composed for their 2011 wedding, and "Suo Gân," a Welsh lullaby. R. Vaughan Williams' "Prelude on Rhosymedre " served as the processional organ music. The song was played at their wedding, as well as at Charles and Princess Diana's wedding in 1981.
Following the baptism, the Duke and Duchess of Cambridge will host a private tea at Clarence House. Guests will be served slices of christening cake, which is a tier taken from their 7-year-old wedding cake, designed by Fiona Cairns. Made from 17 individual fruit cakes, the eight-tier cake was decorated with cream and icing using the Joseph Lambeth technique; 900 individually iced flowers, as well as leaves of 17 varieties, were used as decorative elements.
Louis is unlikely to be king, as he fifth in line to the throne.
Watch Daily Pop weekdays at 12:30 p.m., only on E!