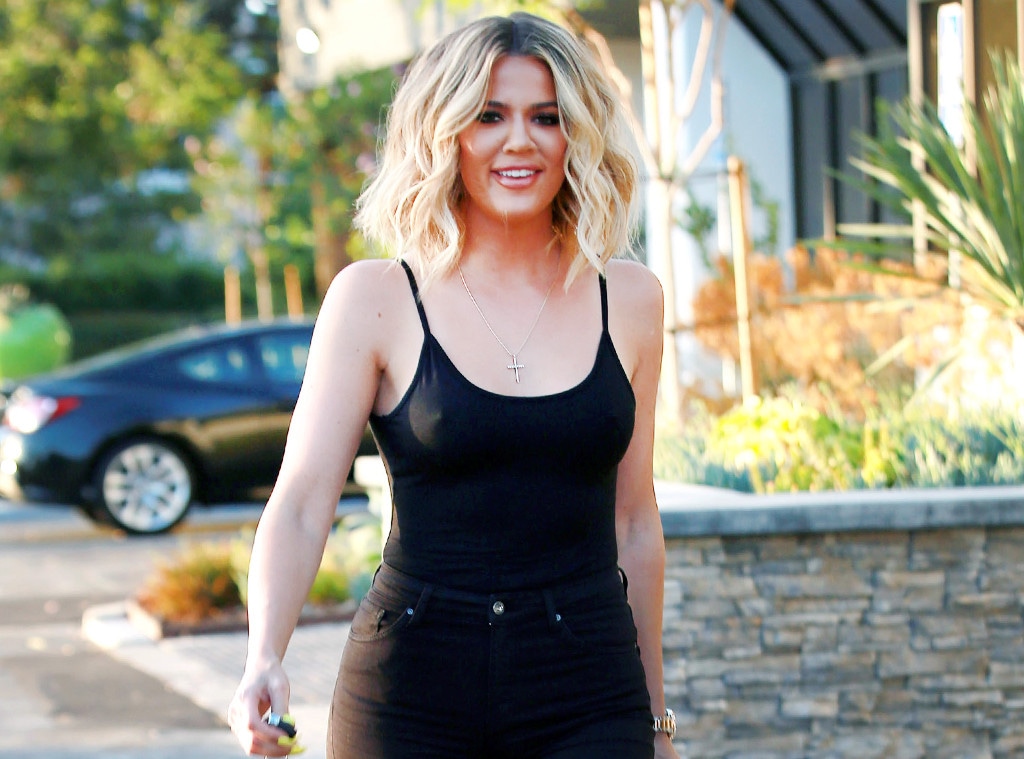 WCP/4CRNS/FAMEFLYNET PICTURES
Bible—Khloe Kardashian doesn't do starvation diets. 
While the Keeping Up With the Kardashians standout has been open about her desire to get snatched and, in her words, "f--k up the gym" now that she's welcomed 2-month-old daughter True Thompson, she will not stand for claims she's relying on crash diets. 
"I truly dislike when people report I've lost a tremendous amount of weight in a short amount of time or when people claim I'm doing these ridiculous diets," she Tweeted to her 26 million-plus followers. "It's really setting the wrong tone. I believe in making lifestyle changes when it comes to my food." 
Because an ultra low-calorie diet is not only potentially harmful (and super depressing), she noted, it "doesn't typically create long lasting results." 
The falsehoods are all the more frustrating considering the 33-year-old isn't exactly being cagey about her methods. Take a quick glance at her Snapchat and you can learn the moves of her workouts with trainer Joel Bouraima (a.k.a. "Coach Joe") and sister Kourtney Kardashian, the Jane Fonda to her Suzanne Somers. Curious about what she's eating? She lays it all out, literally meal by meal, on her lifestyle app. 
Having long ago broken out of the yo-yo dieting trap, Khloé relies on a plan—formulated by nutritionist Dr. Philip Goglia—that's low on carbs and deprivation. "He's not about fad diets or the latest crazes," she says of her longtime advisor, "just a healthy and nutritious diet." The protein-heavy menu provides enough energy for her to go beast mode in the gym. "The best part," she explains, "is that I'm never hungry because I'm always eating!" 
Though the Revenge Body with Khloe Kardashian host is often slammed for being too focused on diet and fitness—because add that to the list of activities moms are shamed for these days—her eating plan is imminently doable. Because for all the rules and guidelines (think: drink one ounce of water per pound of body weight per day, rely on oatmeal and asparagus for gut health and avoid carbs at night) the star knows when to cut herself some slack. As she once told Health, "I do believe that if you're having a craving, don't deprive yourself—everything in moderation." 
So while she had long planned to piously sip on a smoothie post-labor, she instead requested some hash browns from McDonald's. "What can I say," she cracked, "True and I worked up an appetite." 
Khloe Kardashian/Instagram
Her newborn—and her breastfeeding schedule—was taken into account when Goglia put together Khloe's eating plan. While she religiously avoids multi-ingredient starches like bread, she allows herself extra helpings of healthy carbs, such as yams and rice at lunch and dinner, "because I recently gave birth." 
Most importantly, she's taking in fuel up to eight times a day. First thing in the morning, to prep for workouts, she scoops up a tablespoon of jam and another of Justin's almond butter for energy and then post-sweat, she has two eggs, a cup of oatmeal and berries for breakfast. For lunch and dinner she cooks up a four-ounce piece of protein (generally grilled chicken mid-day and a fatty fish, like sea bass, black cod, arctic char or salmon at night), adds in a little starch and goes heavy on the salad and veggies. "Any vegetables are great," she notes, "but he especially recommends those high in iron, like spinach, beets, asparagus, broccoli or romaine." 
Snacks are crucial too. The Good American cofounder commits to three of them per day (usually fruit or vegetables with a handful of almonds), plus a cup of berries after dinner "to fulfill that craving for sweets." 
And while there's no denying fruit is not generally as satisfying as, say, ice cream, the whole program is designed to keep her the reality star feeling as if she's missing out. One of the keys, she notes, is to eat slowly so you can stop when you're full, not stuffed and to never, ever skip an opportunity to nourish. A top tip from her nutritionist, she stressed: "Don't let yourself get hungry—ever."
Because she would never make it through a Coach Joe session—the pro began training brother-in-law Kanye West in 2012, before sculpting the rest of the family—while famished. Though Khloe worked out five to six days a week up until a month before her April delivery ("Not only was she healthy, but she avoided lower back pain and joint pain that a lot of women deal with," Joe told People), she still had to ease herself back into training. In those early weeks, she would take True out for 15-minute strolls around the Ohio neighborhood she shares with on-again boyfriend Tristan Thompson and patiently count the days until her doctors would clear her to return to her "sanctuary." 
Joe joked to People that he got a text from his client two days after giving birth "telling me 'as soon as I get the green light from the doctor, let's do it again!'"
That day came May 10. After a warmup class on the VersaClimber at Cleveland's Rise Nation two days earlier, she reported to Coach Joe eager to get started. "When I saw myself in those first post-pregnancy paparazzi photos, I couldn't believe how big my booty looked!" she admitted in a post to fans. "I can't wait to tone up again and get my body back to where it was."
Though that turned out to be one of those easier said then done things. While she told her Snapchat followers that it felt "so good to finally sweat again and feel like that I'm evolving and doing something progressive for my body and my mind," the struggle was real. "Mentally I'm strong but physically it's just not the same," she admitted. "My body is not doing what I feel like my mind is telling it to do."
But she dutifully returned day two—hurting, but determined to sweat off some of the weight in her lower half with the help of a sauna suit—and days three through 11, fitting in sweat sessions between feedings with True. "I feel really good," she said on social media after that initial stretch, "but I'm tired, my body is sore. It's re-waking itself back up."
Khloe Kardashian/Snapchat
That's all part of Joe's master plan. Though Khloe has ambitiously shared some of her "beast mode" workouts, including a series of "explosive, high-intensity jump exercises done repeatedly without rest," the focus for now, says Joe, "is not about just one body part or gaining muscle, but more to reconnect with her body." 
With an energizing playlist chock full of tunes by Drake ("Nice For What"), Jennifer Lopez ("Dinero") and sister Kylie Jenner's boyfriend Travis Scott ("Watch," featuring a cameo by West), Joe leads Khloe through a mix of full-body moves with some high intensity interval training Tuesday through Sunday. (Mondays are reserved for cardio only, he says, joking that Khloe "calls it Black Monday.") The one thing he's held back on is excessive core work. "Even before pregnancy, the stomach was something Khloe wanted as clean as possible. And now, it's even more an area that she wants back," he notes. "But the thing is I don't target this area with lot of abs and core training. Yes, we work on it, but after a pregnancy the abs are an area to take care of and not work too intensely."
Matt Winkelmeyer/Getty Images for Children's Hospital Los Angeles
No matter the move (lunge jumps on a BOSU ball?), Khloe is ready to crush it. "You don't have to push her much to see her killing it," shares Joe. "She's strong enough to find this motivation in herself and it helps that she knows what she wants." 
That would be the shape she had in the commercial for Keeping Up With the Kardashian's 14th season. While the Strong Looks Better Naked author is eager to tone her abs and butt and shed the roughly 25 pounds she gained with True, that image is the one that's fixed in her mind, Joe says, "and she won't stop until she gets it!" 
Even if that means doing it the healthful, at times painfully slow, way—one cardio session and salmon dinner at a time. 
"I'm so motivated to get my body back and I'm feeling stronger every day—and getting closer to my goal," she shared on her app. "I definitely have a lot of work ahead, but I'm pumped!"