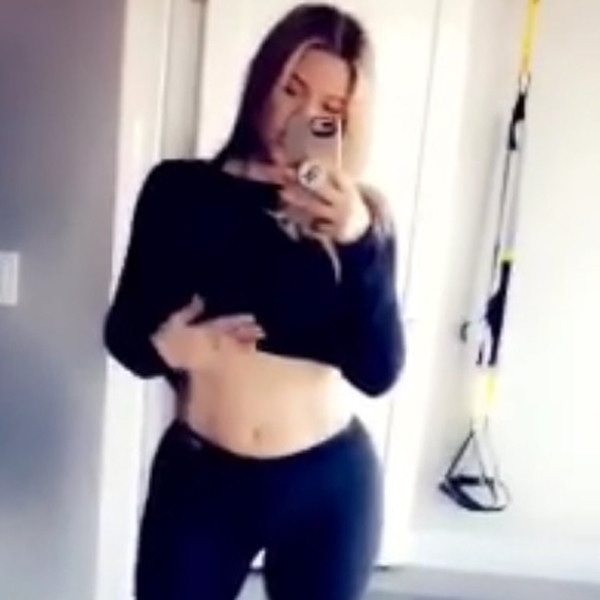 She's back to the gym!
Five weeks after giving birth to daughter True Thompson, Khloe Kardashian has begun hitting the gym—and in true Kardashian form, she's letting the world in on her postpartum weight-loss journey.
On May 21, the reality star took to social media to let her fans on her fitness quest, explaining that she's worked out for the past 11 days and is excited about getting back to her "sanctuary" despite facing criticism that she's focusing too much on her body after giving birth.
Let's follow along on her road back...
On May 24, KoKo teamed up with one of Tristan Thompson's best friends for a personal training sesh she documented on social media. The male pal caught the new mama laying on the floor, who said she was feeling "so good" but wanted to nap there for the rest of the day. 
During her Snapchat posts on May 21, Khloe explained, "The beginning parts of working out kind of suck cause you're pushing your body so hard. You're so tired and you're trying to get back into your rhythm. And it's much more difficult than I think you expect it to be."
The social media superstar also addressed fans who slammed her for putting focus on her getting her famous form back in gear.
"I've been working out for 11 days now. I feel really good but I'm tired, my body is sore. It's re-waking itself back up. What I'm annoyed about is that I've read a couple of times on Twitter that they feel like I'm focusing too much on my body," said Khloe. "But the truth is I've worked out 5 or 6 days a week before I got pregnant and that's my sanctuary, something I love to do so I want to start doing that now and getting into my rhythm."
The Revenge Body host added that it's important to bring workouts into her life and get used to a "new normal.
"Between feedings I want to find time to workout because that's going to be my new normal. Just because I have a baby doesn't mean I have to stop doing the things I love and I love working out, getting my mind right," confessed the E! star.
Rest assured she will let her fans in on the process, explaining, "Now that I'm getting back into my rhythm. I might start snapping some of my workouts...so you guys can join in with us if you want—it's fun. Start somewhere. We all gotta start somewhere. It's a process. But a process that I really, really love weirdly. I've been craving these workouts—so I feel really good.
Khloe Kardashian/Snapchat
In another Snapchat, the new mom showed off her body and explained, "Five weeks after baby feeling good. muscle memory is a real thing, 'cause it's still under there. Gotta tighten it all up. Feeling good, gotta get rid this part… this and my thighs. but we're working on it. just need everything to be solid, if I'm solid I really don't care."
On May 10, Khloe posted an update on her routine, explaining, "It it feels so good to finally sweat again and feel like that I'm evolving and doing something progressive for my body and my mind," she shared with fans. "It is a struggle getting back into the groove of working out. Oh, man..." 
Khloe admitted to feeling strong mentally, "but physically it's not the same," she added. "My body is not doing what I feel like my mind is telling it to do so that's a struggle but it's only day one." 
Prior to getting pregnant, Khloe shed more than 35 lbs. and completely transformed her lifestyle and body over the course of three years. Now that she's got a baby to take care of, the 33-year-old said on Snapchat that balancing her workouts with taking care of True has proved a bit more difficult than she expected.
As she put it, "I need to motivate myself and it's also a struggle trying to fit in working out between feedings. No two days are the same. True is so great but still I can't predict if she is going to sleep the full two hours or if she's hungry."
"Baby True is a month old today so it's a big day for the both of us," she continued with a smile. 
Khloe is certainly focused, concluding her inspiring message, "I'm going to be documenting me trying to get this body back, my mind, everything strong. I want mind, body and soul to be lined up and zen. And I'm trying to now do this with my sweet little baby girl." 
A source previously told E! News Khloe has enjoyed "little walks" around her Cleveland neighborhood with True, and she recently took a workout class at Rise Nation. 
On May 8, Khloe shared a blog post on her app in which she shared thoughts on her first "post-pregnancy paparazzi photos."
"When I saw myself in those first post-pregnancy paparazzi photos, I couldn't believe how big my booty looked! I can't wait to tone up again and get my body back to where it was," Khloe told her fans. "I'm super excited because my doctor finally cleared me this week to work out and I'm going to meet with Coach Joe!"
Khloe continued, "I've literally been counting down the days. I'm actually proud of myself for not being as big as I assumed I would be, LOL—but I'm ready to start getting my body back and feeling mentally clear again. Bring on summer and the hard work—I got this!"
Yeah you do, KoKo!
(This story was originally published Monday, May 21, 2018 at 5:07 p.m.)