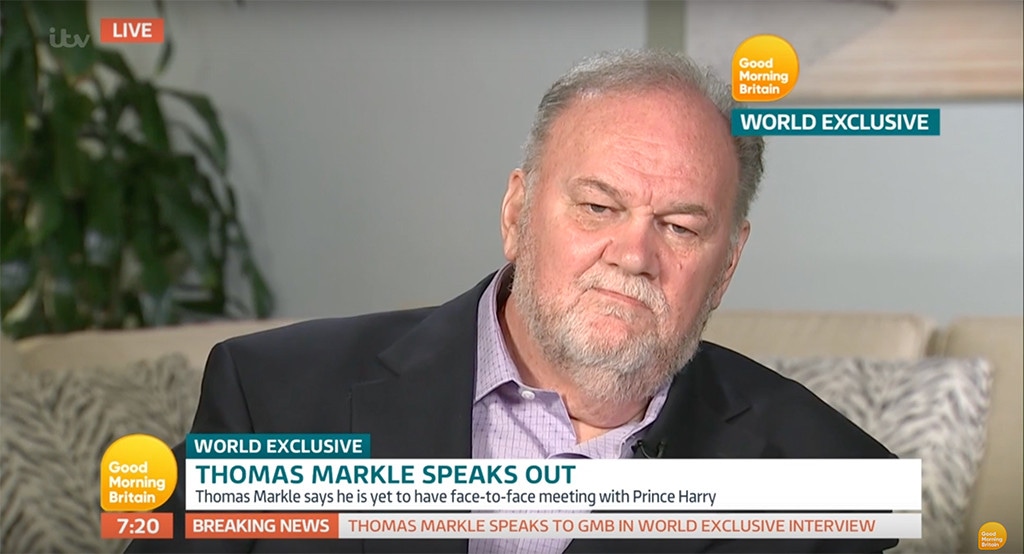 YouTube
Meghan Markle's father, Thomas Markle, spoke out on Monday's episode of Good Morning Britain in his first tell-all interview since having heart surgery and missing the royal wedding.
During the interview, Thomas spoke highly of Prince Harry—calling him a "very nice man," a "gentleman" and "very likable." Thomas also described some of his early conversations with his now son-in-law, claiming the two talked about politics, including Donald Trump's presidency and Brexit, over the phone.
One of their most important phone calls was when Harry reportedly called Thomas to ask for his blessing. Thomas gave the royal permission to marry his daughter, knowing she would be a "complement to the royal family."
"My daughter has been a princess since the day she was born," he told hosts Piers Morgan and Susanna Reid.
After Harry and Meghan announced their engagement, Thomas and his family members gained a lot of media attention. While he described the experience as "an invasion" he also said it was a "compliment."
"I'm very proud of her, and I'll adjust to this. I'll get over this," he said.
Just a few days before the May 19 wedding, Thomas found himself at the center of a scandal. The Mail on Sunday reported that many of his paparazzi photos had been staged. Thomas told the hosts he didn't stage the photos for money but rather to improve his image.
"They take all kinds of pictures of me that [were] making me look negative. So, I thought this would be a nice way of improving my look. Well, obviously, that all went to hell," he said. "I feel bad about it. I apologized for it, and that's all I can do. I can't do much beyond that. That was a mistake."
Thomas said Meghan and Harry were "very forgiving" when he called to apologize and that it wasn't "that difficult" of a conversation. He also claimed Meghan still wanted him to walk her down the aisle at St. George's Chapel. After all, he said everything from the travel arrangements to his wedding attire had been confirmed.
Of course, Thomas didn't end up giving his daughter away. Just a few days later, Thomas suffered a heart attack. The father said the paparazzi scandal had taken a toll on him.
"The truth is that I couldn't get over the fact that that had happen," he said. "All of that stuff was working on me. I had a bit of heart condition. This pushed me a little further to the point, where I had heart palpations."
He told the hosts the hospital "stabilized" him and that he still wanted to fly across the pond to attend his daughter's big day. But after a few days of feeling better, he said his heart palpitations and pain returned, forcing him to have heart surgery and cancel his plans. 
"The doctors said 'This is what doctors call the widow maker,'" he said about his heart issues. "It would have killed me."
Meghan's father said his daughter "did cry" when he told her he wouldn't be able to attend the wedding before heading into surgery. However, he said both she and Harry encouraged him to get better.
Prince Charles walked her down the aisle instead. Thomas said he "was honored" when he found out the Prince of Wales would take his place. 
"I can't think of a better replacement than someone like Prince Charles," Thomas said on Good Morning Britain. "He looked very handsome, and my daughter looked beautiful with him. I was jealous. I wish I had been there. I wish it had been me. But thank God he was there and thank him for that." 
Still, like millions of royal admirers, Thomas watched the wedding on television.
"She was beautiful. It was incredible watching her," he said. "I cried a little bit about it. She was so beautiful walking down that aisle and so proud and so gorgeous. I was very proud. I couldn't have seen a better moment in my life. I was very upset that it wasn't me, but the whole world was watching my daughter. I was very happy about that."
However, he still wishes he could have been there for the big day. 
"I'm a footnote in one of the greatest moments in history rather than the dad walking her down the aisle," he said. "So, that upsets me somewhat."
He also said he "regretted" missing the special moment.
"I regretted it because I really wanted to walk my daughter down the aisle," he said. "I wanted that moment. But I'm thankful for everything the way it went."
As for the newlyweds' future, Thomas said his daughter "has wanted children for a long time."
"When she met Harry and she spoke about how much she loves him, there's got to be a child in the making somewhere soon," he said.