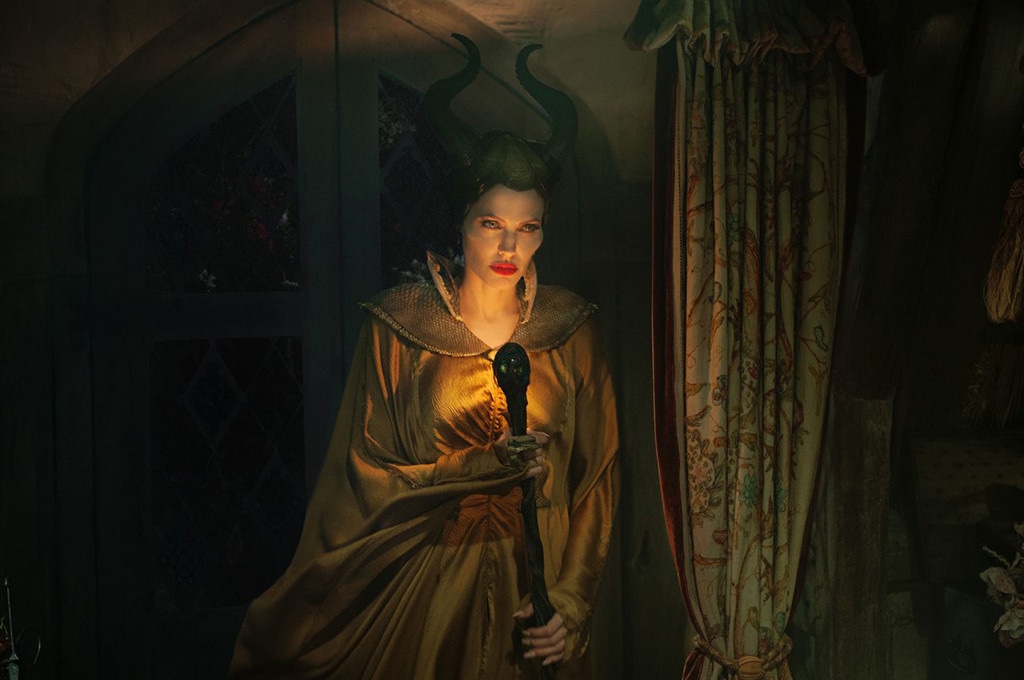 Keith Hampshere/Walt Disney Pictures
Acting was never Angelina Jolie's end goal.
As the daughter of Marcheline Bertrand and Jon Voight, the now 43-year-old movie star made her onscreen debut at age 7, opposite her father in the 1982 comedy Lookin' to Get Out. Eleven years later, Jolie landed her first leading role in the direct-to-video sci-fi flick Cyborg 2. Film roles in Hackers and Love Is All There Is followed, but her big break came in 1997 when she earned an Emmy nomination for her supporting role in George Wallace. In 1998, she won an Emmy, a Golden Globe and a SAG Award for her portrayal of the late model Gia Carangi in Gia.
Jolie's turn as a sociopathic mental patient in 1999's Girl, Interrupted made her a bonafide movie star—as well as a tabloid target. When she won the Oscar for Best Supporting Actress, it was overshadowed by that kiss with her brother. ("It was disappointing that something so beautiful and pure could be turned into a circus," she later told People.) It didn't help that after her four-year marriage to Jonny Lee Miller ended in 2000, she married Billy Bob Thornton—just two months after the Pushing Tin co-stars became an item. The couple wore blood vials around their necks and bragged about their sex lives in interviews, filling the gossip columns. Then, in 2002, they announced the adoption of a child from Cambodia—only to abruptly separate three months later. "It took me by surprise, too, because overnight, we totally changed. I think one day we had just nothing in common," Jolie later told Vogue. "And it's scary, but...I think it can happen when you get involved and you don't know yourself yet."
Branded a Hollywood bad girl, fairly or not, Jolie's public image got a makeover when, at age 26, she became a Goodwill Ambassador for the United Nations High Commissioner for Refugees. Over the next decade, she went on over 40 field missions, meeting with people in over 30 countries. Though she continued to star in films like Gone in 60 Seconds, Lara Croft: Tomb Raider and Original Sin, her passion for acting waned. Because even at a "very young" age, as she told ELLE in 2014, she realized "a life where you don't live to your full potential, or you don't experiment, or you're afraid, or you hesitate, or there are things you know you should do but you just don't get around to them, is a life that I'd be miserable living." And so, "The only way to feel that I'm on the right path is just to be true to myself, whatever that may be, and that tends to come with stepping out of something that's maybe safe or traditional."
Merrick Morton/Universal Pictures
Ironically, Jolie became a character herself when the tabloids turned her life into a soap opera. While filming 2005's Mr. & Mrs. Smith, she developed feelings for her co-star Brad Pitt; at the time, he was married to another A-list actress, Jennifer Aniston. Jolie denied rumors of an affair. "To be intimate with a married man, when my own father cheated on my mother, is not something I could forgive. I could not look at myself in the morning if I did that," the actress promised TODAY's Ann Curry. "I wouldn't be attracted to a man who would cheat on his wife." Pitt was by Jolie's side as she adopted a daughter from Ethiopia in the summer of 2005, and a year later, they welcomed their first biological daughter in Namibia. In 2007, Jolie adopted another son from Cambodia—this time with Pitt, who by then had adopted her first two kids.
The globe-trotting actors continued to work during that period, and in the summer of 2008, Jolie gave birth to twins in France. Jolie became pickier about her projects, prioritizing her family and her charity work. It was then that she decided to work behind-the-scenes on movies, and in 2011, she directed her first feature film: In the Land of Blood and Honey. (A love story set during the Bosnian War, the drama received mix reviews upon its limited theatrical release.) Undeterred, she went on to direct the WWII drama Unbroken. "I've never been comfortable as an actor; I've never loved being in front of the camera," she told DuJour in 2014. "I didn't ever think I could direct, but I hope I'm able to have a career at it because I'm much happier." An admittedly "shy" director, Jolie said she "absolutely" hoped to quit acting altogether someday.
During a break between projects, and  at their children's request, Jolie married Pitt in the summer of 2014. Soon after the wedding, she directed and produced By the Sea, a romantic drama she'd written as a starring vehicle for herself and Pitt. (It was filmed during the couple's honeymoon.) For a number of reasons, it would be Jolie's last appearance onscreen until 2019.
For starters, Jolie was increasingly concerned about her health. In 2013, she underwent a preventive double mastectomy after learning she had an increased risk of developing breast cancer. (She shared the news in an op-ed for The New York Times). And in 2015, she underwent a preventive oophorectomy after doctors saw possible signs of early ovarian cancer.
Jolie split with Pitt in the fall of 2016 (more on that later), and she was then diagnosed with hypertension and Bell's palsy. "I can't tell if it's menopause or if it's just been the year I've had," the actress, who also noticed extra gray hairs and dry skin, explained to Vanity Fair in 2017. "Sometimes women in families put themselves last until it manifests itself in their own health."
Professionally, Jolie remained busy as ever—behind the scenes. In 2015, she began production on First They Killed My Father, adapted from Loung Ung's memoir of the same name. Some of her kids joined the crew, and the film was released on Netflix two years later. Simultaneously, she produced The Breadwinner, which earned an Oscar nomination for Best Animated Feature. Understandably, she avoided the spotlight after she broke up with Pitt. Their divorce has yet to be finalized, and in the aftermath, she moved into a $25 million mansion. The relocation was a "big jump forward," Jolie told Vanity Fair. "We're all trying to do our best to heal as our family."
Jaap Buitendijk/Walt Disney Studios
Now that the dust has (mostly) settled, Jolie is ready to return to the big screen. By the end of 2017, she was in talks to reprise her role in Maleficent II. Production on the fantasy film began at Pinewood Studios in May 2018, with Elle Fanning, Lesley Manville, Sam Riley, Imelda Staunton and Juno Temple reprising their roles from the 2014 blockbuster; new cast members include Harris Dickinson, Chiwetel Ejiofor, Robert Lindsay, Michelle Pfeiffer and Ed Skrein. Jolie will also work behind the camera, as a producer, with Joe Roth. Joachim Rønning is directing the film, from Micah Fitzerman-Blue, Noah Harpster and Linda Woolverton's script.
Jolie is also lending her talents to the film The One and Only Ivan, voicing Stella, an elephant. Whether she will continue to act after Maleficent II is anyone's guess—and entirely up to her. "I never expect to be the one that everybody understands or likes," she told The New York Times last September. "And that's OK, because I know who I am, and the kids know who I am."