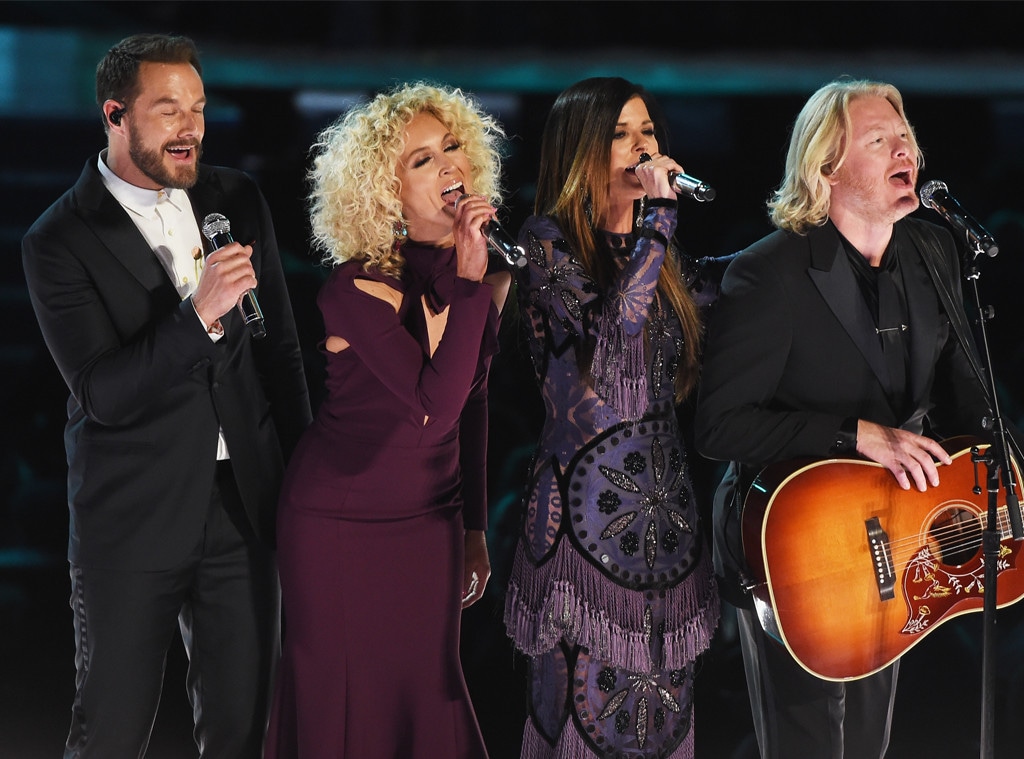 Kevin Winter/Getty Images for NARAS
The CMT Awards are happening tonight and country music fans are going to love this lineup. We know it's an award show, but when it comes to music award shows these days it's really one big concert. To prove it, this year's country show is bringing some big acts to the stage and we can't wait to watch them all sing live.
This year Little Big Town will be hosting and they will kick off the night with a brand new single (dropping today) called "Summer Fever." With this group—made up of Karen Fairchild, Kimberly Schlapman, Phillip Sweet and Jimi Westbrook—at the helm you know there will be epic costumes, a lot of laughs and of course good music. As the show takes over Nashville on June 6, country music fans and fans of music in general should definitely tune in for one memorable night.
Nashville is where country music lives so you know the show will be out of this world. Plus, there are a few—OK, maybe a lot—of big names that'll be in attendance (and taking the stage) so get ready to rock out for one of country music's biggest nights this evening!
John Shearer/Getty Images for Tennessee Department of Tourist Development
So who exactly is performing this year? Well, some of the acts set to perform are Kelly Clarkson—who recently nailed it as the Billboard Music Awards' host—and fellow Voice coach Blake Shelton. We are all for these two rival coaches singing at the CMT Awards, but someday we want them to share the stage for a duet. You know you were thinking the same thing.
One of the younger stars currently ruling country radio is Kelsea Ballerini. After sitting on a sparkly, pink heart during her ACM Awards performance this year we're hoping she floats in on the same heart or perhaps a different colored heart during this award show!
Of course, country queen Carrie Underwood, who is up for four awards, will be performing this year following the release of her new single "Cry Pretty." We're expecting glitter tears, a shimmery dress (that shows off her killer legs) and for Underwood to totally bring it...like she always does.
If country music is your jam then you'll also be happy to see Chris Stapleton (nominated for three awards) and the duo of Dan + Shay take the stage during the show as well. For fans who also love pop music the CMT Awards has something you're sure to enjoy...a performance by The Backstreet Boys! They are set to perform tonight (and present) and we're so ready for them to take over the country world...or at least rock out in Nashville for one night.
If that's not enough musical numbers to be excited about there are two major collaborations taking place during country music's loudest night. Dierks Bentley is teaming up with Brothers Osborne and Darius Rucker will take the stage with Jason Aldean, Luke Bryan and Charles Kelley.
Clearly there will be a lot of killer acts rocking out on stage this year, but the real question is which one will actually be the best? Will you be watching for Underwood, or are you more of a Shelton fan?
Cast your vote for the performance you're tuning in for this year below and check out the 2018 CMT Awards on June 6 at 8 p.m. on CMT.