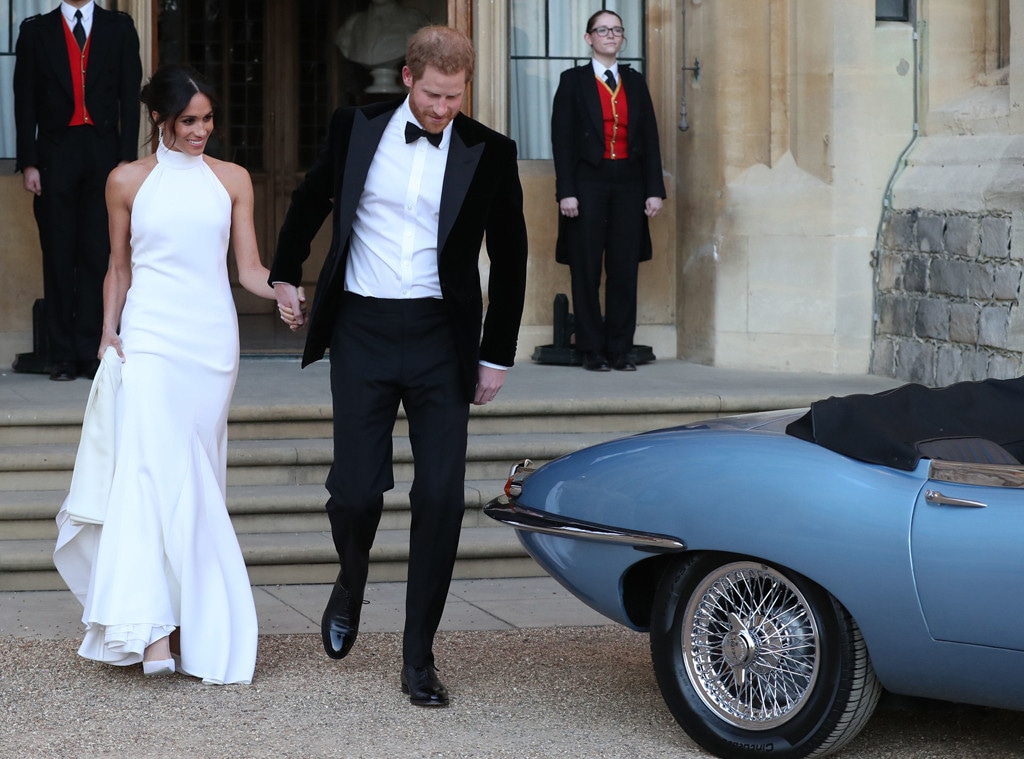 Steve Parsons/PA Wire
It's not all that often that real life turns out even better than fiction.
This weekend's royal wedding went off without a hitch, at least as far as we could tell. It was perfect from beginning to end, filled with perfectly coy smiles and wrinkle-free clothing, barely even a stutter throughout the sermons and vows, which is not all that exciting in theory. A typically perfect royal wedding—like when Prince William married Kate Middleton in 2011—ends up being kind of boring. Nice and beautiful, but boring.
But what we actually got with this wedding—and with everything that has led up to it—was one of the most complex and stunning tales pop culture has given us in a long time. And while there are a lot of people who see an obsession with Britain's old-fashioned monarchy and the arguably inane events that go along with it as a little stupid, you have to admit there is something incredible about the story of Prince Harry and Meghan Markle's romance. 
We have to start with Prince Harry, who's been in the public eye his entire life. He was born into a family that's not only old in terms of generations, but old when it comes to the current generation. His grandmother, Queen Elizabeth II, has been the Queen since 1953 (the longest reigning British monarch ever), and royal romances have been a source of worldwide fascination throughout her life and rule.
The Queen first dealt with having to deny her own sister a marriage to the divorced love of her life, which seemed like the biggest deal until her son Charles grew up. When he married Diana Spencer, who was 20 at the time, in their own fairytale royal wedding, the world fell in love with a humanitarian princess who did not promise to obey her husband in her wedding vows, who was determined to fight HIV and AIDS during the AIDS crisis, and she set out to raise her children as normally as she could, even taking the heirs to the throne to mingle with the American commoners at Disneyland.
Peter Carrette Archive/Getty Images
But while Diana was loved by nearly everybody, her marriage to Prince Charles fell apart. They both had affairs, and it was clear that it was not a marriage of love, but one that just made the most sense for family and tradition. They stayed married but seriously troubled for years—during which Diana struggled with mental health issues and bulimia—until the Queen herself was advising them to divorce. The divorce was finalized in August of 1996, and Diana died almost exactly a year later.
Diana obviously wasn't a perfect person, but she was the start of change for the stuffy royal family. Her death was especially tragic both because she was loved so universally and because she left behind two sons who lost the person who was most determined to keep them connected to the outside world. William was older and required by his duty as the oldest son and future King to keep it together. Harry was 12 when Diana died, and he didn't have the same responsibility.
He had to walk behind his mother's coffin during her heavily broadcast funeral procession, forced to grieve in public, and then saddled forever with his mother's legacy, the good and the bad. William will probably one day have the whole monarchy on his shoulders, but Harry was always going to, in some way, be that little boy who lost his beloved mother.
Harry definitely had some bad years. He once dressed up as a nazi for a costume party when he was 20 (which was also the same year his father married his former mistress), and got caught naked in Las Vegas at 27. He apologized publicly in both cases, and hasn't been caught in similar scandals or making similarly very bad decisions in the years since. Instead, he's dedicated himself to charity and to creating the Invictus Games, which honors wounded, injured, and sick members of the armed services.
Daily Mirror/Mirrorpix/Getty Images
In a lot of ways, he rose up to meet the legacy his mother started for him, falling in love with other countries and giving back in ways he's passionate about. He also dated, but his relationships never really captured the world's attention and were apparently not that serious.
Then came the rumors at the end of October 2016.
Some slightly sketchy outlets were reporting that Prince Harry, one of the world's most famous princes, had been secretly dating a divorced, biracial, feminist American actress named Meghan Markle from the USA Network show Suits. Suits was a relatively popular show that quite a few people liked, but it was also easy to describe it as "one of those lawyer shows on USA," and it sounded really silly to say "Prince Harry is dating an actress from Suits." It was especially astounding to a lot of people that Prince Harry, a part of a family that had been entirely white for hundreds of years, was dating a woman who was half black, on top of being divorced and extremely outspoken. 
Harry had reportedly been secretly flying in and out of Toronto on a regular basis. Meghan had clearly been to London. They appeared to have matching beaded bracelets, and sources were confirming that they were a couple.
We were all already paying more attention than we ever had before to Harry's relationships, but things really got crazy when Kensington Palace—an institution that does not normally comment on personal matters—released an official statement condemning commenters everywhere for "outright sexism and racism," referring to Meghan directly as Harry's girlfriend and expressing how upset the Prince was that he hadn't been able to protect her from the media.
Suddenly, s—t had gotten real.
Max Mumby/Indigo/Getty Images
Harry and Meghan had only been dating for about four months by that time, most of it totally in secret, but it kind of felt like they were already well on their way to an engagement just based on the fact that the palace released such a statement. That didn't actually happen for another year, however, after they were already shacking up on the grounds of Kensington Palace. They were roasting a chicken when Harry popped the question (with a ring featuring two of Diana's diamonds), and Meghan would barely let him finish the proposal before saying yes.
That was just about six months ago, but in that time a few things have become very clear.
We learned that just like most of us (royals included), Meghan has got some troublemakers in her family whose worst sides have come out at the prospect of their relative suddenly making it big. While her mother, a mental health worker and yoga instructor, has mostly laid low, the half-siblings on her father's side have been writing books and writing desperate letters. Her nephew started selling a strain of weed named after her. Her half-sister convinced her dad to pose for staged paparazzi photos, which led to him dropping out of the wedding entirely and to Meghan's mother being her only relative to even attend.
We also learned that there are certain things none of us can forget, like Harry's wild 20s or any of Meghan's former, less dignified acting jobs. And it's likely that not a day has gone by since the engagement announcement without someone bringing up the late Diana. How would she feel about all of this? Would she like Meghan? How will they honor her on the wedding day? Isn't Harry just heartbroken that his mother won't be there for his wedding?
Jonathan Brady - WPA Pool/Getty Images
We're suckers for tragedy and scandal and comedy, and this story had all three in spades, but this story is also a real-life fairytale. The past six months have also shown us that this is a couple that really loves each other, and they know exactly what they're doing.
Their engagement interview was completely adorable, full of personality from both Harry and Meghan. Their love was obvious, and Harry easily declared that Diana and Meghan would have been "thick as thieves" and the couple wants children fairly soon. Meghan eventually quit her job as an actress, but it had given her an ease in the public eye and she was already deep into humanitarian work, so a transition into the "job" of being a member of the royal family seemed to make perfect sense for her. Even without her career, she's never just going to be a royal wife.
After months of endless speculation on every aspect of the wedding, there was a certain feeling that nothing about it could be surprising. No matter who the bride and groom were, it was still a royal wedding, and those don't usually have a lot of wiggle room for personality and progressiveness. Then somehow, magically, Harry and Meghan figured out exactly how to have a "royal wedding" while also shaking things up in a lot of important ways.
JONATHAN BRADY/AFP/Getty Image
Meghan ditched the lace and beads and the typical show-stopping royal wedding dress for something simple, clean, and modern, like most of her style, designed by the first female artistic director of Givenchy. She walked most of the way down the aisle alone before being joined by Prince Charles towards the front of the chapel. Alongside traditional hymns and a reading from Diana's sister, the ceremony featured a lengthy and energetic sermon about the power of all kinds of love from the black American Reverend Michael Curry, and was immediately followed by a gospel choir singing an incredible rendition of "Stand By Me," leaning hard into Meghan's African-American roots and prompting some fun facial expressions from the older or more traditional members of the royal family. Later, Meghan, a woman, gave a speech at the evening reception, all in the presence of people like Oprah, George Clooney, the cast of the USA Network show Suits, one Pretty Little Liar, and the Queen of England.
Yui Mok - WPA Pool/Getty Images
Through it all, Meghan and Harry could not have looked more infatuated with each other. Beyond the facts of what was said and what was happening during the wedding, the little smiles and glances they exchanged and the way they held each other's hand communicated so much love for such a public, official event. Those are the moments that fans of TV shows and movies obsess over for years, the gestures and even just eye movements that say everything without saying a word, except this time it's not scripted. If that love is as real as it looks, maybe this wedding is a sign of things to come. 
The royal family may be mostly symbolic entertainment these days and an expensive, over-the-top royal wedding is just pomp and circumstance for no real reason other than tradition, but when it's a symbol with a story this good and a future this hopeful in a time when a lot of stories are neither good nor hopeful, you really can't blame us for loving it this much.