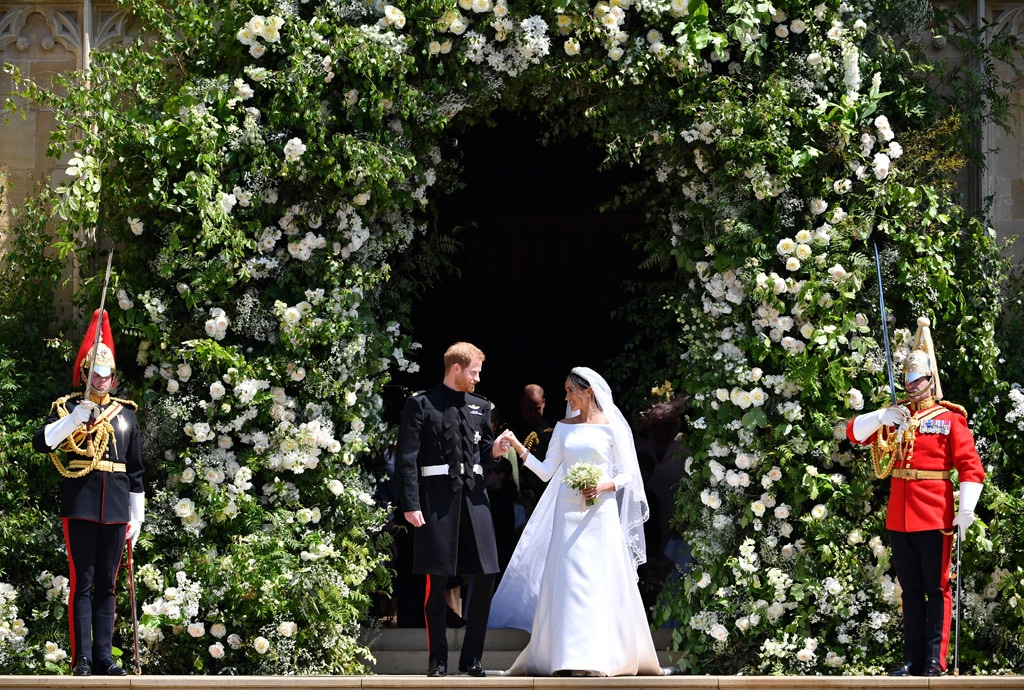 Ben Birchhall/pool photo via AP
History was made during Saturday's royal wedding, and not just because there's a new Her Royal Highness roaming the halls of Kensington Palace. 
Prince Harry and Meghan Markle threw caution to the wind and orchestrated the most modern, diverse ceremony to ever grace the British Monarchy—one that challenged tradition, honored diversity and gave insight into what the next 1,200 years of British history might resemble. 
From the get-go, the newly crowned Duchess of Sussex (who just by being herself makes history as the first mixed race woman to marry into the royal family) began her walk down the aisle alone. An outspoken women's rights advocate, Meghan became the only royal bride in England to have walked unaccompanied for a portion of her bridal procession. She was then joined by Prince Charles, who escorted her down the Quire to the altar.  
Then there's Meghan's Givenchy gown, which was designed by the first female artistic director of the French fashion house, Claire Waight Keller. (Nothing this sophisticated star does is unintentional, after all.)
Owen Humphreys - WPA Pool/Getty Images
The Reverend Bishop Michael Curry, the first African-American head of the Episcopal Church in the U.S., delivered a powerful sermon on the power of redemptive love. Curry, who addressed Prince Harry and Meghan as his "brother" and "sister," also referenced civil rights activist Martin Luther King Jr. in his passionate remarks. 
"When love is the way," he addressed the chapel, "we will let justice roll down like a mighty stream and righteousness like an ever-flowing brook. When love is the way, poverty will become history. When love is the way, the Earth will be a sanctuary."
A stark departure from even the most relaxed religious gatherings in the U.K., some guests appeared undoubtedly taken by surprise. "We're going to sit down, we gotta get y'all married!" Curry quipped, to the amusement of everyone inside St. George's Chapel. 
Steve Parsons/PA Images via Getty Images
Karen Gibson and the Kingdom Choir, a London-based gospel group, followed Curry with a performance of Ben E. King's "Stand By Me," spurring a sing-along of sorts from the thousands gathered outside the chapel to greet Prince Harry and Meghan for the first time. 
Like "Stand By Me," the couple's decision to exit to a song as historically rooted in the U.S. civil rights movement like "This Little Light of Mine" recognized Markle's heritage and its harmonious union with British royalty. 
A moment, indeed.