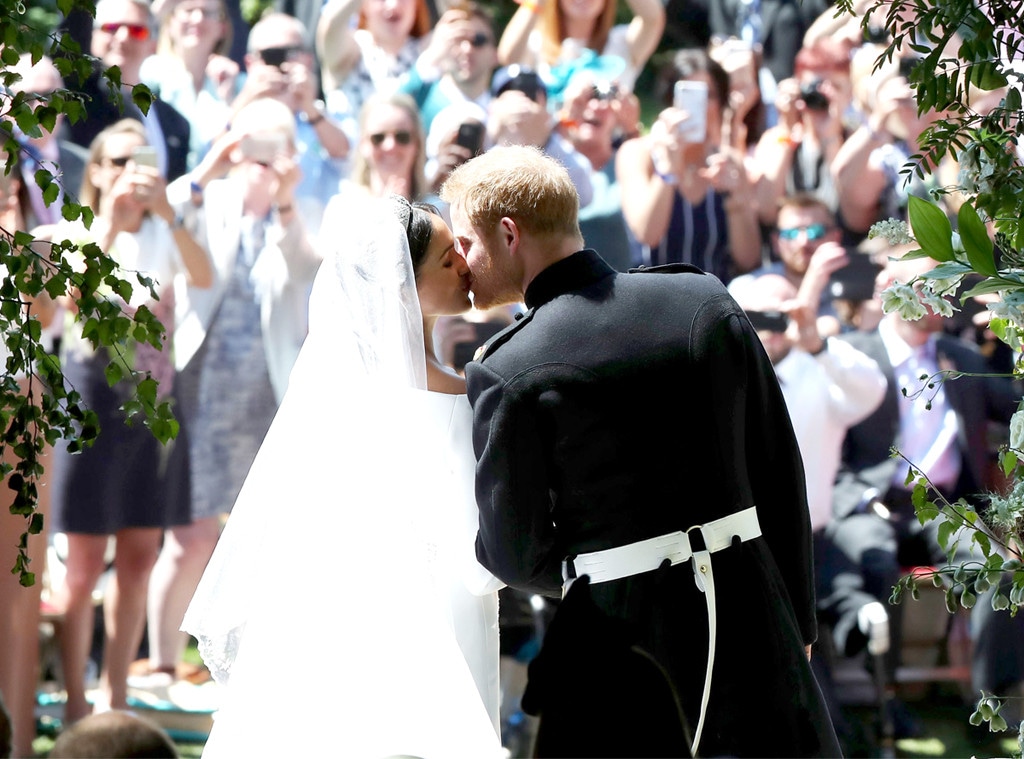 Danny Lawson - WPA Pool/Getty Images
May 19, a special day.
Prince Harry and Meghan Markle tied the knot at St. George's Chapel at Windsor Castle and there was no shortage of special moments, ranging from funny to emotional. These are the best moments of the royal nuptials.
One of the sweetest moments at the wedding was when Prince Harry greeted Meghan at the altar. When Meghan reached Prince Harry he was nothing but complimentary of her and her Givenchy gown. "You look amazing," he said. And Meghan's reaction? Just look at it. And that lip bite! A moment of appreciation for that lip bite because come on.
Press Association via AP Images
And then there was Oprah. Yes, Oprah Winfrey. Just her mere presence, and the fact that she apparently had a wardrobe malfunction is enough mileage to get anybody through a bad day.
Oprah's BFF Gayle King said on CBS that Oprah's original dress turned out too white, so she opted for a blush Stella McCartney frock. Oprah arrived for the ceremony at the same time as Idris Elba and now we need a movie dramedy starring the two of them.
Another sweet moment was when the crowd, including the couple, were moved by the all-black gospel choir. Led by Karen Gibson, the choir sang "Stand By Me" midway through the ceremony while Prince Harry and Meghan held hands, her hand rested on his leg. According to ITV News' Chris Ship, Prince Harry got emotional when "Guide Me, O Thou Great Redeemer" was sung. It was also sung at Princess Diana's funeral.
And what's a worldwide event without some viral moments?
Wedding guests George Clooney and Amal Clooney were the subject of many camera shots throughout the ceremony, which prompted some Twitter fun.
Is that a La Croix can or Justin Welby, the Archbishop of Canterbury?
And Pippa Middleton's outfit looked like a certain iced tea brand...
Actor Tom Hardy attended the ceremony at Windsor Castle and was captured by cameras looking, well, just look at the picture.
Victoria Beckham, designer and one-time member of the Spice Girls has long been rumored to not want to reunite and sing with the other ladies, but there she is, appearing to sing a song.
A sweet moment between the couple.
And a potentially very funny one!
That's the face you'd make if you were Queen Elizabeth and and everyone had to sing "God Save the Queen" in your presence, right?
It wouldn't be a royal event without internet darlings Princess Charlotte and Prince George. Everybody loves a good wave from pint-sized royalty!
Speaking of some pint-sized interview favorites. This face made by one of Jessica Mulroney's twin sons (it was either Brian or John Mulroney) in the screenshot below certainly stole hearts all around the world.
Saturday Night Live star Leslie Jones has made her love for NBC's series Timeless quite known. Jones is also known for her event commentary. Those two loves were combined at the royal wedding when Timeless star Abigail Spencer attended the ceremony.
To celebrate the wedding, a huge fireworks display went off above Frogmore House, where the second (more intimate) reception was held. 
According to Troian Bellisario, who attended with her husband former Suits star Patrick J. Adams, were amazingly provided with white slippers after the ceremony so they could take off their uncomfortable heels and shoes.
(This article was originally published on Saturday, May 19, at 6:27 a.m. PT)