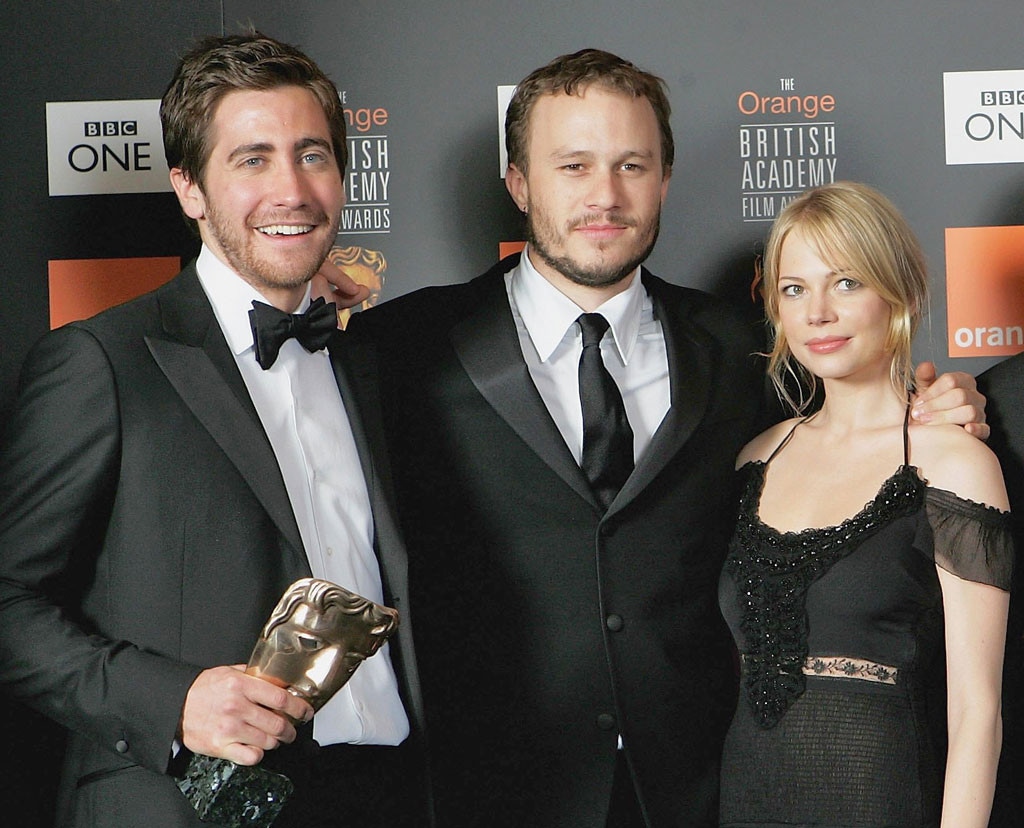 Gareth Cattermole/Getty Images
At some point over the course of her 37 years, Michelle Williams stopped believing in fairytales.
Perhaps it was losing Heath Ledger—the man she once envisioned forever with—to something as cruel as a drug overdose. Or simply the very real struggles that come with raising her 12-year-old daughter Matilda alone. No matter her reason, last year the actress declared to WSJ. Magazine that she was done imagining a happily ever after for herself.
"It's hard to romanticize romance when you're 36," she explained of her pragmatism. "When you've been a parent for 11 years and you've done it alone, you don't have romantic ideals because you have a practical understanding that you can do it by yourself." Such neatly tied endings, what she called "the romantic idea of meeting your person and having a storybook family life that looks like the model you grew up with," well, she insisted, "That doesn't really exist for me."
Fortunately, she spoke too soon. While it took a long, and often painful, 10 years after Ledger's death (the Oscar winner would have turned 39 today), the Golden Globe winner has finally found her partner, her person, in New York financial consultant Andrew Youmans. And while the actress has gracefully declined to speak about the heart-shaped diamond that has sat, tellingly, on the fourth finger of her left hand since late last year (asked about it by People, she demurred it was simply "beautiful jewelry"), pals confirm their relationship is quite serious. "It is very important to Michelle to keep her private life private," an insider tells E! News. "All she will say is that they are very happy together."
Joy was the prevailing emotion when she connected with onscreen partner Ledger on the Calgary set of Brokeback Mountain in 2004. The twosome, whose turns as a closed gay cowboy and his long-suffering wife earned them matching Oscar nods, bonded while filming a sledding scene that ended with a crashed toboggan and a torn ligament in Williams' knee.
Costars labeled their blossoming romance in cutesy terms. "I remember being in rehearsal, and the two of them had googly eyes with each other," Jake Gyllenhall said. "There were sparks immediately," added Anne Hathaway. "It was adorable."
Steve Granitz/WireImage.com
But to hear Williams tell it, their bond surpassed clichés. "Our initial meeting, the circumstances of how we first met, were cosmic or something," she recalled to GQ in 2012 of connecting with the charming Aussie actor. She attributes the speed with which they moved to a sort of prescient understanding of what was to come. "Yeah, a lot of things happened at once," she told the mag. "It's a bit like: We had a lot of things to do, because we didn't have a lot of time, or something."
They made quick work. Before they even took off on the film's promo tour to gush about their respective performances—a rapt Williams told E! News, "I forgot he was my boyfriend when I was watching," while Ledger called her "a phenomenal actress,"—she had given birth to Matilda and they had settled into their row home in Brooklyn's Boerum Hill. There, the duo was just like any, quite attractive, Brooklyn couple. Ledger skateboarded through the neighborhood, Williams threw fundraisers for a local antidevelopment group and they traded off work schedules to raise their daughter. "When Michelle is working, I'm the manny," Ledger explained of their arrangement in 2006. "And when I'm working, she's the nanny."
Being part of their cozy trio gave Ledger a purpose he had yet to experience. Family, he opined in 2006, is "everything to me—the most important thing I do. Before, I felt like I was floating through life, like a ghost; I may not have even existed."
For Montana native Williams, who legally emancipated herself from her parents at 15 to work longer hours as a young actress, those times in Brooklyn were so idyllic she had a passing thought that it could all be taken away. "We have a very, very sweet life there," she told People in 2005. "The thing I hope the most is that it stays the way it is."
Hubert Boesl/picture-alliance/dpa/AP Images
Of course that's not the direction her story took. At first their ending merely seemed sad. Williams stayed put in Brooklyn while Ledger crossed the river to a $23,000-a-month loft in Manhattan's trendy Soho neighborhood. People attributed their September 2007 separation to the same issues that plague any bold-named couple, noting, "They did what they could to make it work."
But four months later, the root of their problems became clear when Ledger was discovered dead inside his NYC rental. A toxicology report later revealed what was immediately suspected: he died of an accidental overdose with no less than six drugs in his system.
Williams was in Sweden filming the romantic drama Mammoth when she heard the news and, according to People, the director and other crew members stayed up with her through the night before she boarded an early flight to NYC. Back home, she went through the motions, releasing a statement requesting permission to grieve privately with her "tender-hearted, high-spirited, beautiful little girl," and gathering with his family at memorials first in L.A. and then his native Perth. Finally, after wrapping Martin Scorsese's Shutter Island—"I don't remember most of it," she says of filming, "I've got a lot of holes,"—she made the decision to walk away, at least temporarily, from acting.
For 12 months, she alternated between the Brooklyn pad she had opened up to Ledger's relatives and a spread she purchased for herself and Matilda in upstate New York. Immersing herself in The Year of Magical Thinking, the memoir of grief Joan Didion penned after the sudden passing of her husband, helped. "In a strange way I miss that year—because of all those possibilities that existed then are gone," she would recall in a 2010 Nightline interview, her first since Ledger's death. "It didn't seem unlikely to me that he could walk through a door or could appear from behind a bush."
In the past, she recalled in her GQ profile, she had turned to work to distract her from problems but "that didn't apply anymore. There was no working through this." Had she not already committed to her Oscar vehicle Blue Valentine years earlier, she may have retired for good. As it was, she declined to travel to the film's California set, not wanting to uproot Matilda. But director Derek Cianfrance floated a deal that proved too difficult to refuse: They'd shoot completely on the East Coast, maintaining a one-hour radius from one of her two homes at all times. "I went back internally kicking and screaming," she told the mag. "I am now very grateful."
Chris Jackson/Getty Images
She assumed diving back into the dating pool would have the same ripping-off-the-Band-Aid effect. But a yearlong romance with director Spike Jonze—he helmed her 2008 indie drama Synecdoche, New York—ended in 2009. "The timing was impossible," she told Vogue. "I thought falling in love again was the only thing that was going to save me from the pain. This erroneous idea: It just makes things more complicated."
For her part, Williams admits she might have been trying too hard to force romance. "I really wanted, and I really expected or imagined that Matilda would have siblings that were close to her in age," she has said. "I wanted that for her. But I couldn't make that happen." Around the time her daughter turned six, Williams released herself from that pressure: "Something that was making me feel impatient, that's been removed. For whatever reason, that's not our luck, or our path."
It was around that time she would cross paths with actor Jason Segel at a party. Outlets credited Williams' pal Busy Philipps, who worked with Segel on the short-lived Freaks and Geeks, as matchmaker, but she swore to Anderson Cooper in a 2013 interview, "It wasn't my doing. I guess I wish I could say it was. We were just all at the same party and my husband was talking to Segel and Michelle and I were hanging out and then he kind of asked her on a date."
Despite not really recognizing the How I Met Your Mother star—"I didn't actually realize who he was before I started dating him," she admitted to In Style. "I saw The Muppets movie, and I thought, 'Oh, that's cute,' but the truth is I didn't realize he made a lot of very popular, funny movies or was on a TV show,"—Williams was charmed.
Soon the pair was spotted together on red carpets and the streets of New York. And the 5-foot-4 actress started joking she had to take up wearing wedge heels to compensate for their 12-inch height difference. "I didn't realize he was so tall," she's said. "I thought, 'Hey man, you're cramping my style!" Sadly there wasn't as easy of a fix for the literal distance between them. By early 2013, the Brooklyn-based single mom and the L.A. actor had called it quits.
Unions with contemporary artist Dustin Yellin and novelist Jonathan Safran-Foer met similar fates. Though Williams would love to find love, she told Porter magazine in 2016, comparing herself to a cat that just wants to stay at home and take care of people, "I'm also happy with myself and just because I might have a desire to be with someone…that won't lead me to marry the wrong person."
That's not to say her single status didn't give her pause. Take for instance at school functions for Matilda, she told WSJ. Magazine, "There's only two of us single mothers. Everyone else has a partner, so we buddy up."
Larry Busacca/Getty Images for Tony Awards Productions
And at times, she fretted she might never find her plus one. While chatting with Philipps and her husband, screenwriter Marc Silverstein, they referred to her single status as "a blackout zone," she recalled to Porter magazine, saying they told her, "'Everybody is now partnered up and you have to wait for people to start getting divorced.' Oh my f--king God. Are you kidding me? I'm just sitting around and waiting for marriages to crumble."
Enter Youmans. The very not married Dartmouth and Harvard Business School grad, 50, was first spotted with the actress in Rome last July, where she was shooting her crime thriller All The Money In the World. But a source insists to E! News he was in the picture far before that. "Michelle has been with Andy for longer than people think," says the source. "They are very serious and were right away."
In Youmans, William has found the stable, devoted family man she was seeking. During the pair's New Year's trip to the Bahamas, he joined Matilda for a dip in the ocean. "He took her in the water by himself and they had a lot of fun jumping over the waves together trying not to get too wet," a source told E! News. "They would high five and laugh a lot."
But for all those moments of levity, Williams still takes time to grieve for what was lost. On the 10-year anniversary of Ledger's death this January, Philipps, the person Williams has called "the love of my life," flew to be by her side. In one clip from Philipps' Instagram story, Williams can be seen resting her head on her shoulder. In another, The Cranberries' heartbreaking hit "Linger" (sample lyrics: I thought nothing could go wrong/But I was wrong, I was wrong) plays in the background.
Still, Williams says she has learned not to, well, linger in her anguish. Speaking to WSJ. Magazine about her heartbreak, she shared one of the toughest practices she had to master. "When you find yourself in hell, the best thing to do is keep going," she said. "Don't stop. Put one foot in front of the other. The territory keeps changing, but it won't change if you sit down. Keep moving."
Take it from Williams—that step could lead to your next love story.