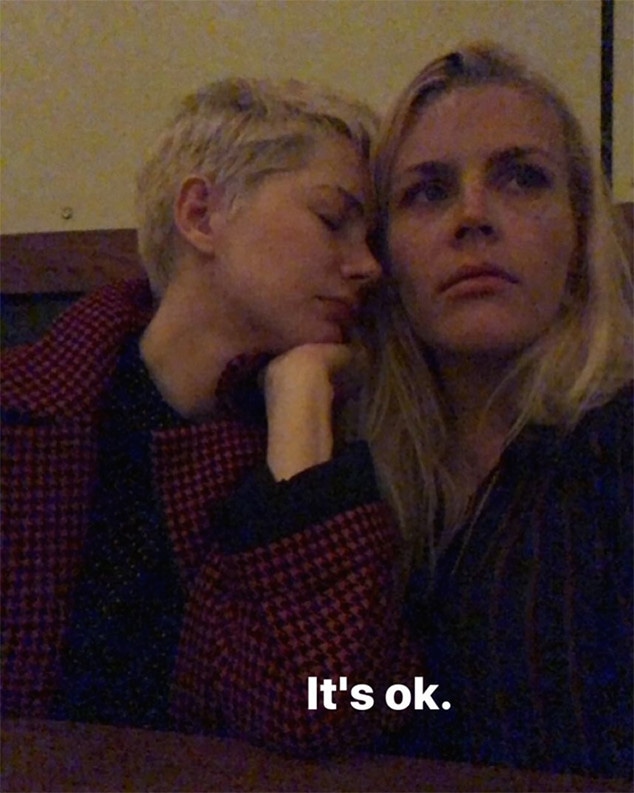 Instagram Story
Busy Philipps would do anything for Michelle Williams. So, on Monday—the 10th anniversary of Heath Ledger's death—the actress hopped on a plane to console her longtime best friend in person. In her Instagram Story, Busy shared a photo of Michelle closing her eyes and resting on her shoulder, writing, "It's ok." In another video, Michelle looked forlorn as The Cranberries' "Linger" played—an odd coincidence, as the band's singer, Dolores O'Riordan, died last week.
Before she met up with Michelle, Busy shared photos from her airplane journey, adding a red heart emoji. Earlier in the day, the actress cried in her car as a particularly meaningful song by MGMT played in the background. "I was just driving and I was thinking about my friend Heath, who died 10 years ago, and this song came on, 'Time to Pretend,'" she said. "It came out after he had passed away and I remember when it came out, because I thought...it made me think of him. I just thought he would have liked this song. And for some reason, I just, every time I hear this song...it's weird." After she pumped up the volume, Busy wrote, "Just turn it up I guess?"
Heath and Michelle began dating after meeting on the set of 2005's Brokeback Mountain. The actors welcomed daughter Matilda Ledger in October 2005 and separated in September 2007. On Jan. 22, 2008, Heath was found dead in his apartment at age 28. A toxicology report later revealed he died of an accidental overdose, with a fatal mix of prescription drugs in his system. In the immediate aftermath, Busy flew to New York to offer her Michelle comfort and support.
Understandably, life without Heath has been unimaginable. "I really wanted, and I really expected or imagined, that Matilda would have siblings that were close to her age. I wanted that for her. But I couldn't make that happen," Michelle told GQ in 2012, adding, "You know, as hard as certain things have been for me, it's been harder thinking about how things will be for her. I have a lot of things that she doesn't, and some of what I have I can give to her—the memories that I have, the objects that I have, the physical reminders that I have, the stories."
Luckily, Michelle has Busy. "I'm so in love with her. She's proof that the love of your life does not have to be a man!" she admitted to People in 2016. "That's the love of my life right there.