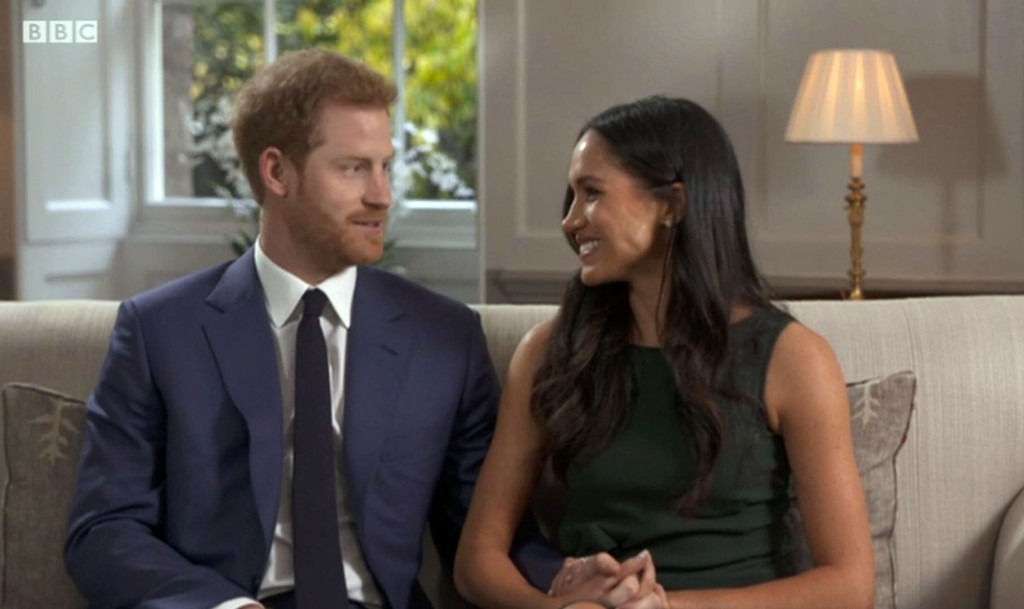 BBC
It's the romance that has captivated the world's attention
Of course, we're talking about Prince Harry and Meghan Markle. The American star and her future royal husband have taken the world by storm ever since news of their secret romance broke the news floodgates in late October 2016. Royal enthusiasts and Suits fans alike have been enamored with every step of their courtship as the two gradually came forward as a public couple and eventually got engaged before the close of 2017. 
Now, with their May nuptials just two months away, we're learning even more behind-the-scenes details about the transatlantic pair and how they came to be thanks to a new book by Katie Nicholl called Harry: Life, Loss, and Love."
Inside the book, Nicholl takes readers from Harry's earliest years through to his hopes for the future with Markle by his side. Here are some of the things we learned about Harry and Meghan along the way:
Blind Dates for a Prince
After his failed romances with Chelsy Davy and Cressida Bonas, Harry was back to being a bachelor, texting former flames and being linked to fellow famous women. In the process, Duchess Kate and cousin Princess Eugenie were trying to help land him a date. "Harry wasn't giving up, even going on blind dates organized by Kate and his cousin Princess Eugenie, who had a good track record when it came to setting Harry up," Nicholl wrote. 
Hearts Aflutter
According to the book, it was July 2016 when Harry first met his future bride thanks to a mutual friend who gave the royal the actress' number. At the time, Harry had been quietly seeing British model Sarah Ann Macklin, but the mismatch fizzled out. After two dates, the royal and Markle had hit it off so much that he invited her on a trip to Botswana later that month. 
George Pimentel/WireImage
Breaking News
When news of their romance leaked in late October 2017, Harry and Meghan were together at the star's house in Toronto, according to Nicholl. Seeking privacy, the two headed to Markle's friend Jessica Mulroney and her husband Ben's house, where they stayed to flee the paparazzi.  
Home to Kensington Palace
By 2017, the Suits alum was treating Nottingham Cottage like her unofficial home, according to Nicholl. As the book describes, Markle kept clothes in Harry's closet and had brought cookbooks, scented candles and flowers into the space. Her healthy lifestyle apparently had an effect on Harry as he began working out more and drinking and smoking less. During their nights together at home, they reportedly cooked and watched TV, including Netflix's The Crown (!).  
Chris Jackson - WPA Pool/Getty Images)
Meghan, Meet Kate
After ringing in 2017 together, the couple took a romantic trip to Norway. Upon return in London, it was time for Markle to meet Harry's famous sister-in-law since she had already met William during a November trip to London. The women officially met at William and Kate's 1A apartment along with Prince George and Princess Charlotte. "Harry wanted Kate to approve of Meghan, and because they were the same age and came from "normal" rather than royal backgrounds, he hoped that they would forge a close friendship," Nicholl wrote. 
Justin Tallis - WPA Pool/Getty Images
Meghan Makes the Guest List
For American fans, Markle was arguably the most anticipated guest at Pippa Middleton's wedding in May 2017. While royal enthusiasts waited with bated breath for the American star to pop up, she didn't ultimately make an appearance—albeit brief—until it came time to head to the reception in Harry's car. Per the book, Markle had not originally been on the guest list, but Middleton invited her to the wedding breakfast and party "knowing that Meghan was in the UK and Harry wanted to take her as his date."
Max Mumby/Pool/Indigo/Getty Images
A Quick Walk Down the Aisle
It will be just six months between the time Harry proposed and when the two officially walk down the aisle at St. George's Chapel at Windsor Castle on May 19. One reason for the brief engagement? According to Nicholl, Harry was thinking of his grandfather, Prince Phillip, who is 96 years old. "One of the reasons Harry wanted to wed sooner than later was so that the Duke could see him married while he was still in good health," Nicholl wrote.