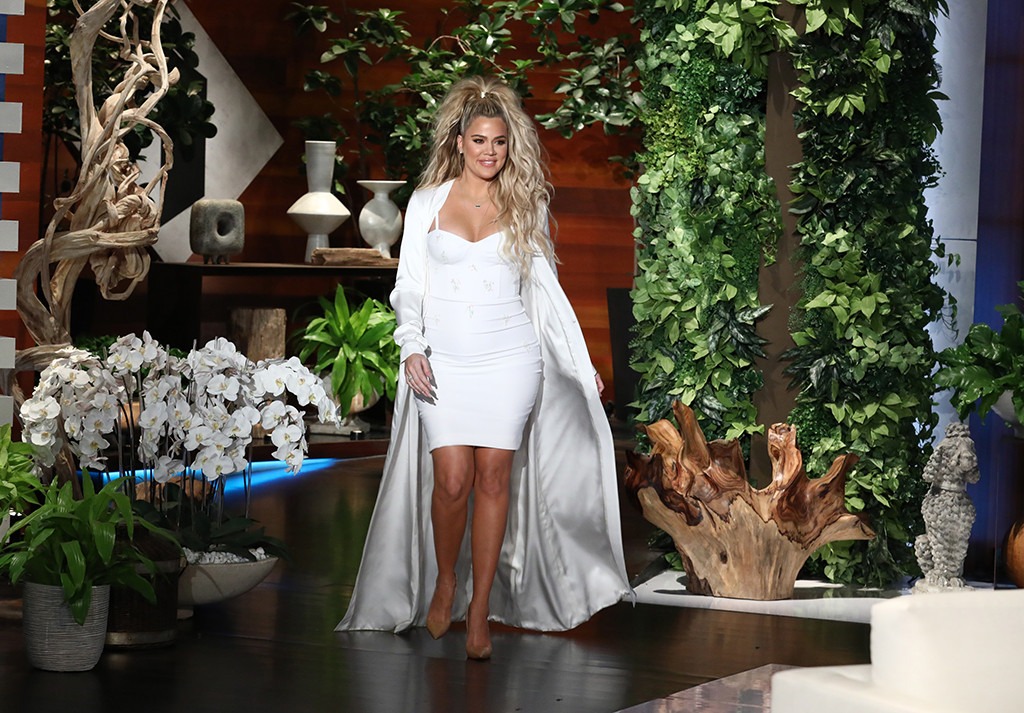 Michael Rozman/Warner Bros.
Khloe Kardashian has never been one to shy away from spilling her truth, and lucky for us, pregnant Khloe has been no different.
Since announcing that she and Cleveland Cavaliers boyfriend Tristan Thompson are expecting a baby back in December via Instagram, the 33-year-old Keeping Up with the Kardashians star has been very candid about the good and the not so good in terms of her pregnancy.
And while no topic seems to be off-limits, Kardashian has maintained a sense of humor and refreshing realness through it all.
Getty Images for Rémy Martin // Jerritt Clark
Body Changes
Just yesterday, the fashion designer tweeted an honest question to her 30 million followers about her ever-expanding belly, sparking many responses from fans who could relate.
"Good morning!! Does anyone else who has been pregnant or if they are pregnant feel that in the morning their bumps are smaller. But throughout the day there bumper gets bigger and bigger and bigger LOL asking for a friend."
And regarding her overall body, Kardashian has kept a positive outlook and good attitude in terms of her changing shape.
"I feel like I've always had cellulite but it's way more prominent at the moment," she tweeted. "So far no stretch marks. So I'm happy about that the perks of being chubby previously. Lol my tummy knows how to stretch."
Sex Confessions
Earlier this month,  Kardashian got real about how being pregnant has affected her sex life with Thompson. 
"I have always heard that women are extra horny when they're pregnant, but for me it's been interesting," she said via her app. "In the beginning, sex was the same. As I got into my third trimester and started to get bigger, it became harder to have sex and a little more uncomfortable and limiting."
She continued, "I'm sure it's uncomfortable for a man to have sex with a pregnant woman too. Personally, I get uncomfortable and insecure. Also, you can't move the same, so you kind of feel useless, LOL. But you just have to improvise and do the best you can."
Snapchat / Khloe Kardashian
Fitness Fanatic
It's no secret that Kardashian is obsessed with fitness, and getting back into tip-top shape post-pregnancy is important to her. From her workouts on Snapchat to her show Revenge Body on E!, the star has been very vocal about how the gym has helped her mind, body, and soul.
"I'm more encouraged by how, after the baby comes, I'm going to work off every pound. I'm actually really excited to get my body back. I can't wait!" she revealed via her app. "But there is another thing I miss: my pre-workout energy drinks! They made me wired in the best way possible, LOL."
And on Twitter, the star confessed to breaking the one rule that no one should ever do: Googling themselves!
"Now I am googling images of my pre-pregnancy body and I'm feigning to get back to my workouts and old body. Holy cow," she tweeted.
Cravings on Cravings
While fitness has continued to remain a large part of Kardashian's life, she has been open and honest about her relationship with food over the past few months.
"Of course I have cravings and I give in to them! But, as always, I do everything in moderation," she said on her app. "In general, I'm not someone who wants to eat an entire box of cookies. I just don't eat like that. But, if I'm craving something, I make sure I give it to myself."
But on Jan. 22 at nearly six months pregnant, the star wasn't hiding the fact that she had indulged.
"Today for lunch I had a salad and THREE bowls of cereal. I had no control in the kitchen," she tweeted. "Cereal is the one food that is good at any time of day."
Maternity Musings
Some women may find carrying a child to be easy, Khloe confessed during an interview with Ellen DeGeneres that it's not always sunshine and rainbows.
"At the beginning, the first trimester is the worst and no one knows you're pregnant yet and you feel the most uncomfortable," she shared. "I think once people know you're pregnant, you get all the excuses. Hopefully I look pregnant, not just fat. It's hard for me to breathe right now."
She continued, "The baby is on all my organs so I get out of breath just from walking."
Family Drama
Having a supportive family may have its perks, but Kardashian confessed that there are definitely some pitfalls that come along with being part of a large, opinionated group who are eager to be involved.
"[I got] a lot [of advice from my sisters]. Too much," she told ET in January. "I've gotten to the point... I'm like, 'OK, shut the f--k up and take your own advice.' Like, I love Kourtney, but... I'm going to figure it all out, I promise you. We're all going to learn. So some advice is great, but it's also not what you say, it's how you say it."
No matter how real she gets, we're totally here for Khloe's pregnancy confessions!