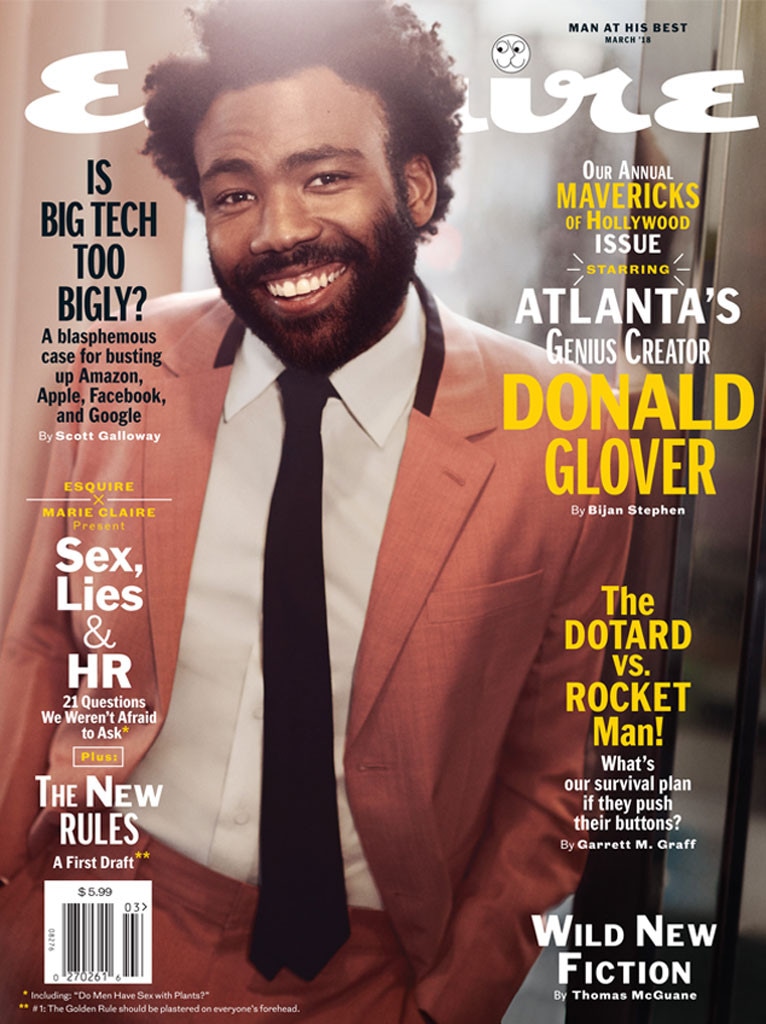 David Burton
Donald Glover is a pretty big deal, and he knows it. 
The Atlanta actor and Grammy-winning performs draws similarities between his own path to stardom with that of Tupac's, widely considered one of the greatest rappers of all time, in a new interview with Esquire magazine. 
Like Tupac, Glover has successfully transitioned his career from television to music and now film, thanks to starring roles in upcoming blockbusters like the Lion King remake and Solo: A Star Wars Story. The 34-year-old also shared a similar childhood experience to the late MC, who was fatally shot in 1996. 
"I know everybody likens themselves to Tupac a lot," Glover explained. "I am the new Tupac in a strange way. I grew up similar. I didn't have a mom in the Black Panthers, but my parents were very pro-black. Also, my mom made me go to performing arts high school. She was like, 'That's where you need to be.'" 
He continued, "Sometimes you have to play a role for people to understand you, even though you're far more complex than any of that. Sometimes it's really hard to simplify that so people can eat it."
As for their similar creative processes, Glover told the mag, "Storytelling is just simplifying what's happening to you. Life is just a story. Stuff that happens to you, you just put into story mode. I just take what's there and put it into story mode on a smaller level so that you can be like, 'Oh my God, that's life! I totally relate to that.'"
On his own life growing up in Stone Mountain, Georgia, Glover revealed, "If people saw how I grew up, they would be triggered. Confederate flags everywhere. I had friends who were white, whose parents were very sweet to me but were also like, 'Don't ever date him.' I saw that what was being offered on Sesame Street didn't exist."
The notoriously private celebrity also opened up about the joys of fatherhood in the interview. (Glover and his longtime partner Michelle recently welcomed their second child together, and their son Legend was born in 2016.)
From his perspective, "Every step of your life once you're an adult, you realize what being a teenager is. Once you're a teenager, you realize what being a child is. Children are life's greatest context. Parenthood really does make you something more. It asks you questions that no one is ever ready for, and that you're always ready for. It's like ayahuasca."
Read Glover's entire interview with Esquire here.