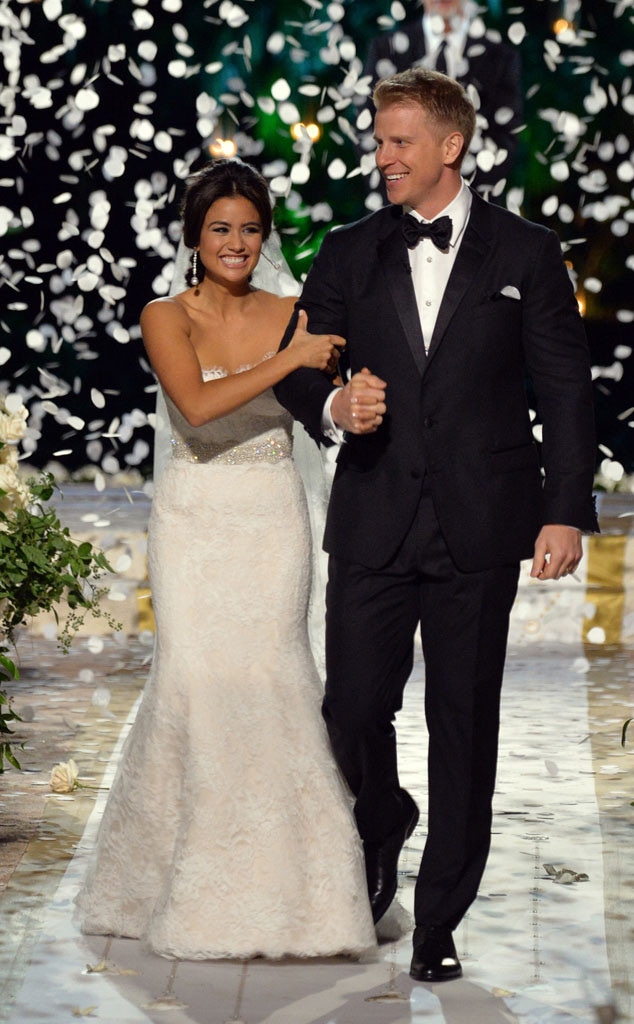 ABC/Todd Wawrychuk
It's a very special day for Sean Lowe and Catherine Giudici! 
The couple celebrates four years as husband and wife today, a milestone that wouldn't be complete without The Bachelor. Fans watched their unique love story bloom on the 17th season of the ABC dating series, where  Sean and Catherine made history as the franchise's first couple to tie the knot in a televised ceremony. 
Not long after the reality TV stars were expecting a baby boy named Samuel Thomas Lowe, who was born in 2016. 
So what is the biggest lesson they've learned in their four years of marriage? Catherine tells E! News, "I think I have learned better patience when it comes to our marriage and that rage is kind of a waste of time. I've been slower to anger when I remember how much Sean loves me and better at explaining how I feel. At least I hope!"
She gushes, "I love having my best friend to wake up to, spend the day with and kiss goodnight. I can count on Sean to make me feel loved every day and also give me sound advice when I need it. He's honestly the best thing that has happened to me."
As for their anniversary plans, Catherine says they hope to make volunteering in their community an annual edition. "We know how blessed we are every day and want to continue to enrich our lives with new experiences and people and hopefully in the process, help others."
"We'll also probably do something romantic, but that's up to Sean," Catherine teases. "But he knows, no red roses!"
And an anniversary isn't the only thing the happily married duo is celebrating today! Catherine and Sean are patiently awaiting and preparing for the arrival of their second child, who they announced was on the way in November 2017. 
Catherine, 31, says she "cannot wait" to see Samuel with a younger sibling, adding, "His heart is so good and I know he'll be so loving to him or her. He'll get to meet his lifelong best friend so soon! And if it's a girl, I'm excited to see Sean with her. Swoon!"
Major life events aside, we couldn't help but ask Catherine's thoughts on Samuel following in dad's footsteps to become the bachelor.
She admits, "I would trust that Sean and I raised a man who was respectful of women and took the opportunity to find the woman he could spend the rest of his life with! Let's hope maybe at least 25-years-old though. At 21 he'll still be my baby!"
Before they officially become a family of four (and Samuel is named the next bachelor), check out Sean and Catherine's many heartwarming moments with their little guy in the gallery above. We'd give our final rose to this Bachelor couple any day!