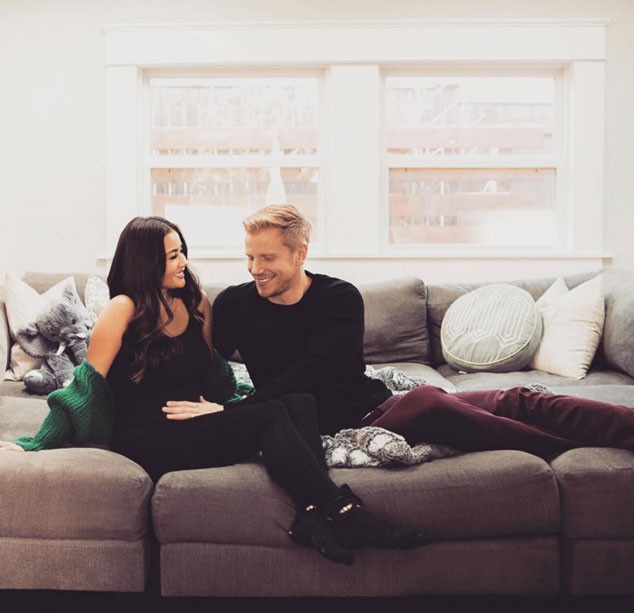 Sean Lowe/Instagram
One of the (few) successful Bachelor couples, Sean Lowe and Catherine Giudici are expecting their first child together!
Sean took to Instagram to share a photo holding his wife's tummy with the caption, "It's happening! I'm going to be a dad!"
Shortly thereafter Catherine followed up with a similar black and white picture, writing, "Hey Baby."
And you can rest assured this time Bachelor fans! This is not another one of Catherine's silly jokes. Though she pranked the world earlier this year by posting a pregnancy April Fool's joke on Instagram, this time she's actually serious!
The couple first met on season 17 of The Bachelor during which Sean eventually ended up proposing to Catherine. The two married on television a little over a year later.
Their Jan. 29, 2014, wedding took place at the Four Seasons Hotel in Santa Barbara and aired on ABC. The whole thing was absolutely breathtaking and magical, with the lush botanical gardens accessorized with flowers by Mark's Garden, ivory adobe and Spanish Colonial archways and glamorous details and surprises at every turn.
Lowe's father Jay officiated the ceremony and called their romance "an epic fairytale on display for the whole world to see."
But as exciting as their wedding was, it was the night of their wedding they looked forward to most. The couple was very open in the past that they were waiting until they got married to have sex. "From my perspective, I've lived life kind of selfishly for a long time," Sean (a born-again virgin at the time) told E! News before the wedding. "Now, I'm going to try to live it the way I know to be right."
Well it looks like they've successfully turned that around!  Congrats to the happy couple!