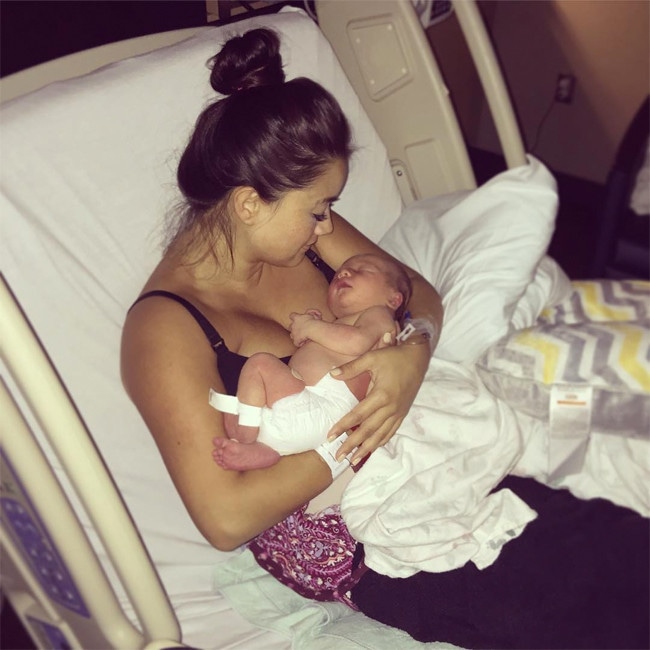 Instagram
Welcome to the world, Samuel Thomas Lowe!
The Bachelor season 17 stars Sean Lowe and wife Catherine Giudici Lowe, one of the rare couples who remained together after meeting on the dating show, welcomed the boy, their first child, Saturday.
On Sunday, Catherine and Sean shared on their Instagram pages the first pics of their son. In her photo, she is sitting on a hospital bed and cuddling the baby, who is sleeping in her arms.
"Samuel Thomas, I think I'm in love :)," she wrote.
Sean posted a pic of himself holding little Samuel as well.
"My boy and me," he wrote.
She had tweeted Saturday evening, "I'm in love with another boy, my son Samuel Thomas Lowe."
"God is good! We had a healthy baby boy named Samuel Thomas," Sean told his followers. "Thank you everyone for your prayers and support!"
Catherine and Sean did not reveal their child's sex ahead of time. They told E! News at their baby shower in May they had "settled on a guy's name" and that they "think it's a boy."
Sean picked Catherine to win season 17 of the hit dating series in 2013. The two wed the following year in a televised ceremony. Sean and Catherine are one of four couples who met on a show that is part of The Bachelor franchise and ended up getting married.