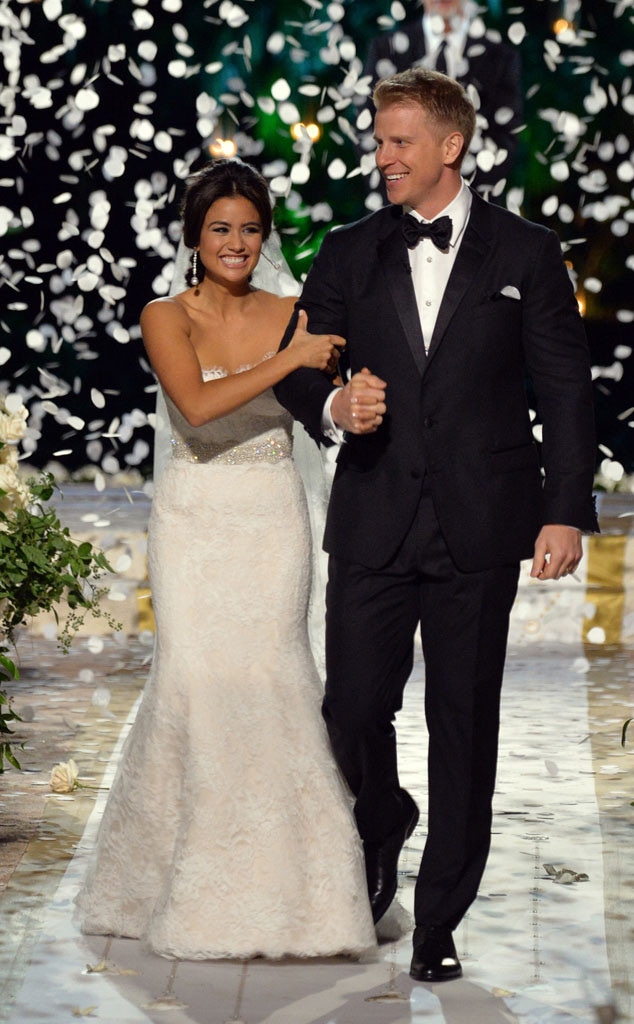 ABC/Todd Wawrychuk
Sean Lowe is a bachelor no more!
Fans watched the blue-eyed hunk find love on The Bachelor, and now, millions were able to witness Lowe and his leading lady Catherine Giudici tie the knot on the small screen. The two lovebirds got married on Sunday, Jan. 26, at the Four Seasons Resort—The Biltmore Santa Barbara, and the entire ceremony aired live on ABC.
The entire occasion was absolutely breathtaking and magical, with the lush botanical gardens accessorized with flowers by Mark's Garden, ivory adobe and Spanish Colonial archways and glamorous details and surprises at every turn.
But nothing was as eye-catching as the bride and groom, of course!
Numerous Bachelor and Bachelorette alums attended the ceremony and witnessed the blushing bride, wearing a Monique Lhuillier gown, marry her soulmate. Daniella McBride, Trista and Ryan Sutter, Jef Holm, Ali Fedotowsky, JP Rosenbaum and Ashley Herbert were among the guests, including Lisa Vanderpump and her dog Giggy.
Lowe's father Jay officiated the ceremony and called their romance "an epic fairytale on display for the whole world to see."
Catherine told Sean at the altar, "The first time that I saw you, you were like a light to my bug. I had to find you. You mesmerize me with how brightly you shine. Sometimes I feel like I'm going to explode by how much I love you...I'm completely consumed by you...I promise to love you after my heart bursts...You are my dream and my reality."
Sean followed with, "From the moment I met you I wanted more. You had me hooked from the beginning and I didn't want to let you go. We met in the strangest way possible...I know that we met on The Bachelor so that I could fall in love with my best friend...Every day I am encouraged by your love and your selflessness...I'm going to love you for eternity."
The pair had revealed some deets about their cake before their big day. Along with the somewhat untraditional (but yummy!) wedding cake by Duff Goldman, Lowe told ABC News that they made sure to find a way to incorporate his furry pals in the ceremony.
"Our dogs are so important to us. They're the loves of my life," he said. "So, my groom's cake is an exact replica of my two dogs, a boxer and a chocolate lab," Lowe revealed. "It looks incredible. Charm City Cakes in Los Angeles designed this crazy cake for us and it's amazing."
Prior to walking down the aisle, the blushing bride shared several snapshots to her Instagram account with her glam squad, without giving away too many details about her final look or her wedding gown.
"Glam Squad @joseeberofficial @paulanthonylove @fssantabarbara #thebachelorwedding," the future Mrs. Lowe captioned one smiling snapshotas her team works on her hair. Meanwhile, Lowe gushed with his excitement over his wedding day and added a vintage photograph on his Instagram account of the moment the couple first met on The Bachelor.
"Today is the day I marry my best friend," he shared. Awwww!
E! News spoke to the newlyweds shortly before they said "I do," and when asked about whether or not the celebration would be modern or traditional, Giudici gave us a little hint of what to expect.
"It's more a mix. The ceremony is definitely traditional in the sense of having vows and his dad is going to marry us," she revealed. "So that aspect will be pretty traditional, but the party and the elements that are going to be decorated, that's gonna be pretty modern."
"The term she keeps using is 'grown sexy,'" Lowe added.
Although their wedding is something they'll always cherish, their wedding night will be especially memorable.
The couple has openly stated in the past that they were waiting until they got married to have sex. "From my perspective, I've lived life kind of selfishly for a long time," Sean said, who is a conservative Christian and born-again virgin. "Now, I'm going to try to live it the way I know to be right."
And Catherine's reasoning? "I honor him," she said.
As for the honeymoon, the lovebirds are tight-lipped about the location but reveal it is going to be somewhere tropical. "It will be just the two of us, on the beach," Lowe told E! News. "Chilling out and having a great time."
Congratulations to the happy couple!
Watch:
Sean Lowe and Catherine's Love Story