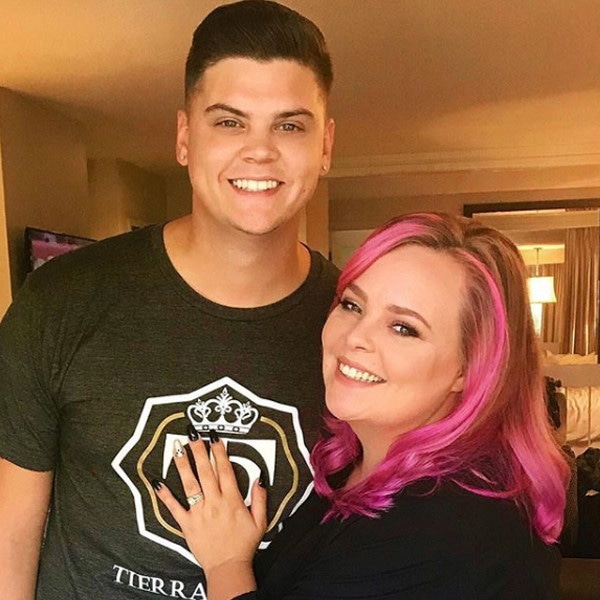 Instagram
Tyler Baltierra is focusing on himself today. 
As wife Catelynn Lowell continues her treatment center stay, the Teen Mom OG star took to social media to reveal he too is seeking professional help and attending therapy. 
In a video taken by Tyler, who recently documented a 26-lb. weight loss, he said, "I made it. I made it to my therapist appointment. Putting in a little self-care today, know what I mean?"
"Sometimes you have to put yourself ahead of some other people sometimes in life," he continued. "Doesn't mean you don't love 'em or care about 'em. It just means you love 'em enough to put yourself first so you can be the best 'you' you can be."
Earlier this month, Lowell announced her decision to return to treatment a little over two weeks after initially checking out in late December. The 25-year-old mom has been open in her struggle with suicidal thoughts, and recently told fans she'd be in treatment for six weeks to "work on my trauma and getting on different meds." 
Through it all, Catelynn has felt the utmost support from Tyler and their 3-year-old daughter, Nova. 
She wrote on Twitter, "THANK YOU @TylerBaltierra I LOVE YOU SO MUCH!!!!! You are my light!! And nova you are my sunshine #KeepTalkingMH"
"For all u haters- YOU DONT KNOW EVERYTHING IVE BEEN THROUGH!" Lowell also tweeted. "Quit acting like you know what I should be doing or shouldnt!! I'm NOT running away from my family! Those are the people I love the most!! you ppl are ignorant."
In a recent interview with NEDA, Baltierra discussed his years-long struggle with depression and commitment to mental health. 
"I have struggled with depression since I was 11-years-old, when I attempted suicide," he revealed. "At that age, my dad was just sent back to prison for the second time and I was so used to having him around for a little bit and then all of a sudden, he was just gone again. I directly compared his addiction to my worth and just thought if I wasn't good enough or loved enough for him to stay clean and out of prison, then why even live anymore? I was very alone and empty."
The MTV reality star credits therapy as a major source of relief from his anxiety, adding at the time, "I have been going since I was a kid and I can't tell you enough how much it helps me. My family helps me a lot too, when I open up to them about my issues. Being active is a huge help as well, but writing is my true resource for expressing my emotions."
Teen Mom OG airs Monday nights at 9 p.m. only on MTV.