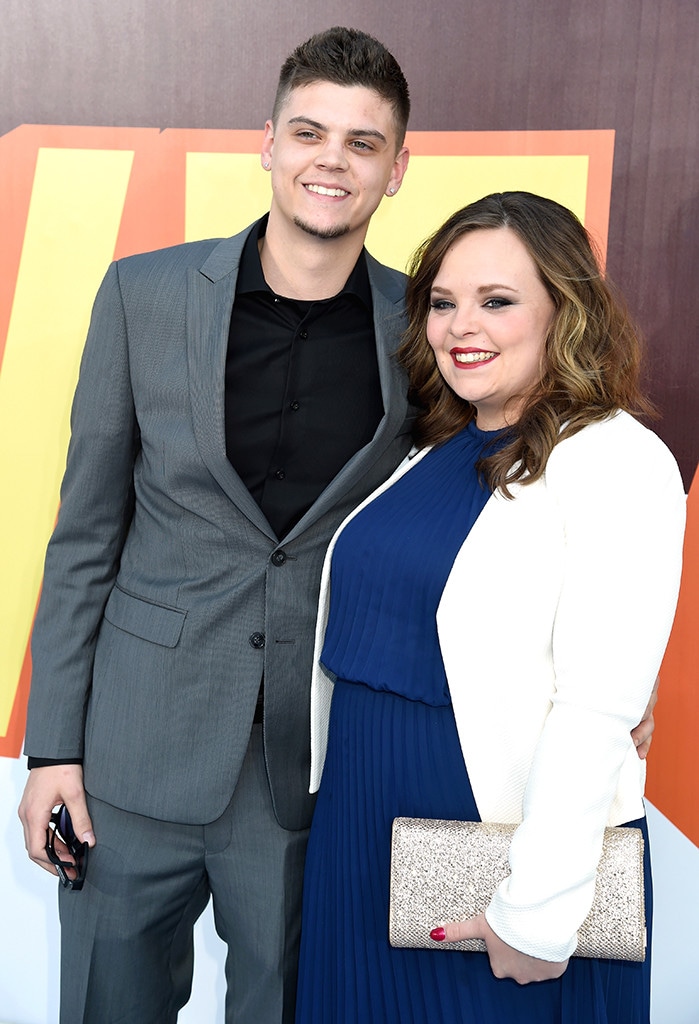 Jeff Kravitz/FilmMagic
After six weeks at a treatment center, Catelynn Lowell Baltierra is coming home.
The 25-year-old Teen Mom OG star posted on her Snapchat early Saturday morning a photo of what appeared to be a curb outside an airport, writing, "4:24 a.m. Going home!" She also tweeted, "On my way home!"
Last month, Catelynn had posted on Twitter, "Well today I thought of every way to kill myself.. so I'm going to treatment."
Her husband Tyler Baltierra, 25, also announced her return on his Instagram page, alongside throwback photos of the two at age 15.
Snapchat / Catelyn Lowell Baltierra
"Throwbacks of me & my wife at 15 when the duck face was all the rage & I bought glasses that were too big for my peanut head lol! Seriously though, Cate comes home today & I can't wait to just hug her for as long as I want," he said.
"I am so incredibly proud of her & the work she has done this past 6 weeks," he continued. "She is a strong woman who has been through more than you know & her resilience continues to triumph over what life has thrown her way. I love you Babe @catelynnmtv hurry home please, I've missed you so much! #MiddleschoolSweethearts."
Catelynn and Tyler, have been married for two years are parents to a 2 and 1/2-year-old daughter, Novalee, who they welcomed five and a half years after placing their first child, Carly, for adoption when they were 16.
Watch:
Catelynn Lowell Opens Up About Daughters' Relationship
In 2016, Catelynn spent time at a treatment facility in Arizona to treat postpartum depression and anxiety following Novalee's birth.
Amid her time in treatment, Tyler and Novalee spent Thanksgiving and Christmas without her.
"This is the first Christmas without Cate since I was 14," Tyler wrote on Instagram on Christmas Day, alongside a video of their daughter.
"It's a little disheartening, but then I get to see this little cutie open some presents & it instantly puts the spirit right back in me! Merry Christmas everyone!"
After Catelynn checked herself into the treatment center in November, Tyler said he was amazed by her courage as she seeks professional help.
"We haven't held each other & just cried like that for a long time. Even after 12 years, I continue to be AMAZED by her strength, vulnerability, & courage to get help," he said. "'As long as I am alive, you will never be alone' - It is my call to arms & I will fight this war with her right by her side, we will not surrender to this," he continued. "I will go to battle EVERY TIME for her! #KeepTalkingMH."