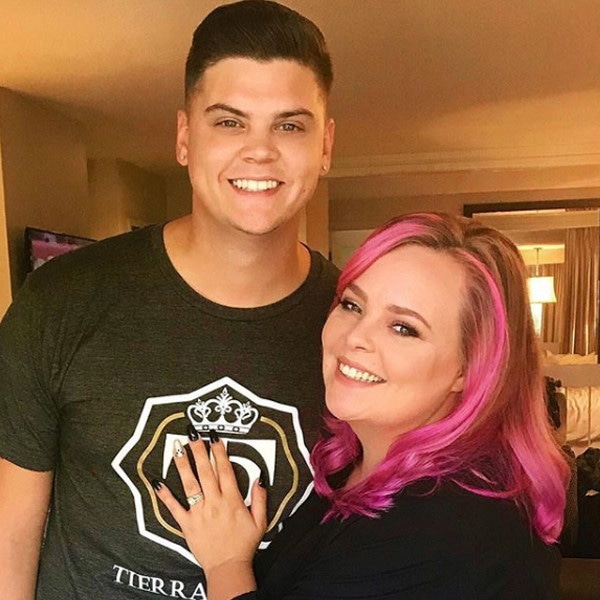 Instagram
Catelynn Lowell is determined to be the best version of herself.
The Teen Mom OG star surprised fans Wednesday morning when she announced on social media that she was heading to treatment and receiving additional professional help.
"Well they say third times a charm... I'm going back to treatment people for 6 weeks to work on my trauma and getting on different meds," Catelynn wrote to her 1.3 million followers. "THANK YOU @TylerBaltierra I LOVE YOU SO MUCH!!!!! You are my light!! And nova you are my sunshine #KeepTalkingMH."
The announcement comes just two months after the MTV star shared that she was going to a six-week treatment program after experiencing suicidal thoughts.
She would also post a photo of a tattoo that read, "My story isn't over yet" before completing the program. 
That life story has been playing out for many years on MTV beginning with 16 and Pregnant in 2009 to currently on Teen Mom OG.
But from the very beginning, fans have connected strongly with Catelynn and husband Tyler Baltierra's story. When they were just teenagers, the couple decided to put their first child up for adoption.
And while they welcomed their second daughter Novalee Reign in 2015 when they were older, both parents have struggled with staying in touch with their firstborn and her adoptive parents.
"I try not to make it difficult. Things always seem like they're difficult and I'm not trying to make it difficult," Catelynn previously shared on an episode through tears as she tried to schedule a rare trip to visit Carly. "I'm willing and trying and offering. And then I get ignored for months and I try."
While their decision to put Carly up for adoption has brought some struggles, Catelynn and her husband have found themselves overcoming a few other major obstacles.
Tyler's dad Butch has been in and out of jail while struggling with his sobriety. Catelynn's mom April has also overcome addiction as documented on the show.
And while fans have seen Tyler and Catelynn remain mentally strong for each other and their children, they too have been overwhelmed at times with the world around them.
Cameras rolled as Catelynn struggled with postpartum depression, weight and anxiety (a battle she bonded over with co-star Amber Portwood). And at one point, Tyler discussed the challenges to stay strong mentally.
"I don't know. I don't know if it's [Catelynn's] mental illness on top of dealing with all that and then having to be super strong," Tyler shared with his mom in one episode. "I'm trying to keep it all together upstairs."
Through it all, the couple has asked for help and remained open in sharing their journey with fans. They have also remained devoted to one another and supported each other through life's up and downs. This past summer, the pair celebrated 12 years together and continues to be each other's No. 1 fan.
"Even after 12 years, I continue to be AMAZED by her strength, vulnerability, & courage to get help," Tyler recently shared on Twitter. "'As long as I am alive, you will never be alone' - It is my call to arms & I will fight this war with her right by her side, we will not surrender to this. I will go to battle EVERY TIME for her! #KeepTalkingMH."
And with the support of thousands of fans, Catelynn continues to focus on her mental health journey that has inspired many across the country. After all, the best wealth is health. 
"Everyday gets better #MakeChesterProud," she previously shared on Twitter. "#KeepTalkingMH"
Teen Mom OG airs Monday nights at 9 p.m. only on MTV.