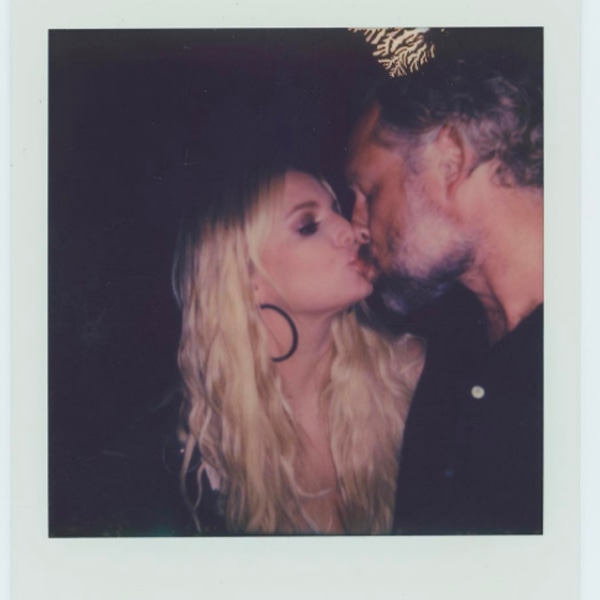 Instagram
Jessica Simpson's life couldn't look more different now than it did 11 years ago.
The "I Wanna Love You Forever" singer was newly divorced from Nick Lachey, the duo having realized in front of the entire world by way of their reality show Newlyweds: Nick and Jessica that they were not made for each other. She was dating John Mayer, a coupling that didn't exactly inspire visions of wedding bells (nice as he was to later call her as addictive as "crack cocaine"). She had even gone brunette for a spell.
But she wasn't in the throes of a post-split crisis. Rather, was loving every bit of her newfound freedom.
"Something big is happening...I'm so happy right now," she told Elle in early 2007, pretty much flooring the interviewer who had predicted that Simpson would be in a much more fragile state of mind.
Yet while she was smiling, what she wasn't doing was spilling the beans on dating, having just closed the book on the most public chapter of her life, never to be repeated to date. (Although she would continue to say hilarious, theoretically TMI things for years to come.)
"I'm happy I did the show. I'm happy I was married. I'm happy that he was in my life. I have no regrets. And I will look you in the eye and tell you that I have no regrets about that. Not one," Simpson said.  
Brian Ach/WireImage.com, Gregg DeGuire/WireImage.com
Asked about the onslaught of more salacious headlines since she and Lachey split up, Simpson mused, "It's that whole, 'They build you up to tear you down' thing. But in a lot of ways I think I brought that on myself because I did a reality show. I let people in on who I am and how I react to my husband. That's a big deal. Celebrities don't do that. So I think they brought me down just because I stopped talking and because I have not spoken—and will not speak—about my divorce. And I think that people feel like I owe them my reality right now. And I've learned to keep it sacred. Yes, it gave me an amazing career, but there are just some things I want to keep private now, and I'm begging and pleading for privacy.
"I'm still a very open person, but now I know what to guard."
She wanted to talk more about her love life, as any excited gal with a new beau tends to enjoy doing. "I want to tell you everything, but I have to sew my lips together," Simpson said. "It's hurt me in the past. I really hope you understand...People don't need to know why. They just need to experience it."
Simpson and Mayer went to Italy together, then she joined him on tour in Australia. But the honeymoon period was over by that May, with a friend of Mayer's telling People that John was "just over it." 
They couldn't stay away, however ("sexual napalm" in the morning and all), and spent time together in New York and Cabo San Lucas before their hookup-for-the-ages ended for good in June. In 2010, after Mayer gave his instantly infamous interview to Playboy, Simpson said on The View that he had called up and apologized afterward for being so ungentlemanly.
"He did apologize, but I mean, at this point it doesn't really matter," she said. "I mean, I only thought he was stupid for breaking up with me." (That was actually just days after she told David Letterman that she hadn't yet spoken to Mayer since the interview, so perhaps he got the message.)
In November 2007, Simpson met a more solid-seeming type in Dallas Cowboys quarterback Tony Romo, whom she'd settle in with for almost two years...until he dumped her the night before her 29th birthday in July 2009.
"You'd have to ask him that," she told Letterman when he asked why it didn't work out. 
Simpson had said in the June 2009 issue of Vanity Fair (whom she had canceled on in 2006 when she decided she just wasn't ready to talk about her divorce yet), in a story first published online that May, that she and Romo were "very similar in that we both appreciate the hometown feel to a lot of things, and live our life like that." "She comes to a ton of games," Romo added. "She's a supportive girlfriend."
Too supportive, according to the superstitious Cowboys fans who blamed Simpson's presence on the sidelines for a decline in his play, as well as their winter vacation in Mexico for the Cowboys' loss to the eventual Super Bowl champion Giants in their NFC division playoff game in January 2008.
"You know, it's very hard when you lose, because games are important, and so many people put so much time and effort in," Romo told VF. "It's nice to have someone to come home to and try and make you feel better."
"That's how the story goes," Simpson offered. "Can't help it. But we don't let it affect our relationship. If we did, we wouldn't be together, because it happened at the very beginning. Dating the Cowboys quarterback comes with hype, the fans, the bloggers, but I've never dated a guy that was more simple. I'm always there for him after a game, and he knows he has me to come home to."
Instead, two months after that interview was published, she had the rug ripped out from under her.
Nursing her broken heart, Simpson took to Twitter with a wistful yet upbeat message: "Everyone needs to know that hope floats...grab the strings and pull it back to you. Falling asleep with my mom and the dogs. Please lord give all of my beautiful fans, friends, enemies, and family rest. Bring all of us peace."
She was linked to a couple of other guys, including "dear friend" Billy Corgan, whom she collaborated with on a track for her show The Price of Beauty. Then she had the Mayer interview to deal with in early 2010.
"Yes, my phone has been ringing. It's more embarrassing 'cause I'll walk into a restaurant or something and I'll notice more men are looking at me," she said on The View. "And he'll never have this napalm again." She didn't feel a need to tell her ex off, though. "That's why I do shows like this!"
Her professional life was firing on all cylinders as her eponymous brand was on the verge of becoming the billion-dollar behemoth it is today. But all of the above might have been enough to put anyone off of dating for awhile, let alone dating a football player.
But in May 2010, she started seeing Eric Johnson, a Yale-educated hunk who spent seven years in the NFL, mostly playing tight end for the San Francisco 49ers, before retiring in 2008. 
An important distinction: retired football player. Meaning, no crazy fans and no grueling NFL-season schedule. According to Us Weekly, he was enrolled in a business program at Penn's Wharton School when they met, but he left to be by Simpson's side.
It was as if all of the sweet love songs she had sang earlier in her career had started playing again, all at once. There were just one minor hitch—Johnson's divorce wasn't quite finalized yet.
By all accounts, he had been separated since October 2009 from stylist Keri D'Angelo, after 4 1/2 years of marriage, and they had started divorce proceedings in January 2010. But Johnson was still reportedly spending extra-friendly time with D'Angelo when he met Simpson that May. Simpson's rep denied that there was any overlap. (But even if there was, unbeknownst to some, the divorce was in the works.)
And if it's meant to be, it's meant to be.
They met through friends in May, were vacationing in Italy for Simpson's 30th birthday (which was a hell of a lot better than her 29th birthday) in July, and in November 2010, a month after Johnson's divorce was finalized, he and Simpson got engaged.
Asked if Johnson was the one that October, Simpson had told People, "I never go to that because I already went there, so, I'm not gonna jinx my own self. He's the one for me right now! I'm very happy, I'm in a great place and if right now could last forever, I'd take it."
She recently revealed that the proposal took place on Nov. 11 at 11:11 a.m., with Led Zeppelin's "Since I've Been Loving You" playing in the background and rose petals scattered on the ground.
In October 2011, Simpson confirmed in most memorable fashion—while dressed up like a mummy—that she was, in fact, a mummy-to-be. Daughter Maxwell Drew Johnson was born on May 1, 2012, and immediately became the apple of her mother's eye.
"We are so grateful for all of the love, support and prayers we have received. This has been the greatest experience of our lives!" Simpson wrote on her website.
And since there's no time like the present, by the end of the year, baby No. 2 was on the way.
"We're doing it very backwards, I know...I'll just keep my legs crossed, I guess, this time," the ever-quotable Simpson told Jay Leno on The Tonight Show in January 2013, where she joked that she and Johnson had intended on two different dates to get married but "but he keeps knocking me up!"
She said they had most definitely not planned on trying for baby No. 2 so soon, but they were just going with the flow.
"Apparently it was a part of God's plan for my life," Simpson added. "I was extremely shocked...because I was going through a lot of hormonal changes, trying to get back to the old, vibrant Jessica. You know, it was kind of like a one-night stand. And it happened, all over again!"
Ace Knute Johnson was born on June 30, 2013, a darling, similarly towheaded addition to the family.
The following year, Simpson and Johnson finally found a good patch of non-knocked-up time to get married. 
They tied the knot on July 5, 2014, in a romantic ceremony at San Ysidro Ranch in Montecito, Calif., the highlight of a lavish $1.4 million long weekend of BBQ, horseshoes and other family-friendly fun for the 275-strong wedding party. Maxwell was their flower girl, naturally, and Ace was a top-notch ring bearer.
"I don't do things small," Simpson had promised on Today, looking ahead to her "extravagant" nuptials.
For all the ways in which Simpson apparently has met her match as far as love and sex and family values go, so has she found Mr. Right when it comes to privacy. Presumably he keeps up his end of the conversation at home, but Johnson hasn't spilled one iota of information about their personal life in public, while still remaining an amiable and photogenic presence at events and on Instagram with his wife and kids.
But we know a few things: Johnson is the Boston-bred son of an attorney mother and a father who renovated houses. He's smart, being an Ivy League graduate. He has a certain set of principals, having eschewed the "high and mighty" attitude at nearby Harvard for Yale). The 6'3" athlete excelled at baseball, golf and football at an early age. He started practicing yoga during his football-playing days to maintain agility and flexibility. Per the San Francisco Chronicle, he signed a $4.5 million, three-year deal with the 49ers in 2004. He spent the final year of his NFL career with the New Orleans Saints.
Evan Agostini/Invision/AP
Then he met Jessica Simpson.
When they got married, a sportswriter for the Times-Picayune remembered the onetime Saint as a "terrific guy and insightful interview," and also definitely not the player he would have predicted to end up with a "pop culture star."
And maybe Johnson wouldn't have predicted it, either, but it didn't take him long to fall hard. Last year, on the sixth anniversary of his 11-11 proposal, Simpson posted a picture of a card he gave her, reading, "Happy 11/11 Thanks for saying yes after only 6 months. It started all this. I love you Eric."  
For their seventh wedding anniversary this past July 5, she posted a family photo on Instagram with the Zeppelin-inspired caption, "7 years, 2 kids, and a whole lotta love later."
Who needs a stairway when you can just take the express elevator to heaven?
Watch Daily Pop weekdays at 12:30 p.m., only on E!