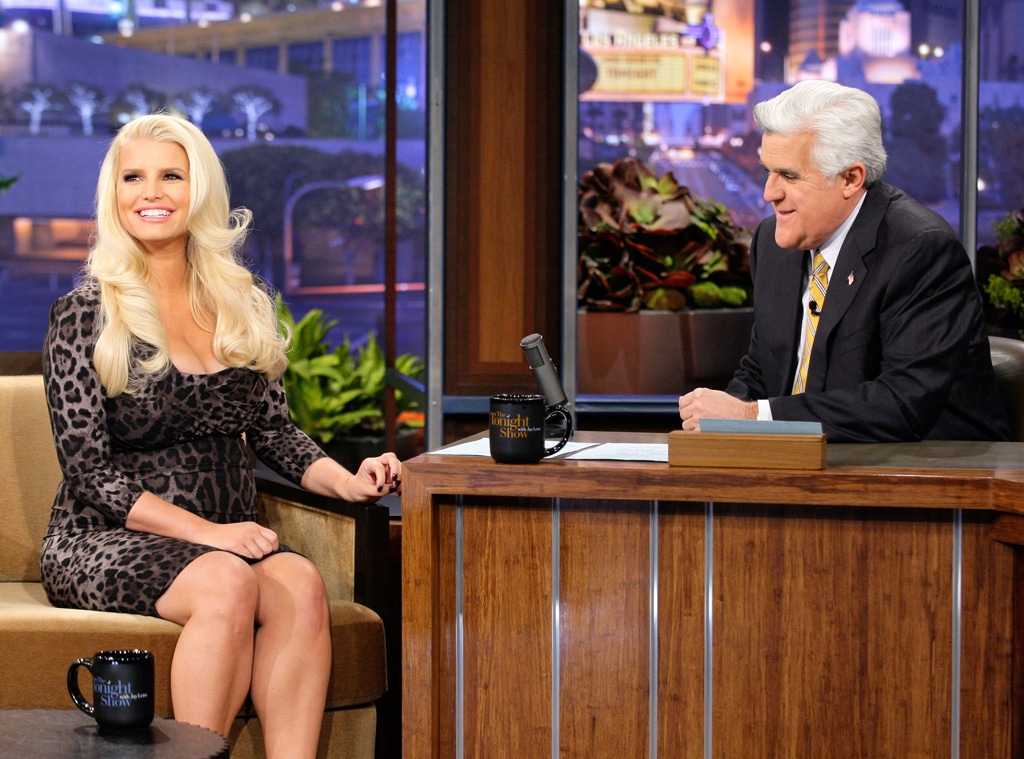 Paul Drinkwater/NBC
Jessica Simpson and Eric Johnson have tried to get married. Twice, in fact! But, you know...
"We've had two different wedding dates, but he keeps knocking me up," the pregnant future sitcom star, her cleavage barely tamed by her animal-print dress, joked Tuesday on The Tonight Show about her fiancé of two years.
"We're doing it very backwards, I know...I'll just keep my legs crossed, I guess, this time," Simpson vowed with regard to the next time they set a date.
Asked if she planned to get pregnant so soon after welcoming daughter Maxwell, who's now 8 months old, Simpson decidedly said, "Nope!"
"Apparently it was a part of God's plan for my life," she said, laughing. "I was extremely shocked...because I was going through a lot of hormonal changes, trying to get back to the old, vibrant Jessica. You know, it was kind of like a one-night stand. And it happened, all over again!"
This time around, however, she doesn't plan on eating "everything in sight."
"I was really happy to be pregnant and I didn't ever step on the scale," she recalled about being pregnant with Maxwell. "I didn't realize you could gain that much weight that quickly." Simpson wouldn't specify a number, but she said she probably gained "a lot more than doctors would recommend," largely thanks to her craving for "everything."
"I didn't really make any healthy good decisions," she explained.
Maxwell's mommy also dished about the NBC sitcom she's planning to star in, calling it "loosely based" on her life. (E! Online is also a member of the NBCUniversal family.)
"About a girl who keeps getting pregnant?" cracked Jay Leno.
"Yes," Simpson laughed. "Yes, and how that girl deals with that and everything else...I will be playing myself, which is pretty easy."
She's not too keen, however, on the show being called Jessica, as Leno suggested.
"No...We don't have a name yet, we're just now in the process of casting everyone, doing the pilot. I will be playing myself but we'll have actors playing Eric and my dad. That'll be funny."