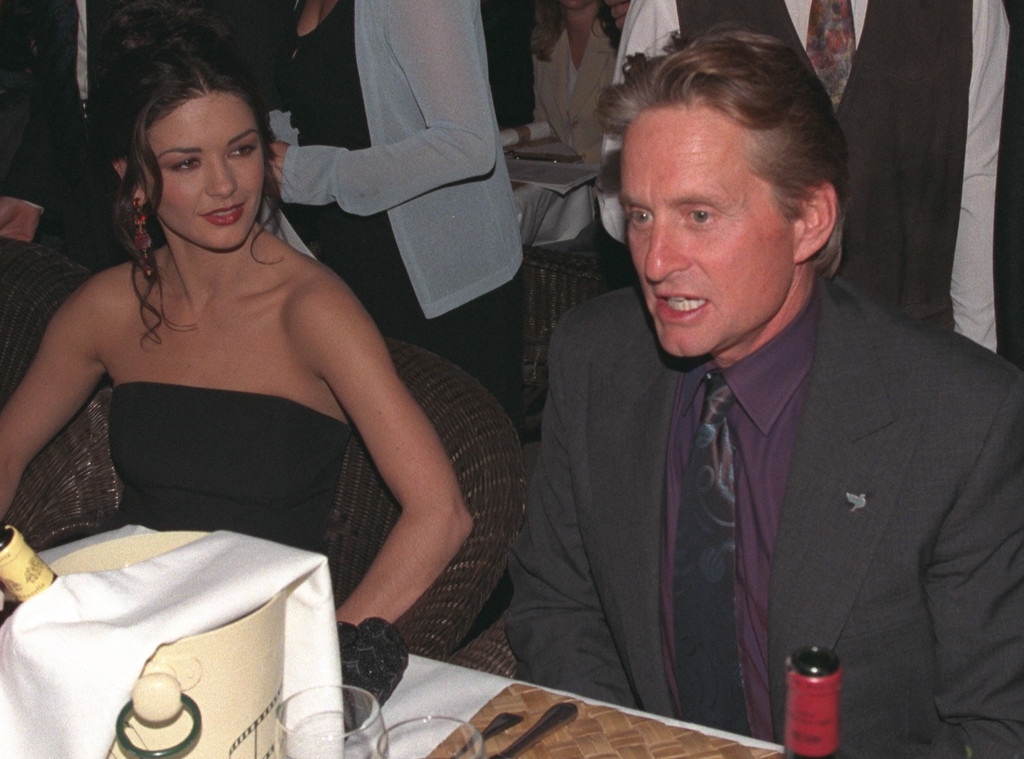 Eric Robert/Sygma/Sygma via Getty Images
Time is on Michael Douglas and Catherine Zeta-Jones' side.
Had they not crossed paths 22 years ago, the two actors—who share a Sept. 25 birthday—might not have become the Hollywood power couple they are today. And though they've had their ups and downs, it's obvious the Oscar winners both take their martial vows very seriously.
But how did the unlikely couple get together in the first place?
"We met in 1996 at the Deauville Film Festival...I think it was 1996!" Zeta-Jones recalled to CNN's Larry King in a 2001 television interview. "I had been told Michael Douglas wanted to meet me. I was a little nervous because I didn't quite know what he wanted to meet me about."
At the time, Douglas was promoting A Perfect Murder and Zeta-Jones was promoting The Mask of Zorro. She first spotted the acclaimed actor in her hotel's lobby...but he breezed right past her. "I said to my brother, who was there at the time, 'I guess he doesn't really want to meet me that much, because he just walked right past me and he didn't even know it was me!'" Two of their mutual friends, then-couple Antonio Banderas and Melanie Griffith, introduced the actors at a private dinner later that evening. Douglas "asked very gentlemanly if he could sit next to me at a very long table at the dinner for the Zorro premiere," Zeta-Jones said. But, as Douglas recalled on The Jonathan Ross Show in 2016, he thought he'd blown his chances with her, thanks to a cheesy pickup line. "I met her in the bar and was a total gentleman," he said. After she made the rounds, as part of her press obligations, she joined him for a nightcap. "I said to her after about half an hour, 'You know, I'm going to be the father of your children.' It sounded good, and she said, 'You know, I've heard a lot about you and I've seen a lot about you, and I think it's time I say goodnight.'" Zeta-Jones flew out of town the next day, but Douglas wasn't done yet. "[I] got her some flowers and an apology—anyway, so I guess it worked out OK!"
That's an understatement.
Frazer Harrison/Getty Images for Relativity Media
"Nine months later, I'm still having long conversations with him on the phone, having great dinner dates, constantly wondering, 'Why are we not together?'" Zeta-Jones told King. By the time the actors "actually sat down and talked about it," Douglas and Zeta-Jones realized their relationship could go the distance. "He certainly didn't want me as an ex- girlfriend on his list, and I certainly didn't want 'Michael Douglas' as an ex-boyfriend on my list," she recalled. "We looked at each other one day and said, 'We're having a lot of fun together.'" And so, their romance blossomed.
Almost instantly, the couple's vast age difference became tabloid fodder. "Historically, older men and younger women have been together," Zeta-Jones said dismissively. "When my mother was telling me about men and telling me the facts of life, she never actually put an age bracket on it. And it's so funny, because Michael and my parents are the same age. So, my parents, whenever they see us together, never even question that there was a 25-year age difference."
Douglas proposed to Zeta-Jones at his Aspen home on New Year's Eve in 1999. "Both of us were sick as dogs because we had [the] flu," he told ITV's Ross King in 2016, joking that the actress "said no." Douglas gave his bride-to-be an antique Fred Leighton 10-carat diamond ring, surrounded by 28 smaller diamonds, estimated to be worth $1 million. At the time of their engagement, Douglas' publicist said "no official date" had been set, but they would be married later that year.
The actor's proposal came a month after he confirmed rumors that Zeta-Jones was pregnant. "We obviously were hoping to hang onto this information a little longer than expected but, yep, Catherine's expecting," Douglas told People. "Both of us couldn't be happier." In August, the Welsh actress gave birth to a son, Dylan. He was the first child for Zeta-Jones and the second child for Douglas, whose firstborn son Cameron (with ex-wife Diandra Luker) was born in 1978.
On Nov. 18, 2000, Douglas and Zeta-Jones exchanged vows at the famed Plaza Hotel in New York City in what many outlets called "the wedding of the year." The evening ceremony cost a reported $1.5 million (Zeta-Jones' David Emanuel gown alone cost $250,000!) and brought out some of Hollywood's biggest and brightest stars, including Jennifer Aniston, Sean Connery, Russell Crowe, Danny DeVito, Whoopi Goldberg, Tom Hanks, Goldie Hawn, Anthony Hopkins, Jack Nicholson, Brad Pitt, Meg Ryan, Steven Spielberg, Sharon Stone and Barbara Walters; performers included Jimmy Buffett, Art Garfunkel, Gladys Knight and Bonnie Tyler. A month before the wedding, Douglas told Movieline, "Whatever Catherine wants, that's what she'll get." As for the costs associated with the wedding, he said, "She's not an outrageous spender."
Douglas, then 56, and Zeta-Jones, then 31, sold their wedding photo rights to the U.K.'s OK! magazine. "Catherine's vision for the wedding was to be very romantic," wedding planner Simone Martel dished to People. "She knew what she liked—something dramatic but intimate."
Did Zeta-Jones have any other specific requests for her big day? "I just told Michael, 'No crying.' He doesn't even have to have a tear in his eye. He just has this look where I know that he's about to start, and that does me in. I said, 'I don't even want you to look at me until I'm halfway down the aisle,'" she told People, adding, "I don't take any of this for granted. When I look at Michael, I run around like a little girl. I can't believe I came into his life and he came into mine."
Rather than embark on a lavish honeymoon, the couple holed up in their apartment with their 4-month old son. "It doesn't get any better than this," Douglas told Reuters a month after tying the knot. "2000 is not going to be a year that's forgotten." Unsurprisingly, Zeta-Jones agreed. "I'll double up on what my husband says," the newlywed said. "It doesn't get better than this."
As they made a happy home for their infant son, the actors continued to find success on the big screen. And on Easter Sunday in 2003, daughter Carys was born in Ridgewood, N.J., near the family's Manhattan home. At the time, Zeta Jones' publicist said, "They are all doing fantastic."
But before Carys' arrival, the family had already been living in Bermuda full-time. "There's real solace in returning to this tiny island where I have so many relatives, probably 70, in one place," Douglas told Architectural Digest in 2002, noting that it's only a 90-minute flight between the island and New York City. "To me, Bermuda is a real family spot." Zeta-Jones' family had visited them for Christmas a year earlier and they "fell in love," Douglas added. "Now we're getting the Welsh coming to live in Bermuda, too." The move made sense for their family, as Zeta-Jones said they wanted Dylan to "have a base" and "be able to grow up with lots of cousins his age."
In fact, Carys told Town & Country she didn't even know her parents were famous until she got older.
"I thought my dad was a pancake maker," she told the magazine. "I didn't know he was an actor. Honestly."
By 2009, however, the family was back in the U.S. and living in Bedford, New York. The constant hounding by the paparazzi certainly took its toll, particularly when the family was in the big city.
"I hated it," Carys said about living in Manhattan. "I used to get really upset. They would jump on the subway and sit right in front of me. I was, like, 6. I was confused."
However, the famous family soon faced even bigger hurdles. Just a year later, the couple's love was put to the test when Douglas was diagnosed with throat cancer. Chemotherapy and radiation were especially tough on him. "It really knocks you out," he told People. Zeta-Jones remained by his side, telling the magazine, "The hardest part is seeing his fatigue, because Michael is never tired...If there's anything Michael has, it's strength."
That same year Douglas' firstborn, Cameron, was arrested and charged with possession of heroin and distribution of methamphetamines. While he was initially sentenced to five years in prison, Cameron ended up serving even more time, including two years in solitary confinement, for smuggling drugs into jail. He later credited the love he received from his stepmother and other family members with helping him get through this difficult time.
"She never gives up on anything, and she didn't quit on me," Cameron, who was released in 2016, told the Mail on Sunday. "The love of my family got me through my darkest days."
In January 2011, less than a year after his son's sentencing, Douglas was declared cancer-free. Three months later, it was Zeta-Jones who needed support when she checked herself into a mental health facility to treat her bipolar II disorder. "I'm not the kind of person who likes to shout out my personal issues from the rooftops. But with my bipolar becoming public, I hope fellow sufferers will know it's completely controllable," she told InStyle a year later. "I hope I can help remove any stigma attached to it."
Andrew Toth/Getty Images for Hearst
In April 2013, Zeta-Jones once again sought professional treatment for her bipolar II disorder. "She's doing a really good job of getting balanced," her husband told People. "I'm proud of her."
Four months later, E! News confirmed Douglas and Zeta-Jones had quietly decided to separate. For months, during interviews to promote Behind the Candelabra, Douglas promised reporters they were "working things out." Zeta-Jones, for her part, stayed silent. But by year's end, they had privately reconciled. "I'm crazy about her...I think every couple has their difficult times. The only problem is, as you well know, we're all in the public eye and it tends to get a little more exposed than most," he assured Ellen DeGeneres in 2015. "But we're back, stronger than ever."
Even after former employee Susan Braudy accused Douglas of masturbating in front of her—an allegation he preemptively denied before it was published in the media—Zeta-Jones defended her husband and stuck by his side.
"Michael came out with that preemptive statement. He was articulate, said it from the heart. He was honest, open and transparent. He now has to take the next step from where he goes from here," she said during a 2018 guest appearance on The View, emphasizing her support of the #MeToo and Time's Up movements. "It's a question for him because it happened 30 years ago. It was B.C.—before Catherine."
Considering all of their ups and downs, it seems as though Zeta-Jones and Douglas are truly committed to one another.
"It's a long road, and I think people today are so quick to throw in the towel on marriage. You have to give it your best shot and not give up when the first problem arises, because that won't be the last problem," the happily married Chicago star told Good Housekeeping in 2016. "There will be many more down the road."
"It took work on both our parts," Douglas told AARP that same year. "I don't think there's much chance of fixing a relationship if one of you is already out the door." 
Today—at 49 at 74, respectively—Zeta-Jones and Douglas continue to be in love and do what they love. She recently starred in Cocaine Godmother: The Griselda Blanco Story and is set to appear in the dark comedy, Queen America, this November. As for Douglas, he appeared in Ant-Man and the Wasp earlier this year and is set to star in his new Netflix show, The Kominsky Method, in November. The proud parents also sent Dylan off to college and watched Carys land the cover of Town & Country. In addition, Cameron is the proud father of a baby girl.
However, Zeta-Jones isn't apologizing for her hard-earned success.
"One thing I'm not is humble anymore. I'm sick of being humble. I really am. 'So sorry I'm rich. So sorry I'm married to a movie star. So sorry I'm not so bad looking.' No sorrys. Enough. All that is important to me now is my work," she told The Mirror this summer. "That's what I love and the rest of my life is a joy because I've got two beautiful kids and a healthy, happy husband. It's all good, and I'm not going to be humble for that either."
The two also celebrated their 17th wedding anniversary in November. As for the secret to their successful marriage, Zeta-Jones suggested it all goes back to the basics.
"I think understanding, listening, being friends, all help," she told Entertainment Tonight. "It's been a great 17 years."
(This story was originally published Sept. 25, 2017 at 7:20 a.m. PT).