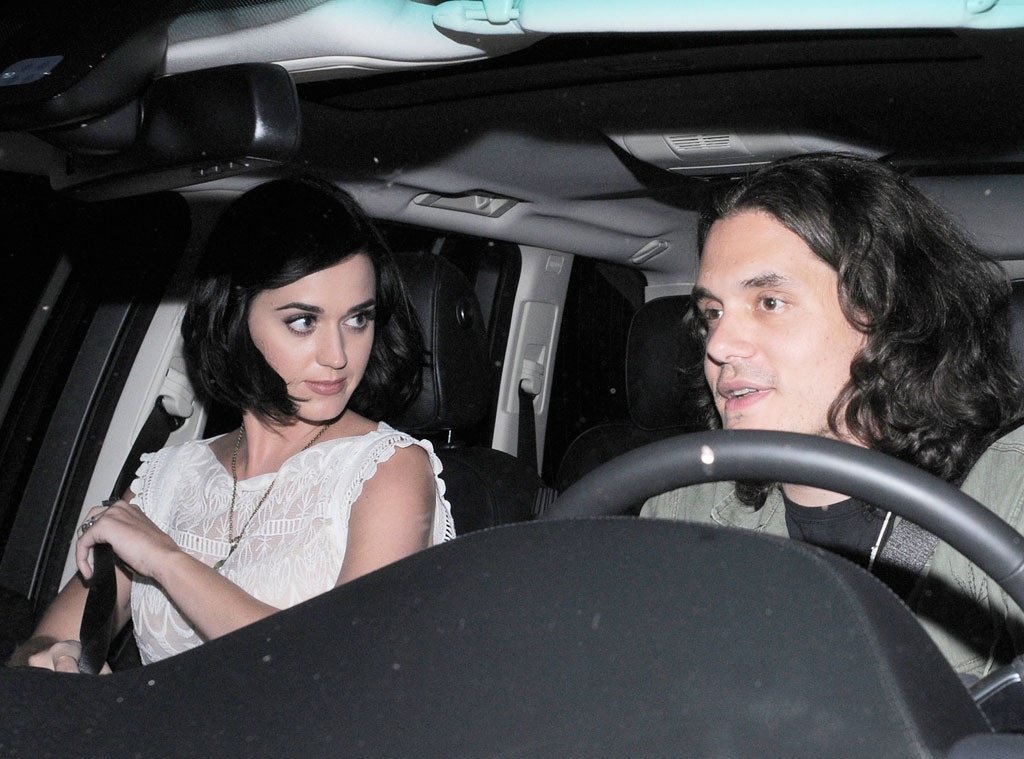 RACHPOOT-BRETT / XPOSUREPHOTOS.COM
For decades, musicians have been inspired by heartbreak and when their exes are famous too, that's when eyebrows really begin to rise.
John Mayer revealed recently that his latest single, "Still Feel Like Your Man," is about ex Katy Perry. The two singers dated on and off for about a year and a half until early 2014.
Who else would I be thinking about?" he told the New York Times. "And by the way, it's a testament to the fact that I have not dated a lot of people in the last five, six years. That was my only relationship. So it's like, give me this, people."
Check out other famous musicians who released popular breakup songs about famous exes:
Katy Perry and Russell Brand: The singer's 2012 song "Wide Awake" is said to be about her divorce from the actor and comic. 
"She's a young woman dealing with the breakup of a relationship...which is understandable," he said on The Howard Stern Show. "It's a nice song."
RCA Records, a division of Sony Music Entertainment
Miley Cyrus and Liam Hemsworth:
The two ended their engagement and relationship in 2013 and weeks later, she
released her ballad "Wrecking Ball."
 Many have speculated the track is about him, although she has not confirmed it. st year and got re-engaged.
Gwen Stefani: The singer and her brother and then No Doubt co-founder Eric Stefani co-wrote the band's song 1996 song "Don't Speak," which is about her and bassist Tony Kanal's breakup.
"It's still weird.  Even last night when I sang the song it's still weird," she said on The Howard Stern Show last year. "I just rolled my eyes and walked away [like] really? You're still feeling that?"
In 2015, two months after filing from divorce from Gavin Rossdale, she released the her solo single and emotional ballad "I Used to Love You."
"I think, for me, I feel like I always wondered: why did I get so unlucky in love?" the singer told Stern, crying. "I have so much love in me."
She and Blake Shelton have been dating for more than a year.
Justin Bieber and Selena Gomez: Last year, Bieber said on The Ellen DeGeneres Show that three songs on his album Purpose—"Sorry," "Mark My Words" and "What Do You Mean?"—were inspired by his split from Gomez. The two broke up in 2014 after dating on and off for three years.
Songwriter Justin Tranter told CBS This Morning in February that Gomez was given the heads up about Bieber's single "Sorry" after it was finished, saying, "Because these are real people's lives. This is real life and you have to be real with your friends."
Meanwhile, the breakup also reportedly served as inspiration for Gomez's 2013 track "Love Will Remember." A leaked demo featured a voicemail Bieber left for her, although that the recording was cut from the album version of the track.
Gomez's 2014 ballad "The Heart Wants What It Wants" is also said to have been inspired by the split. 
Jonathan Leibson/WireImage, Jon Kopaloff/FilmMagic
Carly Simon and Warren Beatty: The singer revealed in 2015 that the second verse of her hit 1972 breakup anthem "You're So Vain" is about the actor, her ex.
The lyrics are as follows: "You had me several years ago / When I was still quite naive / Well you said that we made such a pretty pair / And that you would never leave / But you gave away the things you loved / and one of them was me / I had some dreams, they were clouds in my coffee / Clouds in my coffee, and..."
Britney Spears and Justin Timberlake: In 2002, he released the hit ballad "Cry Me a River," which many believe was his response to his split from Spears. Its music video features a blond girl who many say represents her.
A year later, Spears dropped her own emotional ballad, "Everytime." She has remained coy when asked if it was a response to her and Timberlake's breakup. 
Frazer Harrison/Getty Images
Jordin Sparks and Jason Derulo: in 2014, the former American Idol winner released a remix of Drake's "How Bout Now," which was inspired by her 2014 split from Derulo.
The lyrics reference his 2012 neck injury: "Remember I deleted all my other guys' numbers out my phone for ya? / Remember when you broke your neck and I had to wash your back for you? / Ugh You probably don't remember half the s--t that I did for you (Yeah)"
Alanis Morissette and Dave Coulier: One of the most famous celebrity urban legends suggests the singer penned her hit 1995 single "You Oughta Know" about the Full House actor, her ex.
"There was a lot of familiar stuff because she was writing a lot of material when we were dating, so there were some familiarities all throughout [her album] Jagged Little Pill," Coulier told HuffPost Live in 2014. 
"The one that got me was, 'I hate to bug you in the middle of dinner.," he said. "That was because we had already broken up and she had called—she was living in Canada at the time—she called, and I said, 'Hey, I'm right in the middle of dinner, can I just call you right back?' I remember that line when I heard 'You Oughta Know,' and I just went...it was like, 'Uh-oh.'"
Watch:
Taylor Swift's Top Relationships RANKED
Taylor Swift: The singer is known for her high-profile relationships and breakup anthems, including "We Are Never Ever Getting Back Together," widely believed to be about ex Jake Gyllenhaal, "I Knew You Were Trouble," which was inspired by her and Harry Styles' 2013 split, and "Dear John," which many believe is about, yep, Mayer.