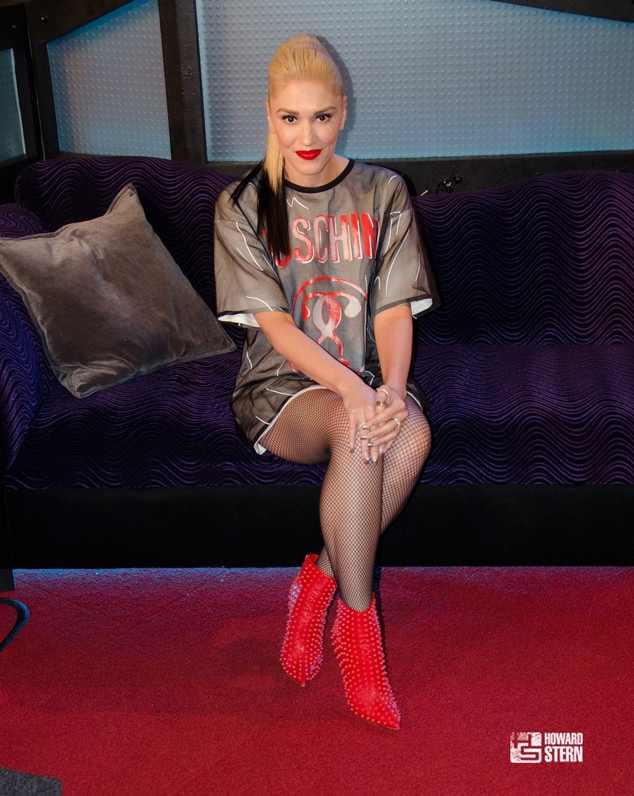 Howard Stern Show
Gwen Stefani may be in a better place right now after finding romance with Blake Shelton, but the singer still gets very emotional when talking about her history of heartbreak.
The 46-year-old rock star sat down on The Howard Stern Show and chatted about her past relationships, including the one with Tony Kanal before she met Gavin Rossdale.
As you may recall, Kanal was the bass player in No Doubt who split from Gwen in 1994. He was her first real boyfriend and left her heartbroken after their breakup.
"I was in love and obsessed with Tony Kanal, and he knows that," she said, admitting that if he had asked to marry her and have kids, she would have immediately. "As soon as he opened the car door I was like, 'I love him. I don't know why."
After their split, they released a breakup song, "Don't Speak," which still haunts the singer. "It's still weird.  Even last night when I sang the song it's still weird," she admitted. "I just rolled my eyes and walked away [like] really? You're still feeling that?"
Jason Kempin/Getty Images
Gwen ended up meeting Bush's lead singer Rossdale shortly after the split from Kanal.
"When I met him and looked up at him, I was like, 'Whoa.' It was different," she recalled of the moment. "I was in quite a rebellious place because I was feeling really rejected...Somehow he got my phone number, and that was that. He stalked me, I think," she added, jokingly. "I was only 26, and I only had the one relationship. I still lived at home when I met Gavin."
Nonetheless, he became her second boyfriend, and they dated for seven years before tying the knot in 2002. They became parents of sons Kingston, 10, Zuma, 7, and Apollo, 2. However, in 2015, the couple announced their divorce—a topic that still hurts Gwen to talk about.
"Its been an unbelievable journey. You can't even imagine. It did rock [my world]. My parents were totally helping me through the whole thing," she said of the split. "I was in a panic. I was in hell."
She began crying and added, "I think, for me, I feel like I always wondered: why did I get so unlucky in love? I have so much love in me. [Howard] you are making me cry."
Kevin Winter/Getty Images
Of course, fans and followers know Gwen has found new love in the arms of country singer Blake Shelton—who went through a divorce from Miranda Lambert at the same time. In fact, their relationship sort of blossomed out of their individual heartbreaks.
Gwen had been keeping her divorce a secret from her Voice co-stars at the time Blake announced his, leaving Gwen feeling a little uneasy.
"We were mic'd up and everything and Blake said basically, 'I have to talk to you guys.' And he made his announcement," she explained. "I think I might of gone white. I was in shock because I felt like he was exposing me. I just couldn't even wrap my head around it."
During a break, the pair ended up talking more. "He basically told me everything that was going on with him," she said, explaining how she ended up revealing her divorce news to him as well. "So then we started this friendship. Unbelievable that God would put us [together] at that moment, like at the same moment. His thing was going on since January and mine in February."
But it started simply as a friendship, as Gwen explained, "I wasn't trying to start a relationship, I was trying to not die.  There was no plan."
She revealed how they started emailing back and forth and eventually ended up writing a song together. As time went on, so did their relationship, and they finally made things official in November 2015.
Of course, as their love has continued to blossom in the public, Howard couldn't help but ask if we'll have a wedding in the future. 
"I'm not answering that question," Gwen replied.
And it looks like we'll have to let our imaginations run wild with that one!