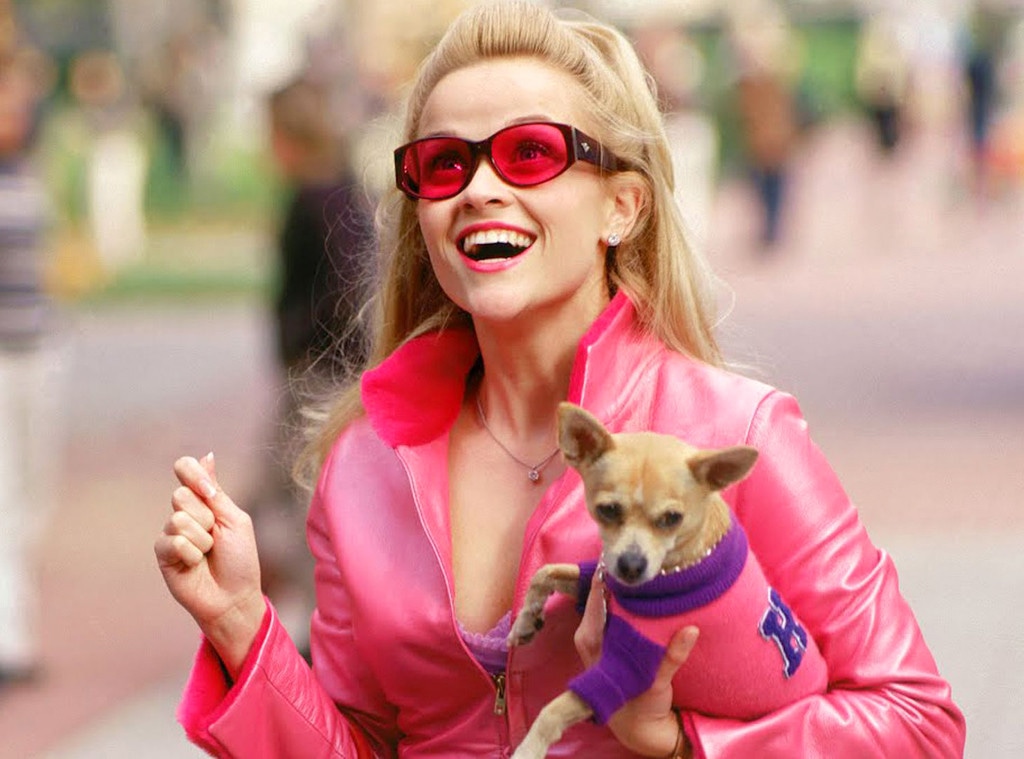 Moviestore/Shutterstock
For all you Gemini vegetarians who have been waiting for your favorite lady clad in pink to take the screen again...you might just get your wish!
Reese Witherspoon hosted a Facebook Live session on Thursday and opened up about her career among many other things, discussing some of her favorite moments of filming. 
While she said she loved working on Wild—which landed her an Oscar nomination a few years ago—she can't help but gush about her time playing Elle Woods.
"[Picking a favorite movie] is like picking your favorite kid," she admitted. "But...I loved making Legally Blonde, because I love pink! It was really fun!"
She added, "I got to wear all the amazing costumes. I also got to work with a dog every day...I'm obsessed with dogs. I love dogs!"
In fact, Witherspoon joked that her favorite co-star of all-time was Bruiser, the little chihuahua from the film who unfortunately passed away in March.
"He was just really sweet! I miss him, I really do," she smiled, before noting that she also adored the elephant in Water for Elephants. "She was amazing! She was great. Her name was Thai!"
Now, going back to one of the most important tidbits from her Q&A, the actress hinted at a possible new sequel.
"[Legally Blonde] was really fun," she said. "A lot of people have asked me if we're going to make another Legally Blonde, and we're thinking about it."
Thinking about it, meaning there is definitely a glimmer of hope! And what better time to make it than now—in the midst of Hillary Clinton's run for president?!
In fact, in 2015, Witherspoon joined Fashionably Late with Rachel Zoe and admitted she thinks the "world is ready" for a Legally Blonde 3.
"A lot of writers over the years have come up with different ideas for it," Witherspoon explained of the film, which saw its sequel, Red, White and Blonde, in 2003. "I actually think it's kind of great right now because we're talking about women in politics and how important that is to get more women. And I think it'd be kind of a cool thing to have her be a Supreme Court justice or someone who runs for office, like president!"
There's also another one of her older films she'd really like to see make happen again. 
"We are not making a [Sweet Home Alabama] sequel that I know of," she said during her Facebook chat. "But if Disney wants to make a sequel, they can just call me: I would happily make Sweet Home Alabama 2."
We'll take both, please!