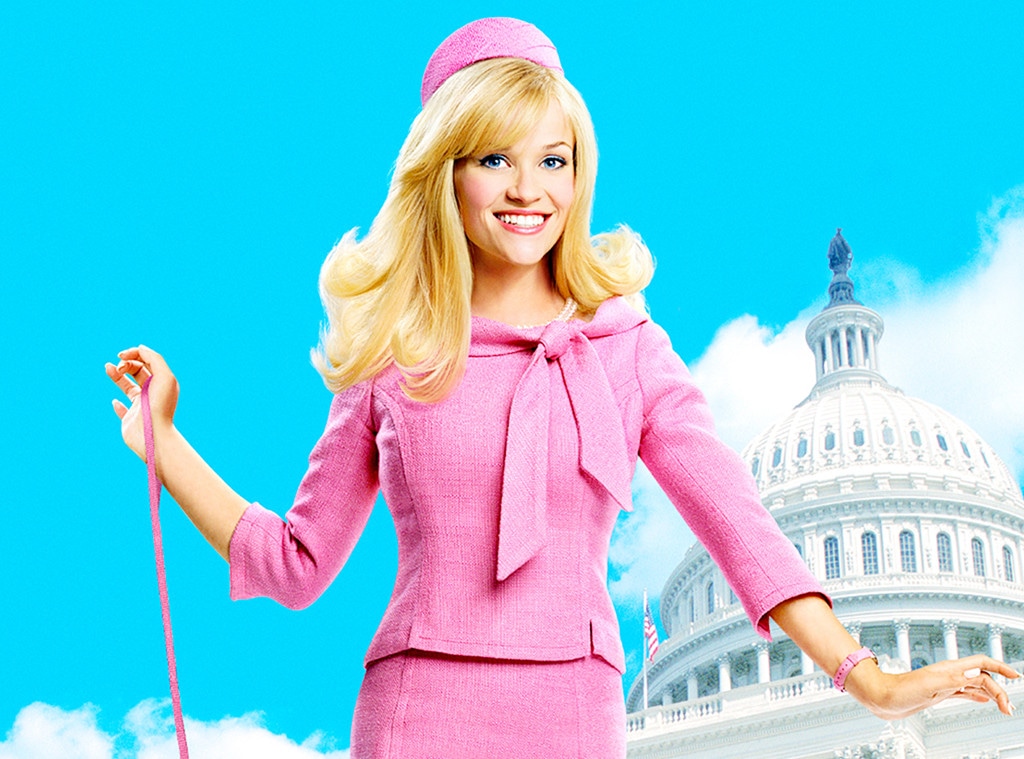 Metro-Goldwyn-Mayer
You guys! Our favorite Gemini vegetarian may be returning to the big screen… as President!
OK, so nothing is set in stone yet, but Reese Witherspoon gave us a serious glimmer of hope when she joined Fashionably Late with Rachel Zoe and admitted she thinks the "world is ready" for Elle Woods in Legally Blonde 3.
"A lot of writers over the years have come up with different ideas for it," Witherspoon explained. "I actually think it's kind of great right now because we're talking about women in politics and how important that is to get more women. And I think it'd be kind of a cool thing to have her be a Supreme Court justice or someone who runs for office, like president!"
Of course this automatically sent us into a daydream of what Ms. Woods would do in the Oval Office: a lot of bending and snapping, playing with Bruiser and, of course, redecorating with all-pink everything. But being an inspiration for women and empowerment, we think President Woods would make some big moves, too!
Here are 7 policies she'd totally put into place as POTUS:
Tracy Bennett/Mgm/Kobal/Shutterstock
Closing the Gender Wage Gap: Obviously, Woods is a feminist and promoting equal rights would be priority on her list. Thus, the gender wage gap must be closed. She'd totally reference Jennifer Lawrence (we know she's a fan) in encouraging women to negotiate for equal pay and stop questioning whether or not they're offending someone. "I don't think I've ever worked for a man in charge who spent time contemplating what angle he should use to have his voice heard. It's just heard," she'd quote J.Law's Op-Ed, reassuring women to ask what they want rather than focus on being liked.
Leading Educational Reform: After overcoming everyone's doubts and working her petite little booty off to get into Harvard, President Woods would undoubtedly fight for educational reform to make attending college possible for every person, no matter their class, background or income.
Protecting Our Environment: Being a vegetarian and activist for the environmental justice (remember she uses scented and recycled waste receptacles for Bruiser's poop), Woods would continue to foster a 21st century approach to land and water conservation.
Promoting Non-Discrimination for Minorities: President Woods would surely shut down racism and discrimination against minorities. She was once quoted saying, "I have always respected redheads as members of a hair color minority."
Fighting For Animal Rights: Elle found Bruiser abandoned on the street and rescued him. After becoming her right-hand man (he even online shops for her!), she became an advocate for animal rights! She proclaims, "I speak for those who can't speak for themselves." And let's not forget she's already created a line of faux fur panties, too! #Philanthropist
Growing International Trade: Ms. Woods holds a strong belief in international trading with brands like Gucci, Prada and Versace. She even holds double platinum VVIP VERSACE Preferred Customer identification card, which is available only to those that have shopped on at least five continents. Thus, she'd definitely be in support of growing closer economic relationships with other countries in order to help boost profits at home.
Helping Create More Jobs in America: We know Woods' love for shopping trumps almost anything else in her life, so there's a high chance she'd be interested in building more malls for consumers like herself. More malls means more shops and more shops means more jobs! Voilà!
What do you think about Elle Woods running for president in Legally Blonde 3? Sound off in the comments!
Watch:
Reese Witherspoon Ready for "Legally Blonde 3"?