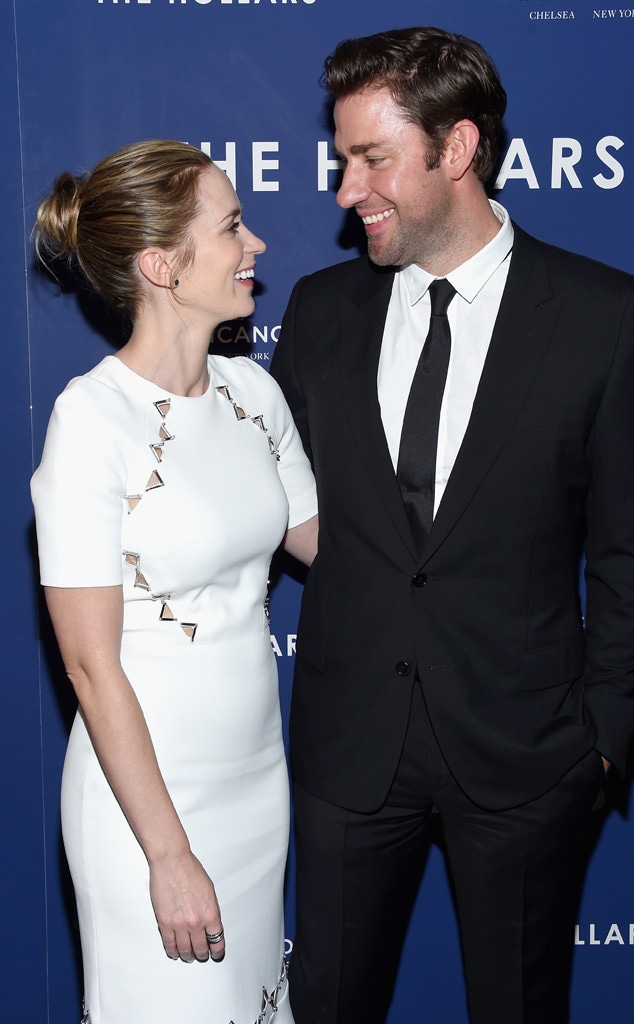 Dimitrios Kambouris/Getty Images
As you may have heard John Krasinski recently told Elle magazine that his favorite romantic comedy of all time is his wife Emily Blunt's iconic fashion flick The Devil Wears Prada.
But do you know how many times he claims he's seen the 2006 movie?
"There was one day when it was on and I said it was so good and Emily said, 'Have you seen this movie?'" Krasinski remembered when I sat down with him yesterday while he was promoting his latest film The Hollars.
"I said, 'A lot of times.' She said, 'That's so sweet, but how many times?' Luckily, we had been dating for about a year so there was a lot of trust built up and I said, 'Like 75.'
Krasinski wasn't so forthcoming in the early days of their romance. "We had just started dating and she had come over to my house. She popped by in between some things and I was watching it," the 13 Hours star said. "She opened the door and I flipped the channel and she looked at me like, 'Were you just watching porn?'...I think it was better for me at the time for her to think I was watching porn than watching The Devil Wears Prada for the seventy-fifth time."
Now, eight years later, Krasinki, 36, and Blunt, 33, are married, have two children (Hazel, 2, and eight-week-old Violet) and will be seen heard together in the upcoming animated flick Animal Crackers.
The Hollars marks Krasinski's second directorial effort. (He made his debut behind the camera with 2006's Brief Interviews With Hideous Men.)
The Hollars tells the story of an aspiring comic book artist (Krasinski) who has to return to his small town after his mother (Margo Martindale) falls ill. Anna Kendrick plays Krasinski's pregnant girlfriend with Richard Jenkins as his parents and Sharlto Copley as his deadbeat brother.
Both funny and warm with tinges of dark comedy, The Hollars will leave you crying more than once.
"There's a lot of crazy stuff going on in the world so I think it's really nice to have these movies," Krasinski said. "I'm a sap so I love these movies. I love Terms of Endearment. I love these types of movies. Bring them back, I say. I cry so easily."
The movie received a standing ovation when it premiered in January at the Sundance Film Festival. "Talk about being a crier," Krasinski said. "It took everything I had not to break down into a puddle."
While his pal George Clooney isn't in the movie, he may have something to so with Krasinki deciding to direct it. "I remember Clooney giving me really good advice," he said. "He said, 'You can always make a bad movie out of a good script but you can never make a good movie out of a bad script.' I really took that to heart. He said, 'Whatever project you choose make sure you really believe in it and you have to be the right guy for the job. Don't just direct to direct. It's so much work, at least two years of your life so get in there and believe in it.' He's absolutely right."
The Hollars is in theaters on Friday, Aug. 26.