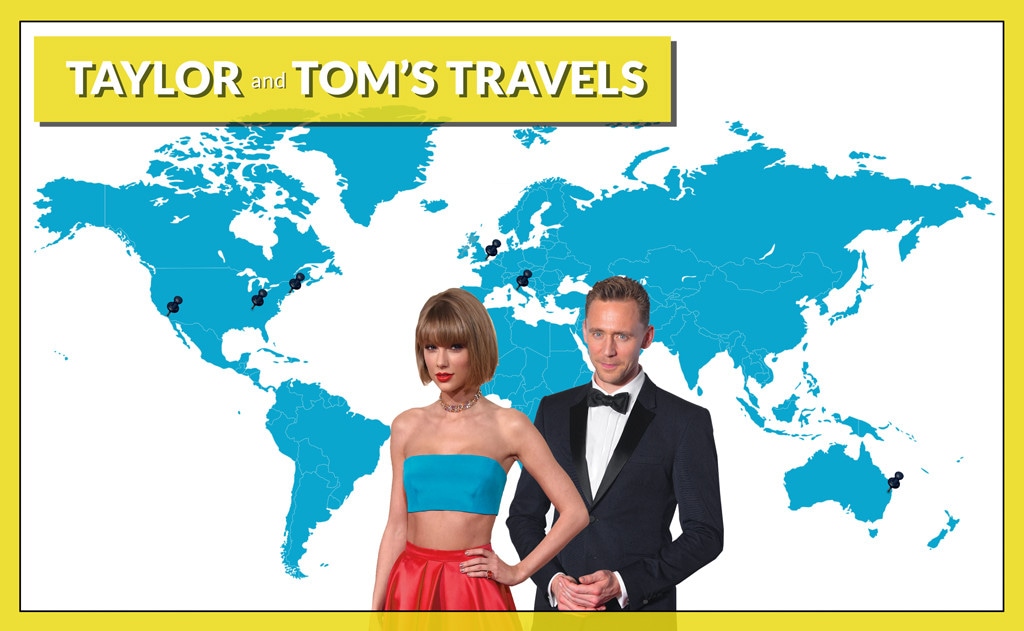 E! Illustration/Lindsay Scheinberg
It's a love felt 'round the world...literally!
Taylor Swift and Tom Hiddleston have taken their romance here, there and pretty much everywhere, trotting across the globe to various locations and seemingly packing their new love in their luggage alongside their passports in place of any concern or worry.
From romantic strolls on the beach to the cobblestone streets of Rome, singing along at a bestie's concert in Nashville to hanging out with besties on a massive blow-up water slide, Taylor and Tom seem to be on a quest of leaving no territory uncharted.
So in honor of their continued travels, let's take a look back at everywhere they've visited:
theimagedirect.com / FameFlynet
Rhode Island, June 15, 2016: The couple was photographed together for the first time, getting cozy near Swift's Rhode Island home on the rocky beach of Misquamicut. The photos catapulted the world into a frenzy of "Hiddleswift."
Nashville, June 22, 2016: The pair were spotted singing along at Selena Gomez's Revival World Tour concert in Music City. A few days later, TayTay even introduced her new man to the family! 
England, June 25, 2016: Hiddleswift headed to Suffolk, England, to meet Tom's mother. They enjoyed several walks along Aldeburgh beach as well as enjoying some lunch in town.
Rome, June 27,2016: Tom and Taylor jetted off to Rome for a romantic getaway, taking in all the sights of the gorgeous city. From taking a private tour of the Colosseum to a helicopter tour to some PDA-filled lunches, they surely enjoyed their time.
Back to Rhode Island, July 3, 2016: The couple rang in the Fourth of July holiday in Rhode Island alongside several of their famous friends, including: Blake Lively and Ryan Reynolds, Orange Is the New Black's Ruby Rose and Uzo Aduba, Karlie Kloss, Gigi Hadid, Halston Sage, Cara Delevingne, Abigail Anderson and more.
Los Angeles, July 6, 2016: Tay and Tom were photographed at the Los Angeles International Airport following their romantic Fourth of July trip. The pair looked pretty adorable in matching ensembles—yes, they've even started to dress alike.
Sydney, July 7, 2016: Hiddleswift touched down in Sydney, and of course some paparazzi were on sight to grab a few pics. But they weren't there for long!
Gold Coast, July 8, 2016: The hot couple took another flight out of Sydney to the Gold Coast, which is near to where Tom will start filming Thor 3. Looks like Tay is being quite the supportive girlfriend!
Now the only question left is...where in the world will Hiddleswift end up next?!