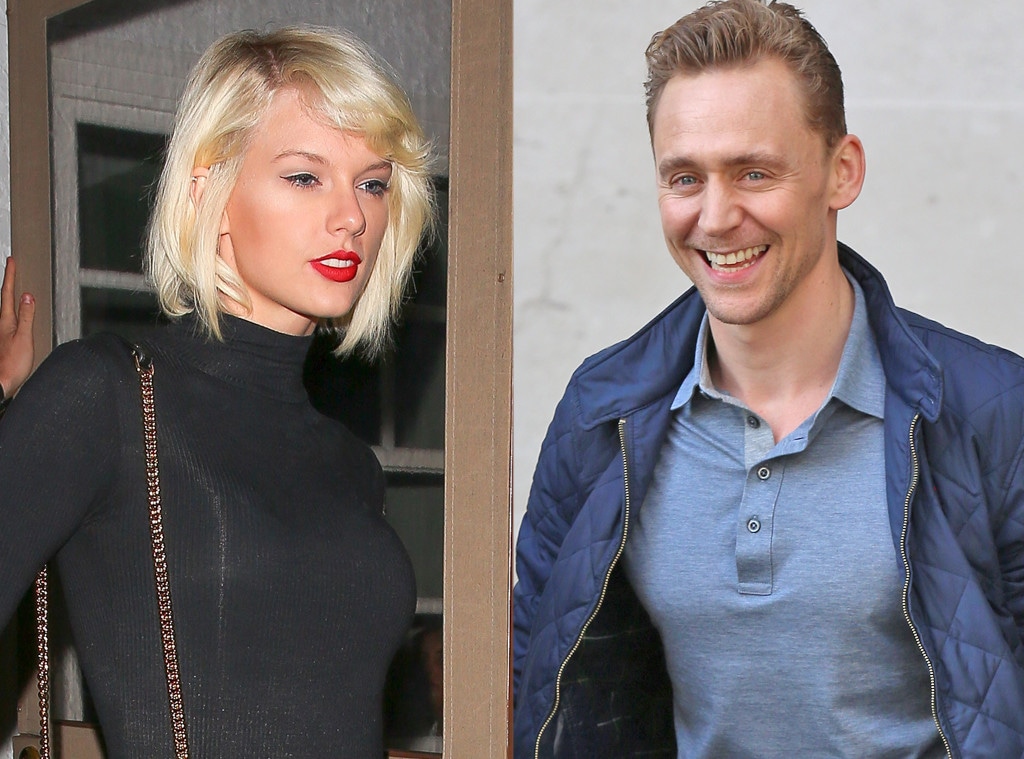 AKM-GSI; Getty Images
It's safe to say Taylor Swift has moved on from Calvin Harris.
The newly single singer, who split from the music producer roughly two weeks ago, was spotted getting cozy with actor Tom Hiddleston on the rocky beach of Misquamicut by Swift's mansion in Watch Hill, Rhode Island.

Photos emerged on The Sun of T.Swift and her new boyfriend enjoying a day by the water and strolling by the sand. At one point, the dating duo sat on a rock to take in the scenery, and during their casual and relaxing day together, the new lovebirds were spotted taking selfies together and even stealing a smooch!
"Taylor is hanging out with Tom. Nothing serious is going on but she is talking to him," a source exclusively tells E! News. "They have been out a few times she really enjoys his company. She is not looking to jump into anything this fast, but will take things as it goes nice and slowly."
Meanwhile, a source close to Harris tells us, "He just wants her to be happy, they were not a good fit."

While the news of this specific pairing may seem out of the blue for some, it's not as strange as you'd think. If you can recall the Met Gala back in the beginning of May, Swift (who attended the event solo) was spotted having a dance party with Hiddleston.
The two stars met that night after sitting next to each other at dinner, and as you can see in the multiple dancing GIFs, they clearly hit it off.
"I love dancing, who doesn't?" Hiddleston told the Press Association in an interview after the fact. "It's a weird one [that it went viral]. I haven't actually danced for a long time, but I happened to be dancing at the Met Gala because it was a party."
And it was all thanks to Taylor. "I was on a table with Taylor Swift and The Weeknd was playing and she said, 'The thing about these parties is nobody gets up to dance' and you're making music," he explained. "She, as a musician, was like, 'We've got to dance for The Weeknd' so we got up and danced."
He added, "I didn't know it was going to ping round the world, but it's all good."
A source recently told E! News that Swift was moving forward from her split with Harris. "Taylor is not sad anymore about the breakup," a source shared with E! News exclusively. "She knows it was for the best. They are not on bad terms. They have communicated since the breakup, but getting back together is something that's not in the cards for either of them."
The insider added, "Taylor is hanging out with her friends and keeping busy. She wants to be single for a while and have a relaxing summer. She has some plans to travel this summer. Taylor has also been writing new music."
Things seemed to be amicable between the exes, when Harris broke his silence about the split on Twitter, which was retweeted by Swift, except that post no longer exists. Dun, dun, dunnnn...
Meanwhile, Hiddleston is preparing for a grueling shoot schedule as he's slated to jet to Australia at the beginning of next month to start production on Thor 3.
Perhaps he'll have a surprise visit from someone special while shooting Down Under? We'll just have to wait and see.