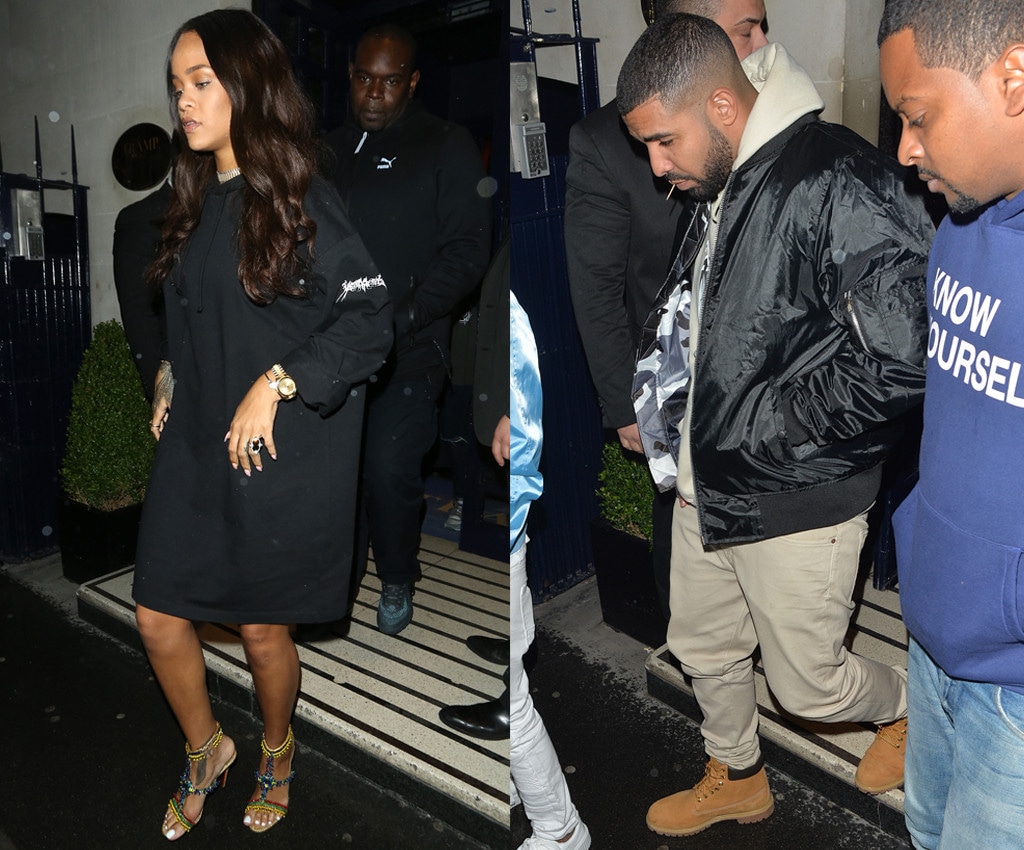 Splash News
Drake and Rihanna are going back to back...
Just hours after partying until daybreak on Tuesday night, the duo were spotted together once again, making it difficult for us not to believe they're more than just friends.
On Wednesday morning, they were photographed leaving Tape Nightclub as the sun was rising, and later that day, they reunited on-stage during Rih's Manchester concert at Emirates Old Trafford, causing the 25,000-plus crowd to go insane as they performed "One Dance" and "Work." 
But it didn't just stop there.
After the performance, the pair headed back into London to party the night away—yes, again! This time they hung out at Tramps nightclub and left one after the other at 4:30 a.m. 
Rih opted for an all-black ensemble which she accessorized with a pair of colorful, strappy sandals. Meanwhile, Drake donned a beige-on-beige look which he paired with a bomber jacket and Timberlands.
So does their back-to-back outings confirm a rekindled romance? Well, not so fast.
A source told E! News recently that they "aren't seriously dating" but they do hook up. "It's just for fun right now."
 Of course, things could always continue heating up. After all, at the end of their performance in Manchester Wednesday night, Drake couldn't leave the stage without gushing about the Barbados beauty, and one Twitter user caught the moment.
"Shout out to the most beautiful, talented woman I've ever seen," he told the crowd. "She goes by the name of Rihanna...I'm gettin' my heart broken." 
Hmm...sounds pretty lovey-dovey to us!
Meanwhile, Drake and Rih first sparked romance rumors in 2009, and though they never confirmed a relationship, they have been spotted on and off together many times over the last several years—especially lately.
After collaborating on Rihanna's "Work" and Drake's "Too Good," they continuously make surprise appearances at one another's concerts, which typically ends up with them up partying together later that night.
Just last month after Rihanna's show at the Forum in Los Angeles, the pair hung out at the Nice Guy in West Hollywood, closing the place down(no surprise there). "They hooked up that night they went to Nice Guy together and stayed until 5:30 a.m.," our insider added.
But while we might be rooting for a serious relationship to spark again between them, Drake recently said it's all friendship and music. "It wouldn't be a record without Rihanna, would it?" he asked Beats 1's Zane Lowe in April. "We do well as a team."
He continued, "We're not forcing some story on people. A lot of the music and energy we have is genuine. We have a genuine energy."