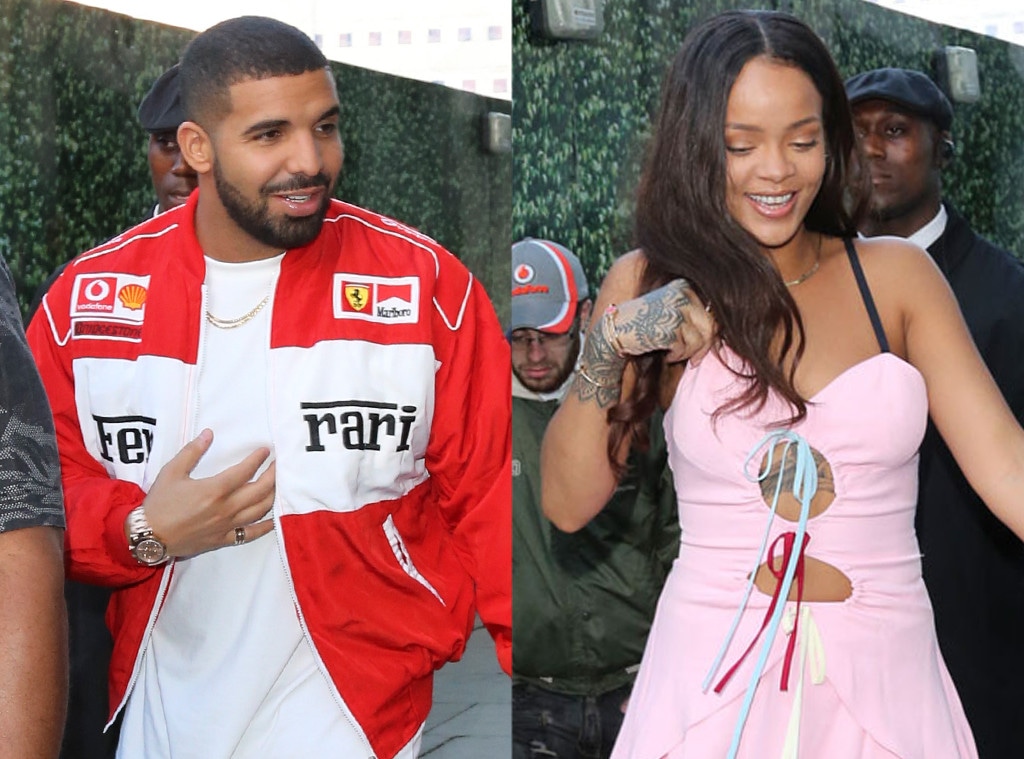 Splash News
Drake and Rihanna had the club going up on a Tuesday!
The duo met up at Tape Nightclub in London for Nicole Scherzinger's 38th birthday celebration, partying into the wee hours of the morning and closing the place down as the sun was coming up.
Though the pair was photographed leaving separately, they left one after the other around 6 a.m. Rih looked gorgeous, as always, in a pink party dress with colorful ribbon and cut-outs, accessorizing the look with strappy teal heels. Drake, on the other hand, opted for a casual look in a white tee and a red Ferrari jacket, which he accessorized with a chain and some jewelry.
The co-founder of Tape also shared a photo of Drake in the club's basement studio, noting the he was glad to see the rapper "enjoy himself."
Meanwhile, Drake and Rihanna first sparked romance rumors in 2009, and though they never confirmed a relationship, they have been spotted on and off together many times over the last several years—especially lately. After collaborating on Rihanna's "Work" and Drake's "Too Good," they continuously make surprise appearances at one another's concerts, which typically ends up with them up partying together later that night.
A source tell E! News they "aren't seriously dating" but they do hook up. "It's just for fun right now." 
In fact, just last month after Rihanna's show at the Forum in Los Angeles, the pair hung out at the Nice Guy in West Hollywood, closing the place down yet again.
"They hooked up that night they went to Nice Guy together and stayed until 5:30 a.m.," our insider added.
As for their relationship, Drake recently said it's all friendship and music. "It wouldn't be a record without Rihanna, would it?" he asked Beats 1's Zane Lowe in April. "We do well as a team."
He continued, "We're not forcing some story on people. A lot of the music and energy we have is genuine. We have a genuine energy."