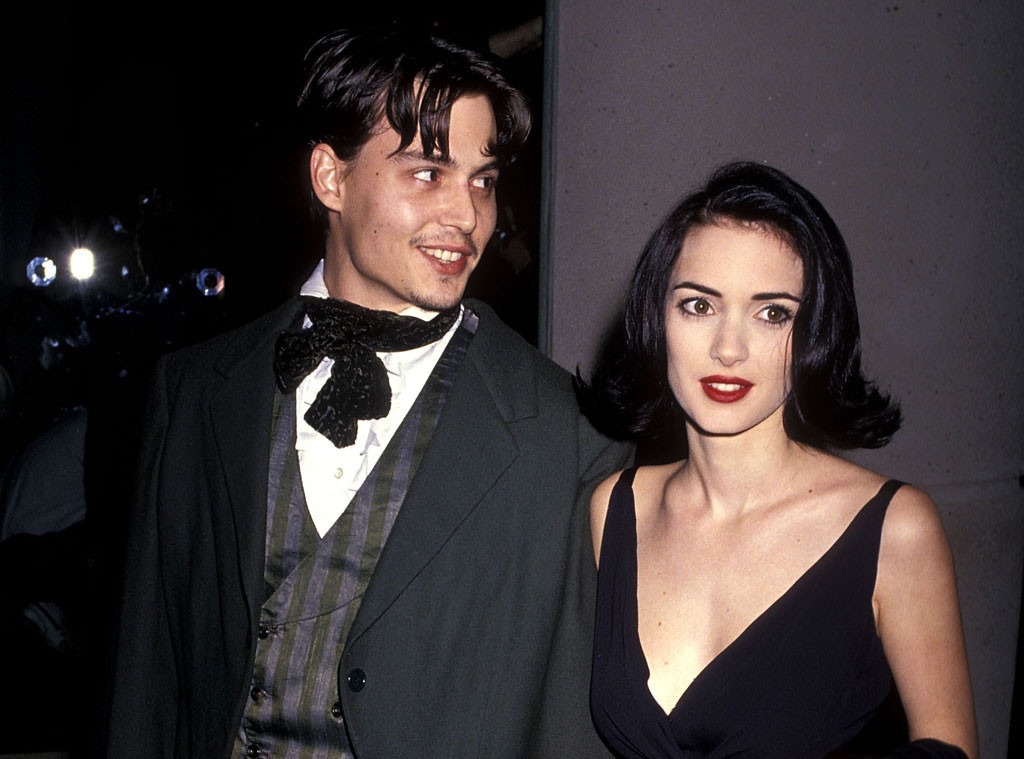 Ron Galella, Ltd./WireImage
Winona Ryder would like to give Johnny Depp the benefit of the doubt.
Amid allegations that Depp abused Amber Heard during their 15-month marriage, Ryder is speaking out on his behalf. Heard filed for divorce on May 23, three days after Depp's mother died. The Rum Diary star's hearing on the domestic violence claims has been postponed until Aug. 2, and a temporary restraining order has been reissued. In court documents responding to Heard's initial request for a temporary restraining order, Depp's lawyer, Laura Wasser, claimed that the defendant "is attempting to secure a premature financial resolution by alleging abuse."
Ryder doesn't know what may or may not have happened between Depp and Heard, but she would like to believe that the man she once planned to marry is innocent. Ryder met Depp on the set of Tim Burton's Edward Scissorhands. After getting engaged, they split in 1992—but during their four years together, she says Depp was never violent. "I can only speak from my own experience. It's very tricky because if it were any other type of scandal, like cheating, you could be like, 'None of my business. No comment. Not appropriate for me.' But I think because what is being said is so horrific and such a global issue for millions of women, obviously, that I understand why people feel it is their business. I get it. And I get why you would ask," Ryder tells TIME. "I can only speak from my own experience, which was wildly different than what is being said. I mean, he was never, never that way towards me. Never abusive at all towards me. I only know him as a really good, loving, caring guy who is very, very protective of the people that he loves. It's hard because I feel like. That's my experience. And it's been a very long time."
Ryder wants to believe the best in Depp, difficult as that may be. "I don't know how you feel about it, but it's like anybody who says anything about it is a victim-blamer. I wasn't there. I don't know what happened. I'm not calling anyone a liar. I'm just saying, it's difficult and upsetting for me to wrap my head around it. Look, it was a long time ago, but we were together for four years, and it was a big relationship for me. And we have a lot of mutual friends. I just never heard anything like that about him," she explains. "But, again, I feel like even saying that, I'm going to get death threats or something. I'm not on social media, so maybe I will be spared."
"It's really hard," the Stranger Things actress tells TIME. "I don't know what your love history is, but imagine someone you were in a relationship with was accused of this. I get that there are patterns of abuse. I get why you're asking me. But it's weird because imagine if someone you dated when you were—I was 17 when I met him—was accused of that. It's just shocking. I have never seen him be violent toward a person before. It's just hard to picture. The only word I can come up with is 'unimaginable.' You know with certain people you hear something and go, 'I can see that.' But this isn't that. So anyway, this is the first time I've said anything, so I don't know. I can only offer my own experience. It's such a serious, horrible thing to be accused of. It's almost as if your brother or someone you just never—so, you know, there's a part of me that is thinking, 'Is it even appropriate for me to say anything?' But because of the seriousness of it, it's been brought into a thing where it's trickier for me to say, 'None of my business.' But that's all I have to offer is my own experience, which was a very, very long time ago."
Depp's first wife, Lori Anne Allison, and his former partner, Vanessa Paradis, share Ryder's sentiments. Heard, meanwhile, has been leaning on friends like Amanda de Cadenet and iO Tillett Wright since her divorce filling.
For more information on domestic abuse or to get help for yourself or someone you love, visit the website for The National Domestic Violence Hotline (http://www.thehotline.org/) or call 1-800-799-7233.