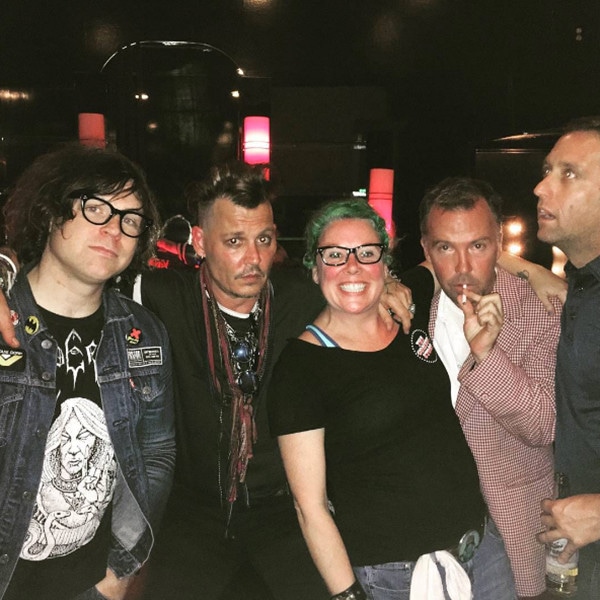 Instagram
Johnny Depp went from audience member to star of the evening while hanging out at Los Angeles comedy club The Comedy Store Saturday night.
E! News has learned that the Pirates of the Caribbean star was hanging out with friend Doug Stanhope as well as with other pals and comics. During comedian Mat Edgar's set, Edgar mentioned to the audience that Depp was hanging around, but little did he know that the Edward Scissorhands actor would surprise everyone by walking out onstage.
The audience, as well as Edgar, was surprised and shocked by his unexpected cameo. When he walked out onto the stage, Depp joked that Edgar's time was up (comedians receive 15 minutes). The two joked and bantered back and forth for a little bit, drawing a massive applause from the audience.
E! News has also learned that Depp and Stanhope arrived together and mostly hung out with each other throughout the evening. Another comedian, Stanhope was not scheduled to perform that evening, but he has performed at The Comedy Store several times in years past.
Stanhope and Depp have been best friends for a long time, so when Depp and Amber Heard's divorce spiraled into allegations of domestic assault, Stanhope defended his pal in a guest article for The Wrap. In it, Stanhope alleged Heard was "blackmailing" Depp and commented on the claims that Depp abused Heard.
Stanhope's guest column, titled Johnny Depp Is Being Blackmailed by Amber Heard—Here's How I Know, claimed that Heard "was 'threatening to lie about [Depp] publicly in any and every possible duplicitous way if he didn't agree to her terms.'" Stanhope also wrote that Depp told him Heard "was going to pull off some kind of ruse to f--k him over."
In response, Heard filed a defamation lawsuit. "The Complaint alleges that Stanhope is a close friend of Johnny Depp and, as part of a coordinated effort, wrote a highly defamatory article about Ms. Heard, filled with completely false, highly defamatory and very hurtful statements. Ms. Heard seeks the maximum possible jury award, and will donate 100 percent of the proceeds from the lawsuit to Chrysalis, a domestic violence shelter in Arizona, in an effort to counter the setback made to women by the defendants' defamatory article and related wrongful acts."
According to the court documents obtained by E! News, Heard's legal camp stated that the allegations in Stanhope's letter "are completely false and defamatory, and have caused and will continue to cause her tremendous harm."