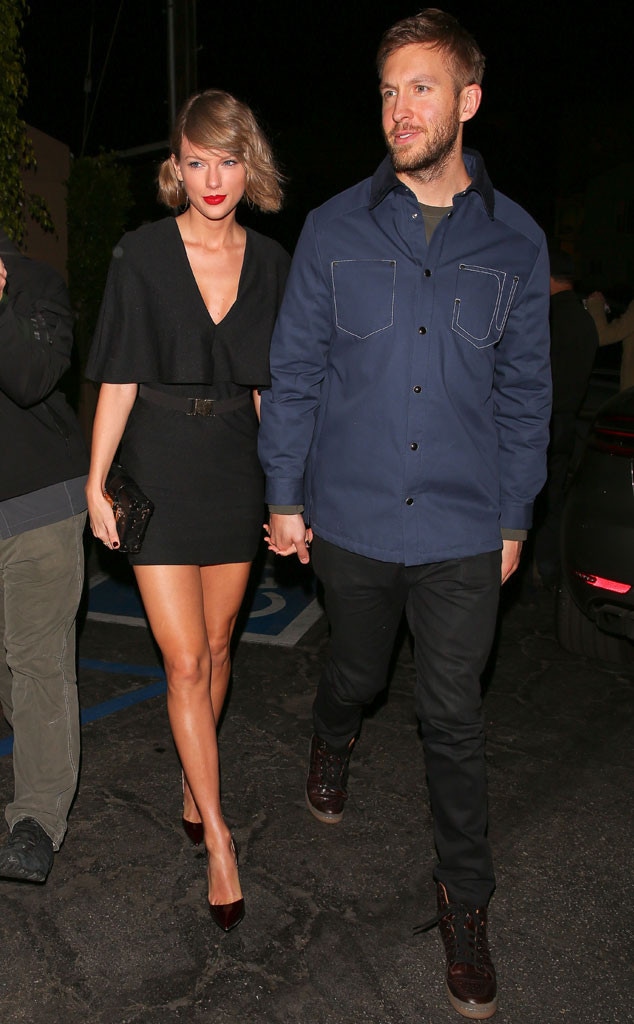 Maciel/AKM-GSI
Do you hear that sound? That's the sound of hearts breaking all over the world.
E! News has confirmed through multiple sources that Taylor Swift and Calvin Harris (real name Adam Wiles) have broken up after dating for almost a year and a half. "This all happened last week," a source tells us.
"Taylor and Adam had no big blowout fight, but the romance just was not there anymore for them. Adam is the one that ended it. It was all done in a very mature fashion. Taylor is pretty upset but they are still in communication. Taylor was there for Adam with his accident and supportive."
The duo's breakup comes shortly after the music producer suffered from a car accident, causing him to cancel a few shows. "Adam is still recovering from the injuries sustained in the car accident last Friday. Unfortunately, as a result he will not be able to perform in Las Vegas at Hakkasan tonight, 5/26 and Omnia tomorrow, 5/27," his team explained last week.
Meanwhile, a source recently told E! News, "Calvin is feeling better and is enjoying some time off to rest and get his body back to where it was. He is going to the gym but not working too hard," the insider added, also noting that Swift was being supportive during this time.
The couple celebrated their one-year anniversary in March, and Swift shared that she received a very special gift from her beau. The "Bad Blood" singer revealed a gold heart-shaped locket engraved with the date 3-6-2015 on her Instagram account, a nod to their official anniversary date. 
Harris and Swift then decided to take a tropical getaway, shocking fans everywhere that they not only witnessed the singer's belly button out in the open again, but saw the pair flaunt some rare PDA on social media.
The pop star met the Scottish DJ in late February of last year through mutual pal Ellie Goulding, and they soon started dating. "Calvin is a really great mate and he's so fantastic, and Taylor is such a cool person who I love. I thought, 'They're both really awesome and both really tall, they'll be brilliant together,'" Goulding told The Sun last June.
It wasn't long before the pair began taking the world by storm hand-in-hand. The couple were supporting each other at award shows, gushing about each other during interviews, being spotted out and about on the town while enjoying day dates and night dates together, visiting each others' hometowns and, of course, introducing us to swan goals.
"I'm just taking things as they come," Swift told Vogue earlier this year. "I'm in a magical relationship right now. And of course I want it to be ours, and low-key...this is the one thing that's been mine about my personal life."
People was first to report the split.